French Newspaper Le Figaro Reports on CCP's Forced Organ Harvesting
August 03, 2016 | By a Falun Gong practitioner in France
(Minghui.org) Le Figaro, a large French newspaper, published an interview with Canadian lawyer Mr. David Kilgour by reporter Thomas Delozier on July 25, 2016, detailing the Chinese Communist Party's (CCP) large-scale state-sanctioned organ harvesting from living Falun Gong (also called Falun Dafa) practitioners.
Titled "90,000 Underground Transplants Keep Entire Hospitals Running," the report quotes David Kilgour's research, which found that 60,000 to 100,000 Falun Gong practitioners have been killed for their organs every year for the past 15 years, totaling over one million.
The article explains that Master Li Hongzhi (the founder of Falun Gong) introduced the practice in 1992, which improved people's health and awakened their consciences. It was persecuted because it was disliked by Jiang Zemin, the former head of the CCP because of its popularity.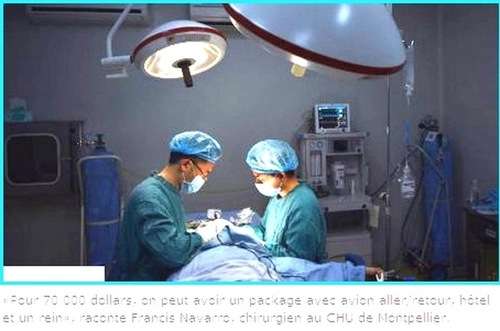 Picture in Le Figaro: "With $70,000, you get a package deal with round-trip flights, a hotel and a kidney," says Francis Navarro, a surgeon at the University Hospital of Montpellier.
Mr. Kilgour told the reporter that there have never been so many organ transplants in China. In Tianjin Central Hospital alone, a 17-story building with 500 beds was designated for organ transplants in 2006. Mr. Kilgour and his co-researchers ran an analysis on hospital bed usage, the waiting times for organs, and others factors, and concluded that it was impossible that there were only 4,000 transplants when considering the other 144 organ transplant centers, as the Chinese government officially announced.
Besides the large numbers, menu style selection is another characteristic of China's organ transplant "industry." The Changcheng Hospital of Shanghai guaranteed the waiting time was one week, or as short as four hours in an emergency situation.
The investigation report was filled with astonishing testimonies. For example, a citizen of Taiwan received at least seven organs within weeks. It would be impossible in any Western country, where it would take months or even years for one organ.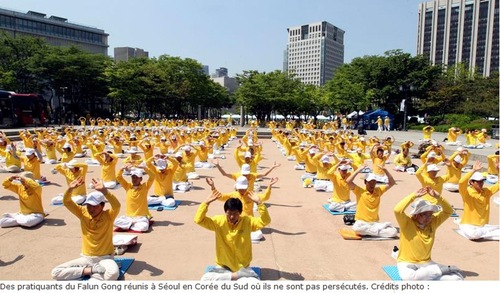 Picture in Le Figaro: Falun Gong practitioners gather in Seoul, Korea, where they are not persecuted.
Mr. Kilgour told the reporter that the primary source of organs were prisoners of conscience, usually Falun Gong practitioners. The number of organs transplanted had grown fourfold from 1997 to 2004, which matched the persecution of Falun Gong. His investigators had called many hospitals, asking if Falun Gong practitioners' organs were available. They were told, "Yes." Why this group? Because they don't smoke or drink, they exercise regularly, and their organs are healthy.
Mr. Kilgour believes it is genocide. To raise awareness, Mr. Kilgour and Doctors Against Forced Organ Harvesting, an organization nominated for the 2016 Nobel Peace Prize, are working around the globe to attend conferences and to call attention to these crimes by contacting organizations and appealing to the public.