Tianjin Businesswoman Imprisoned for Posting Information About Lawsuits Against Jiang Zemin
August 26, 2016 | By a Minghui correspondent in Tianjin, China
(Minghui.org) A Tianjin businesswoman was taken to Tianjin Women's Prison on August 10, 2016.
Ms. He Aiyun was arrested a year ago, on August 31, 2015, and later sentenced to three years in prison by Hexi District Court in May 2016. She appealed, and Tianjin No.2 Intermediate Court dismissed her appeal after asking her a few questions.
The reason for the arrest: Ms. He was videotaped by a security camera while putting up stickers that contained information about the lawsuits against Jiang Zemin, former head of Chinese Communist Party who initiated the persecution of Falun Gong.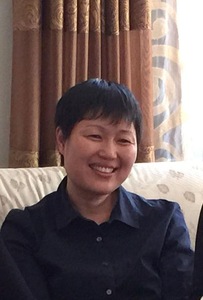 Ms. He Aiyun
Ms. He is a renowned business woman in Tianjin. She started practicing Falun Gong in 1997. Many of her illnesses disappeared, and she maintained good health. She also conducted her business according to the Falun Gong principles of Truthfulness-Compassion-Forbearance. Her business practices were often praised.
However, after the persecution of Falun Gong started in July 1999, she has been a victim of that persecution and has suffered physically and mentally.
For example, Ms. He was previously arrested in November 2001. Eleven officers took turns interrogating her for two nights and one day, trying to force her to give them the names of other Falun Gong practitioners.
She was then taken to Tianjin No. 1 Detention Center. She was handcuffed and shackled. They put her between two bunk beds, with one hand cuffed to the top of one metal frame, and the other hand to the bottom of the second frame. She was held this way for 38 hours, which prevented her from either sitting or standing. She lost consciousness when she was let down.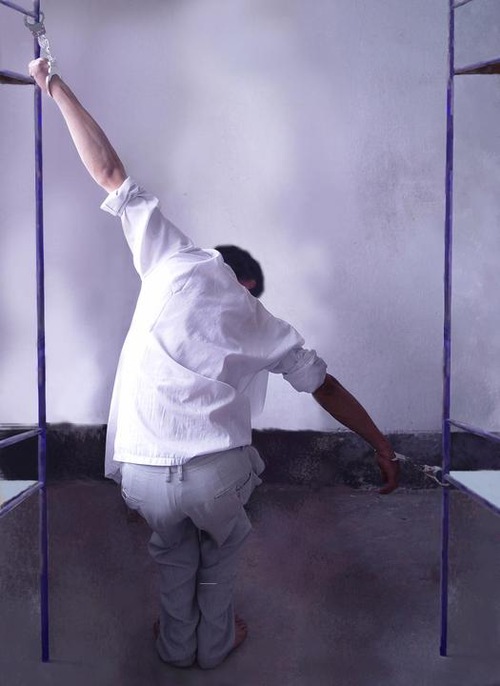 Torture illustration: cuffing and stretching
She was given two-and-a-half years of forced labor without a trial, even though her detention had been lifted due to insufficient evidence.
Parties involved in the persecution of Ms. He:Guo Jian, assistant judge of Hexi District Court: +86-22-58313581, +86-22-58313582Li Kangxin, prosecutor of Hexi District Procuratorate: +86-22-28256171