Ms. Yang Files Lawsuit Against Court Bailiff for Violently Beating Her
August 21, 2016 | By a Minghui correspondent in Guangdong Province, China
(Minghui.org) Ms. Yang Fengtao, a 53 year old Falun Gong practitioner from Puning City has filed a lawsuit against a court bailiff. She was violently beaten by him after a trial at the Puning City Court. During the attack her right eye, head, neck and wrists were injured, and she fainted.
Ms. Yang was arrested on October 13, 2015, for producing and distributing DVDs containing information about the Chinese Communist Party's persecution of Falun Gong.
Ms. Yang was tried a second time at the Puning City Court in Guangdong Province on July 5, 2016. After the trial, she was violently attacked by a court bailiff.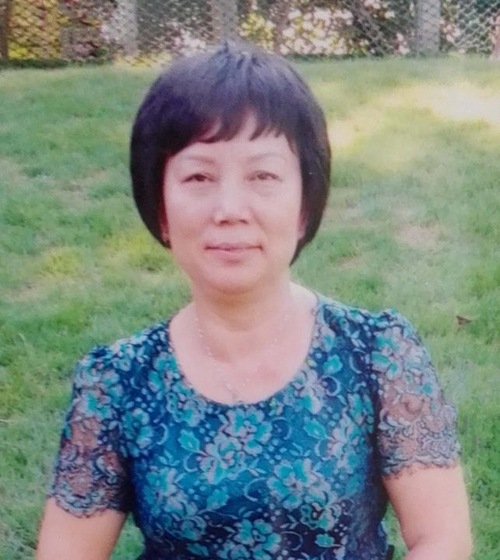 Ms. Yang Fengtao
Ms. Yang asked to be acquitted after the judge ended the trial when the court bailiffs came to take her away. Several additional court bailiffs then came and pulled her out of the courtroom. One bailiff threw her, hitting her with a blow which injured her right eye. Another bailiff pulled her up by her hair, handcuffed her and dragged her to the police car.
The first bailiff came up again and hit the back of her neck. She fell into the car door and fainted.
When she regained consciousness, she was lying at the feet of the court bailiff who hit her.
She asked: "Why did you hit me so brutally?"
The bailiff replied: "I want to kick you."
Ms. Yang remembered his badge number: 448769.
Ms. Yang asked the guard to take pictures of her injuries after she was taken back to the Puning Detention Center. They took three photos: one of her right eye, of the back of her neck, and of her wrist.
Ms. Yang had a severe headache and asked for a hospital examination. The detention center guard said that it required a warden's approval.
The pain in her eyes and head persisted the next day. Her head felt like it was going to explode, and her whole body was in such pain that she could not move. She asked for a check up again. But the detention center insisted she wait a few more days.
Ms. Yang wrote in her complaint, "I cannot imagine that a court bailiff can ignore the law so blatantly and beat an unarmed woman so violently."
Ms. Yang's husband has also filed complaints with the Puning City Procuratorate and the Puning City Court against the court bailiff. The lawsuit accuses the bailiff of violating Article 234 of the Criminal Law, with crime of intentional injury and abusing a person in custody.
The court and the Procuratorate have not responded.
Earlier report:Guangdong Woman Assaulted when Protesting Judge's Failure to Follow the Law