Car Tours to Visit 200 Canadian Cities, Calling for Help Stopping the Persecution
August 02, 2016 | By Minghui correspondent Zhang Ran and other Falun Gong practitioners
(Minghui.org) Two car tours will visit more than 200 Canadian towns with the goal of raising public awareness about the persecution of Falun Gong in China. The tours kicked off this month in Vancouver and Toronto.
Western Canada Car Tour
Press conference in front of British Columbia's parliament building on July 25.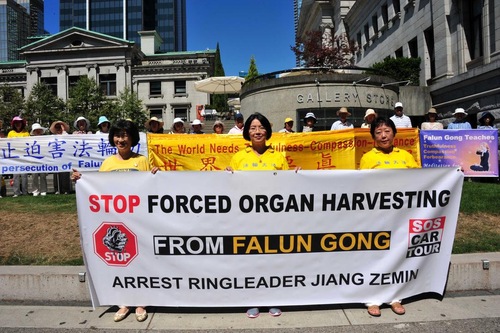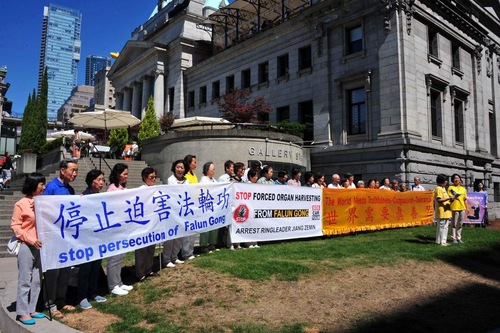 The Western Canada Car Tour press conference in front of Vancouver's city hall on July 27, 2016.
Falun Gong practitioners who participate in the car tour will visit 17 towns in British Columbia, and call upon the politicians and grass roots efforts to help stop the persecution. Meanwhile, they will also call upon the Canadian Prime Minister, Justin Trudeau, to bring up the forced-organ harvesting issue during his visit to China.
Vivian Yu, organizer of the car tour in British Columbia, said that the tour will visit local media, lawmakers, public libraries, universities, and hospitals. One of the themes is to tell the public about the state-sanctioned organ harvesting in China.
Jing Tian, one of the attendees, was tortured in China for ten years, for her Falun Gong belief. On this tour, she will tell people about the brutal persecution by relating her own experiences.
Eastern Canada Car Tour
The car tour in Eastern Canada kicked off from Toronto a week earlier. On the first day, July 13, 2016, practitioners visited government officials and lawmakers in Waterloo, Cambridge, and Burlington.
Organizer Zhang Peixin said that the Canadian politicians have warmly welcomed practitioners, and listened to their appeals. Moreover, practitioners have also gained significant support at a local grass roots level, and have collected many petition signatures condemning the organ harvesting and persecution.
The atrocity of forced organ harvesting from living Falun Gong practitioners was first exposed in 2006, and greatly shocked the international community. Canadian Falun Gong practitioners started a car tour in July 2006, and traveled 20 thousand miles calling for help.
During the past ten years, more and more evidence has been revealed which substantiates the existence of the organ harvesting. The international community has taken some actions to help, including U.S. Congressional Resolution 343, and the European Parliament's written declaration, which both condemned the crime and demanded that it stop.
Zhang Su, spokesman for the Falun Dafa Association of Canada said, "The purpose of the car tours this year is to tell more people about the persecution. The more people know about it, the earlier it will stop. We also call for help to bring the murderers in the persecution to justice."