Protests in Sydney and Warsaw Call to Free Prominent Falun Gong Practitioner Denied Travel from China
August 18, 2016 | By Minghui correspondent Mu Wenqing
(Minghui.org) Falun Gong practitioners held a peaceful protest in front of the Chinese Consulate in Sydney, Australia to condemn the Chinese government's denial of travel to Wang Zhiwen, a well-known former coordinator of the Falun Dafa Association, was denied travel abroad to visit his daughter in the United States.
The practitioners called for the government to reissue Wang's passport and allow him to travel abroad.
When the communist regime began its persecution of Falun Gong on July 20, 1999, Wang was one of the first to be arrested. He was subsequently imprisoned for 15 years and brutally tortured. In prison, all of his teeth were broken, his nails were pierced with toothpicks, and he restrained with 50-pound shackles in solitary confinement.
Wang was released from prison in 2014 and has since been under house arrest and constant surveillance. His daughter Danielle Wang, a U.S. citizen, and son-in-law Jeff Nanarella went to Beijing recently in an attempt to bring him to the U.S. However, border agents in Guangzhou, Guangdong Province told him his passport had been revoked and blocked his travel abroad.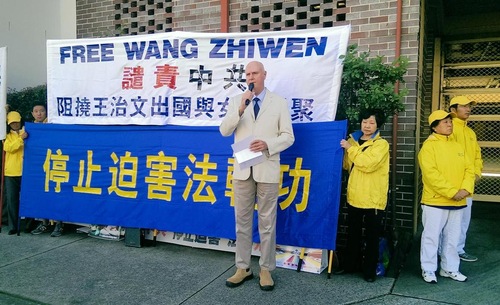 Falun Gong practitioners protest in front of the Chinese Consulate in Sydney, Australia on August 15, 2016. The large banner below reads "Stop the persecution of Falun Gong."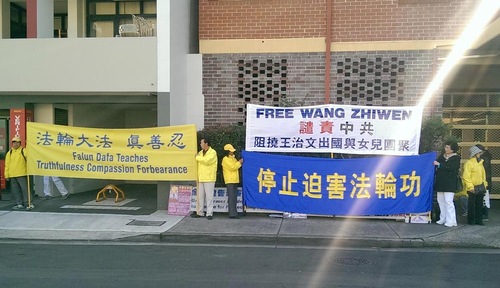 Director Dr. Lucy Zhao of the Australia Falun Dafa Association called on the international community and human rights organizations to help free Wang and help him reunite with his daughter in the U.S.
Protest at Chinese Embassy in Warsaw, Poland
Practitioners held a similar protest in front of the Chinese Embassy in Poland on August 13, 2016.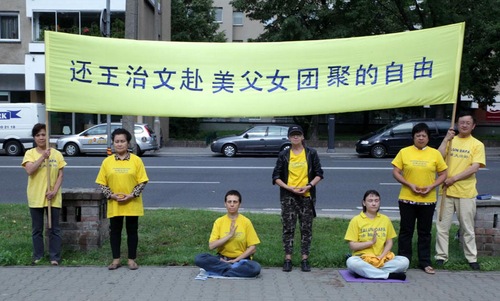 The large banner reads "Restore freedom of Wang Zhiwen to visit his daughter"
Related report in Chinese: 波兰华沙中使馆门前抗议 呼吁还王治文自由(图)