Germany: Chinese Tourists and Others Sign Petition to End Forced Organ Harvesting in China
August 14, 2016 | By a Falun Dafa practitioner in Germany
(Minghui.org) Regensburg is a historic city in southeastern Germany, situated at the confluence of the Danube, Naab, and Regen rivers. The medieval center of the city, the Old Town, is a UNESCO World Heritage Site with more than 1,500 protected structures.
Regensburg is among the top attractions and tourist destinations in Germany. Many Chinese tourists visit here.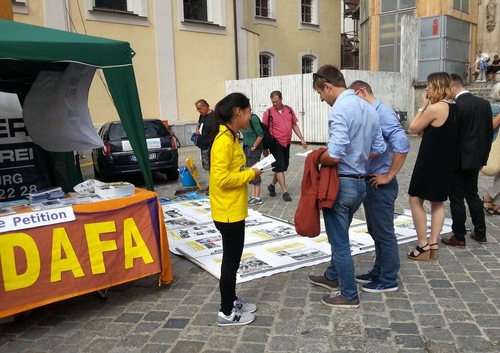 Signature drive in Regensburg, Germany protesting the killing of Falun Dafa practitioners in China for their organs
Falun Dafa practitioners held a signature drive on Saturday, August 6, petitioning to end the Chinese regime's killing of practitioners and selling their organs for transplants.
The event took place in front of St. Peter's Cathedral, a popular landmark in Regensburg.
Western and Chinese tourists signed the petition demanding an immediate end to the persecution of Falun Gong and condemning the forced organ harvesting.
A Chinese woman took some printed materials about the persecution and live organ harvesting. She said many in China wouldn't know about this; she herself was shocked to learn what is happening after traveling out of the country. She also agreed to quit the Chinese Communist Party and its affiliated organizations.
An older Chinese man came with his family. He accepted a Chinese paper about the persecution and studied it. He said that he knew about the persecution and many other crimes the Chinese regime has committed. "Don't rush," he said. "You have to deal with the Party slowly. It has done so many bad things. It deserves [karmic] retribution, sooner or later."
Two young Chinese men read the display boards closely for a long time before a practitioner approached them to talk about Falun Gong.
One of them said they use software developed by practitioners to break through China's internet censorship and had been reading news on foreign websites.
The other young man added that his grandparents used to practice Falun Dafa before the persecution started. "You have been holding on," he said. "You are good people!"