Newspaper Report Raises Questions: Ten Kidney Transplants In One Day at Dongfeng Company General Hospital
August 13, 2016 | By a Minghui corespondent in China
(Minghui.org) It has been reported that the Organ Transplant Center of the Dongfeng Company General Hospital in Shiyan City, Hubei Province, completed ten kidney transplants in one day. Given that Shiyan is a smaller city, this raises questions regarding the source of their organs.
The Shiyan Evening News published an article titled "Organ Transplants Make Shiyan Famous" on July 14, 2016. It reported in great length about the history of the Organ Transplant Center of the Dongfeng Company General Hospital. The hospital transplanted ten kidneys, three corneas, and one parathyroid in one day in 2000.
The article highlighted the fact that organ transplants had become routine, and that the hospital was capable of performing multiple transplants on a single day.
The report said that the hospital had completed over 800 transplants since 1979. Of these 800 transplants, only 81 of the cases involved DCD (donation after cardiac death) kidney transplants, and one case of DCD liver transplantation since the development of the DCD program in 2013.
The article pointed out that the organ supply had greatly decreased in 2013.
A plausible reason for the diminishing supply of organs was the international community openly condemning the Chinese Communist Party for their inhuman practice of harvesting of organs through the killing of innocents.
The article also mentioned that the hospital is now restarting certain operations that were suspended due to organ supply shortage.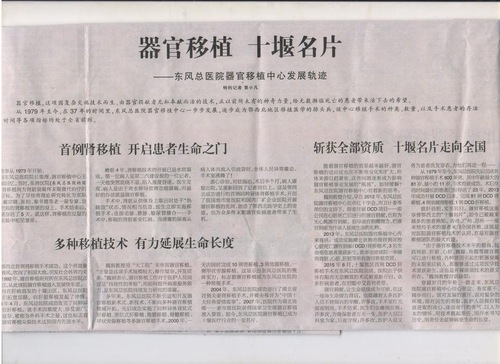 Screenshot of the Shiyan Evening News article
Large-scale organ-transplant operations started on a national level in 2000. But after being restricted starting in 2013, the number of transplants at the Dongfeng Company Hospital is again increasing.
It is hoped that the international community will pay attention to this matter and continue to reproach the Chinese Communist Party for its state-sanctioned murder of Falun Gong practitioners and other prisoners of conscience.