Protesters in New York, Washington D.C., Berlin, and Hamburg Call on China to Reissue Falun Gong Practitioner's Passport
(Minghui.org) The absurdity of the Chinese legal system has once again shocked the international community, including those who have repeatedly experienced it, and has triggered protests in major cities in the United States and Germany.
It started with the Chinese regime refusing to allow Falun Gong practitioner Mr. Wang Zhiwen to travel out of the country.
Wang, 67, a railway engineer and a well-known coordinator of the former China Falun Dafa Association, was arrested on July 20, 1999, and sentenced to a 16-year prison term. He was released in October 2014 and has since been under house arrest.
As previously reported, "Wang's passport application was unexpectedly approved in January 2016. His daughter, Danielle Wang, a U.S. citizen, and her husband went to Beijing recently to help him get a visa. But the border patrol in Guangzhou, Guangdong Province revoked his passport and blocked his travel abroad, without giving a reason, on August 6, 2016, right before they tried to leave China."
Danielle was told that the cancellation was ordered by the Ministry of Public Security. She has not been able to contact her father since she and her husband returned to the U.S. empty-handed after the incident.
Falun Gong practitioners and supporters held protests yesterday in front of the Chinese consulates and embassies in New York, Washington D.C., Berlin, and Hamburg, Germany.
New York
Danielle and her husband spoke at the rally in New York. She told supporters that she has written to many government offices, including President Obama, asking for help to rescue her father.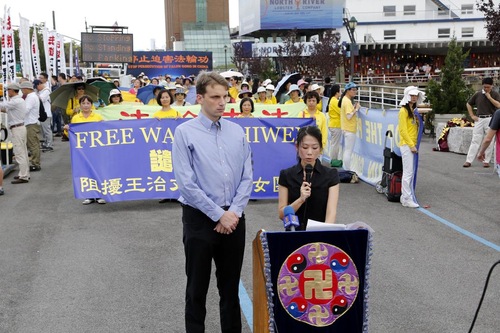 With her husband in front of the Chinese consulate in New York, Danielle Wang said, "I've tried to call my dad every night, but his cell phone has always been offline. I have not been able to sleep since I came back from China."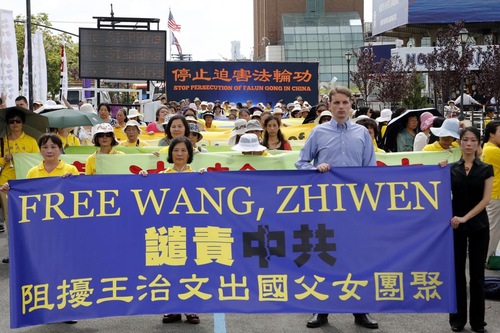 The protest in New York City
Dr. Li Tianxiao, one of speakers at the rally, pointed out that bringing to justice the major culprit in the persecution—former communist head Jiang Zemin—is the only way to end the persecution of Falun Gong in China, as many of his followers are still controlling the Chinese legal system.
At the rally, several Chinese immigrant who don't practice Falun Gong condemned the unchecked aggression of the Chinese regime.
Xin Xiulu, a Chinese musician, said, "I was imprisoned in China, where killing a prisoner is like killing an ant. I admire Mr. Wang's spirit for refusing to give up his belief."
Mr. Yu Chunguang, a former high school teacher, said, "The travel denial shows that the Communist Party is fearful. They are weak, so they are afraid of Mr. Wang exposing the truth once he comes here."
Washington, D.C.
Those attending the protest in front of the Chinese embassy in Washington D.C. also called on the Chinese government to re-issue travel documents to Wang Zhiwen.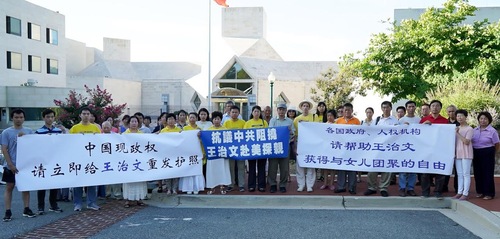 Protest in front of the Chinese embassy in Washington D.C.
Falun Gong practitioner Mr. He said at the protest in Washington D.C., "The Communist Party's lack of humanity can be seen everywhere. Wang's case is a good example. Father and daughter have been separated for 18 years. Yet, even after 15 years of prison, the government still doesn't allow them to reunite."
During an interview on August 10, 2016, Congressman Chris Smith, chair of the Global Human Rights and International Organization Subcommittee of the House, called on the Chinese government to let Mr. Wang visit his daughter in America.
Hamburg and Berlin
Similar protests were held in front of the Chinese consulate in Hamburg and the Chinese embassy in Berlin, Germany.
The protest in Hamburg, Germany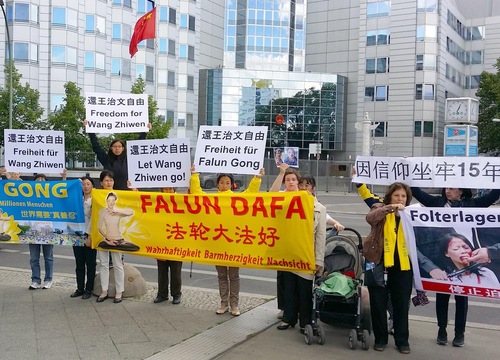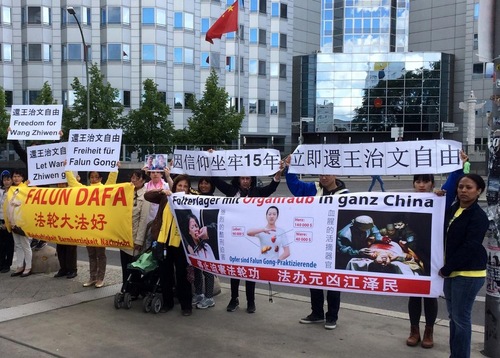 The protest in Berlin
Franze, the organizer of the protest in Berlin, said that severe torture in prison has ruined Mr. Wang's health, and he needs treatment in the U.S.A.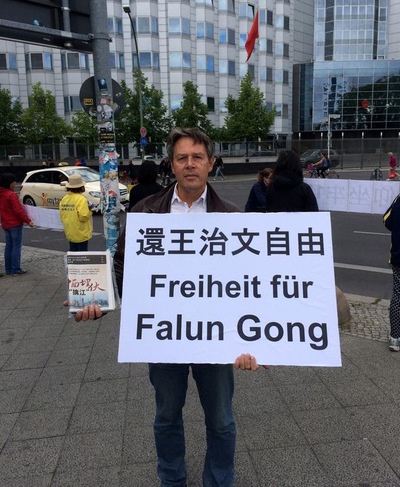 Franze, the organizer of the Berlin protest, said, "Mr. Wang is just one of the hundreds of thousands of Falun Gong practitioners who have been persecuted in China. To rescue them, the Communist Party must be disintegrated."
The protesters in Berlin believe that the people in free societies have an obligation to help those who have lost their freedom in China. Their sentiments were echoed by many Germans. One lady said to Falun Gong practitioners, "The East German regime thought that the Berlin Wall was solid, but it fell overnight. One day the Chinese Communist Party will fall, too."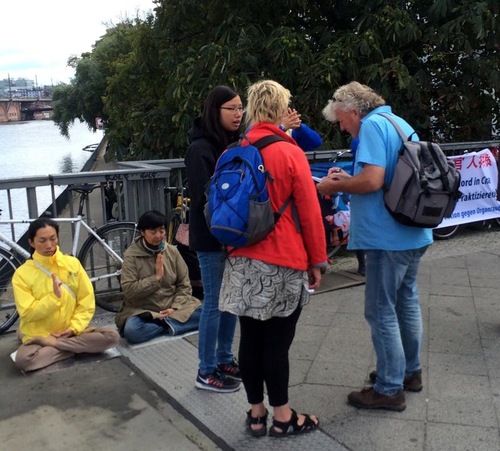 Many people signed the petition at the protest in front of the Chinese embassy in Berlin.
Related articles in Chinese:http://www.minghui.org/mh/articles/2016/8/12/美首都中使馆前抗议-呼吁让王治文父女团聚(图)-332858.htmlhttp://www.minghui.org/mh/articles/2016/8/12/柏林中使馆前抗议-呼吁立即还王治文赴美权利(图)-332857.htmlhttp://www.minghui.org/mh/articles/2016/8/12/汉堡中领馆前抗议-促立即给王治文重发护照(图)-332856.html