British Columbia, Canada: Falun Gong Group a Hit at Peach Festival Parade in Penticton
August 11, 2016 | By a Falun Gong practitioner in Canada
(Minghui.org) Bright costumes, joyful waist drummers, peaceful exercise demonstrations, and a beautifully decorated lotus float – practitioners of Falun Gong (also known as Falun Dafa) delighted spectators at the annual Peach Festival Parade in Penticton, British Columbia on a sunny August 6, 2016.
The parade drew nearly a hundred groups from the surrounding area, Vancouver and the Western U.S., and showcased a variety of floats. The Falun Gong group brought the beauty of Falun Dafa to the event and was warmly received by local people and government officials.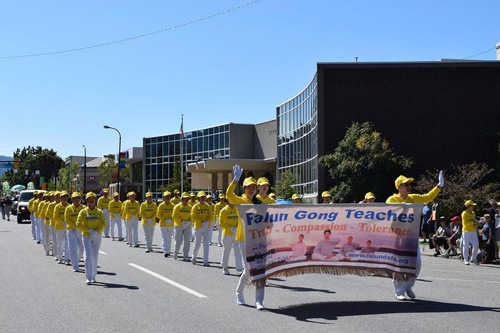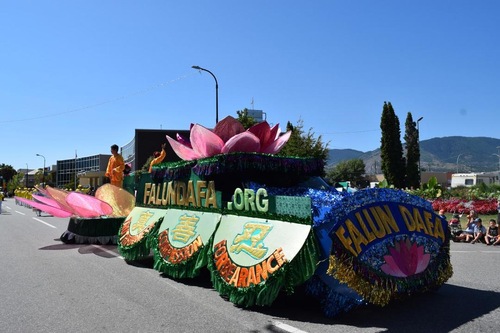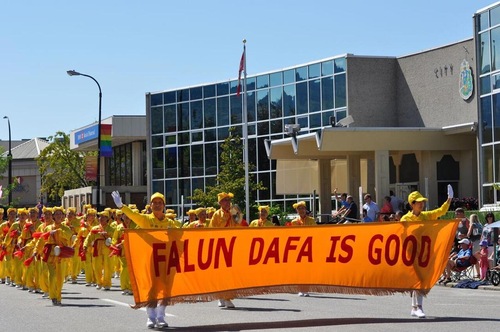 Falun Gong practitioners take part in the Peachfest Grand Parade in Penticton, British Columbia
When the Falun Gong procession passed by City Hall, many people waved to them, and from time to time, "Fa—Lun—Da—Fa!" could be heard from the crowd.
Penticton is a small city famous for its abundant fruits and wines. It has issued proclamations on behalf of Falun Gong for many years. Mayor Andrew Jakubeit sent a congratulatory letter this May to commend Falun Gong practitioners' contribution to the community.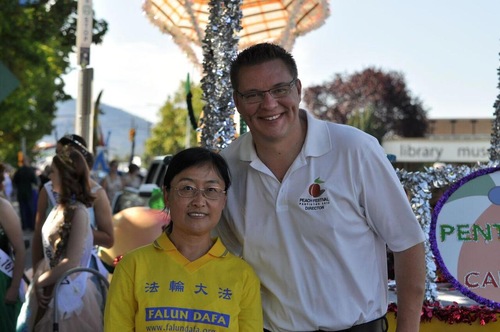 Mayor Andrew Jakubeit of Penticton said, "We welcome Falun Gong practitioners in Penticton's parade!"
Mayor Andrew Jakubeit said that the people of British Columbia are tolerant of diversity and open minded. In this town, different nationalities and groups of different beliefs can coexist harmoniously. He welcomed Falun Gong practitioners' participation in the parade.
Dan Ashton, member of the Legislative Assembly of British Columbia, echoed the mayor, saying that Canada is a multicultural country where human rights and different beliefs are respected, and democracy and freedom are upheld.
Residents Wolfgang and his wife Deanna were interested in the words "Truthfulness-Compassion-Forbearance" on the Falun Gong float. They both wished Falun Gong practitioners the best of luck.