Students at the University of Sydney Join Falun Dafa Club
August 01, 2016 | By Minghui correspondent Mu Wenqing
(Minghui.org) Many student organizations recruit new members by setting up stands during the first week of new semesters on university campuses in Australia. A local Falun Dafa Club was recently established at the University of Sydney and set up a stand to introduce the practice to new students from July 26 to 29, 2016.
More than 60 people registered to join the Falun Dafa Club within four days, including some from mainland China.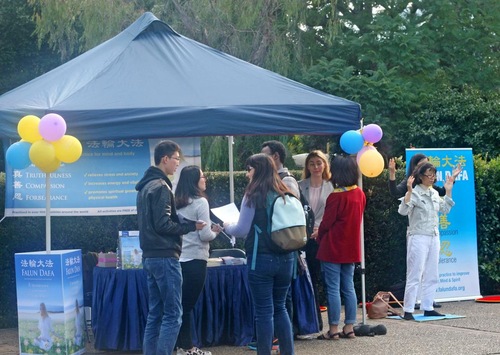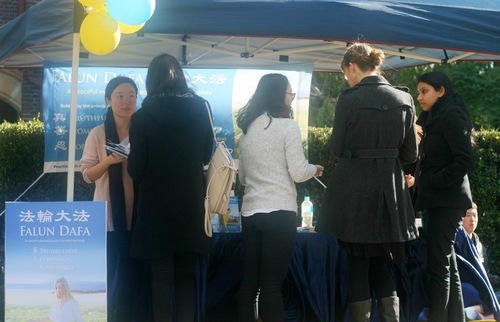 Falun Dafa stand draws the attention of many students to learn about the practice from July 26 to 29, 2016, at the beginning of a new semester at the University of Sydney, Australia.
Local Falun Dafa practitioners demonstrated the exercises, drawing the attention of many students.
Emily said she tried meditation before, but did not persevere due to her busy schedule. Hearing that there is no time limit in practicing Falun Dafa, and that one can gradually reach tranquility, she registered to join the club, and asked the practitioner on site to be sure to email her.
Nikita said she liked meditation, but this was the first time she had been introduced to Falun Dafa, and looks forward to learning it herself.
Many students felt it hard to understand why such a graceful practice is being persecuted in China, and were shocked to learn about the organ harvesting atrocities. Many said they would research the persecution on the Internet.
Many Chinese students were interested in the club too, but had questions because of the false propaganda defaming Falun Dafa that they had heard back home in China. One student from Beijing registered to join the club. She and her companion were suspicious of the propaganda about Falun Dafa in China, as they are aware of the Communist Party tactics to persecute dissidents.
A practitioner answered their questions and explained what Falun Dafa is and why the Party wants to persecute it.
The two Chinese students asked a practitioner from Beijing, "Why do you practice Falun Dafa?" The practitioner shared the many benefits she had experienced in practicing Falun Dafa and told them more about the persecution in China. The two students joined the club and took some informational materials.
Another Chinese student came forward to learn more about the practice. She said her sister in America told her that Falun Dafa is good. But she still had questions to ask the practitioners on site why the CCP wants to persecute Falun Dafa. After understanding this, she took some photos and said she would share them with her Western friends who are interested in Falun Dafa.