353 More People in Nanchang City Sign Petitions Calling for the Prosecution of Jiang Zemin
July 07, 2016 | By a Minghui correspondent in Jiangxi Province, China
(Minghui.org) Many people in Nanchang City and surrounding areas signed petitions in May 2016 calling for the legal prosecution of Jiang Zemin, the former head of the Chinese Communist Party (CCP) who launched the persecution of Falun Dafa.
The petition, signed by 353 people, requested the Supreme People's Procuratorate to investigate and the Supreme People's Court to prosecute Jiang Zemin for the crimes he committed.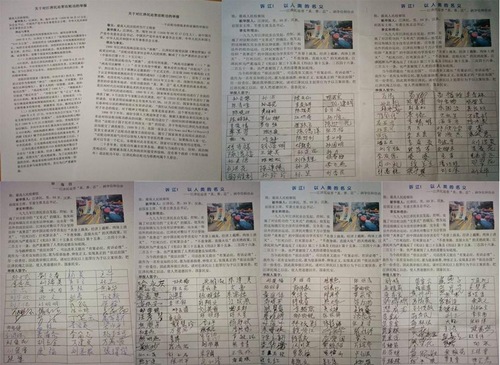 Petition Letters of Family Members of Falun Dafa Practitioners
Family Members of Practitioners Call for Justice
Among the petitioners are family members of Falun Dafa practitioners. After seeing the transformation of practitioners' health and the lies fabricated by Jiang's faction, many family members stepped forward. They signed the petition calling on the government to stop the persecution and to bring Jiang Zemin to justice.
The following are excerpts from two of the petition letters:
Mr. Deng Rongbo (pen name) wrote: "Ever since my mother took up Falun Dafa, her illnesses—including gallbladder inflammation, cervical osteoarthritis, arthritis, and stomach problems—disappeared. She no longer needed medical treatment or medication. This was a blessing for my family!
"But after Jiang Zemin initiated the persecution on July 20, 1999, we have not had a day of peace. My mother was under constant surveillance and illegally detained and fined. She was forced to leave home and went from place to place to avoid the continual harassment by the authorities.
"The persecution has created tremendous stress and financial difficulties for my family. I'm filing a request for the Supreme People's Procuratorate to investigate and for the Supreme People's Court to prosecute Jiang, as well as to close down the 610 Office."
Mr. Liu Shanzai wrote: "My mother worked very hard to support our family. She biked more than two hours each day just to get to work and back. After a while, she developed many illnesses and argued constantly with my father. She sought medical treatments and tried various qigong practices, but nothing helped. She then heard about the miraculous health benefits of Falun Dafa and began to practice in 1997.
"In less than one month, all her ailments disappeared. She was in good spirits and got along well with the family. After seeing her transformation, my father became a practitioner as well. Falun Dafa not only saved medical expenses for our family, but it also reduced medical expenses for employers.
"My mother had perfect attendance at work for many years. She was also nominated several times for being a "model worker." Things changed drastically after the government started to persecute Falun Dafa in July 1999. My mother was repeatedly arrested, detained, and sent to forced labor camps. She went on hunger strikes a few times and was thus force-fed. The force-feeding caused bleeding in her mouth, loosened her teeth, and damaged her eardrums. She was sent to a forced labor camp before she recovered.
"I was in elementary school back then. My parents were often detained and therefore unable to feed me and take care of me. Many practitioners were taken to the brainwashing centers, and my mom had to leave home to avoid being arrested. The policemen followed me all day long to see if I was in contact with her.
"One time the police officers took me to a hotel and asked where my mother was. I said I did not know her whereabouts, and they threatened to put me into a juvenile detention center. I was so afraid and had nightmares every night. I could not concentrate in class during the day, and my grades dropped. The teacher and my classmates looked down on me.
"The teachers avoided talking to me for being a child of Falun Dafa practitioners. I felt lonely and hurt. Our family was financially unstable because my mom was often detained and could not work. All of this affected my studies and I had a hard time preparing for the college entrance exam."
"We Should Help Bring Jiang to Justice!"
As practitioners continued to talk about the persecution, more and more people responded by signing the petition letters to call for prosecuting Jiang.
A practitioner gave a man a DVD and a flyer about Jiang Zemin. The man took them and shared his opinion. "I want to keep this information. I know that the Chinese Communist Party does bad deeds," he said. "I was forced out of school and sent to the countryside during the Cultural Revolution when I was a teenager. I found a job later, but was laid off in my 40s without any benefits. One practices Falun Dafa simply to get healthy, but they insisted on persecuting them!"
He then signed the petition.
Two cars were parked next to each other on the street with the drivers inside. A practitioner handed information to one of the drivers and encouraged him to sign the petition.
The man said, "Jiang Zemin is terrible and should be punished. He ruined our country. He should have been sued and taken to court a long time ago."
He got out of the car and told the other driver, "Sign the petition. What are you afraid of? We should help bring Jiang to justice!"