California: Falun Dafa Band Welcomed in Independence Day Parade
July 07, 2016 | By Minghui correspondent Wang Ying
(Minghui.org) The US West Divine Land Marching Band of the Falun Dafa group participated in the Independence Day parade in Larkspur, California on the morning of July 4, 2016. It was the fourth time that the practitioners participated in the parade in the Larkspur, located north of San Francisco.
"Now comes the Falun Dafa US West Divine Land Marching Band," announced the parade moderator. "They frequently participate in community events." He explained that the teachings of Falun Dafa are based on Truthfulness-Compassion-Forbearance, and that the members of the band are all practitioners of the Falun Dafa meditation. "They have a mission to expose the Chinese Communist Party's (CCP) persecution. They wish the audience a happy Independence Day."
They band performed both American patriotic songs and original pieces composed by Falun Dafa practitioners.
During the band rehearsal before the parade, a bystander said, "I have participated in parades for 40 years, but I never heard such melodious music."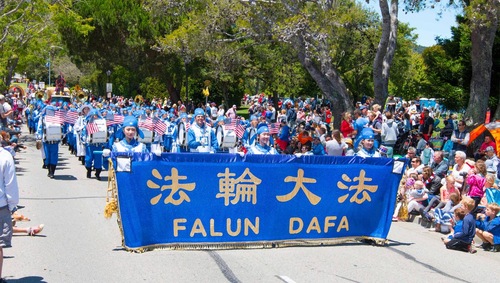 The Divine Land Marching Band participates in the Independence Day parade in Larkspur, California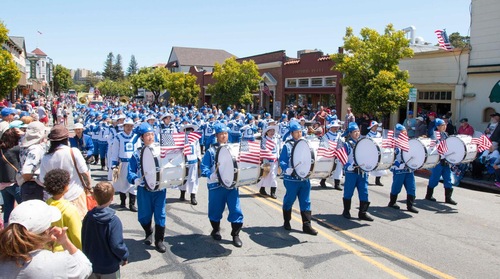 A spectator gives two thumbs up to the band.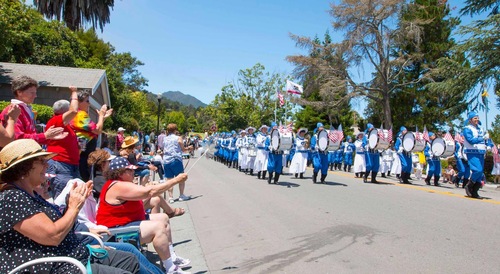 Audience cheers on the band.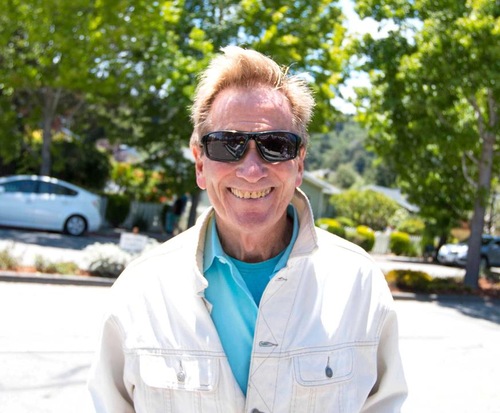 Doug McConnell, one of the organizers of the parade.
Doug McConnell, one of the organizers of the parade, said, "The performance of the band is spectacular." He said the band's music is uplifting. "I give them an A+!" he said.
"We Should Help Those Without Freedom"
"Wonderful!" said Ryan, who was watching the band with his sister Jenny. "We learned today about the persecution in China. The organ harvesting is horrible. I hope there will be change in China." Jenny nodded and said, "The persecution is truly horrible. People should have freedom of belief. We are enjoying freedom here and should help those without freedom."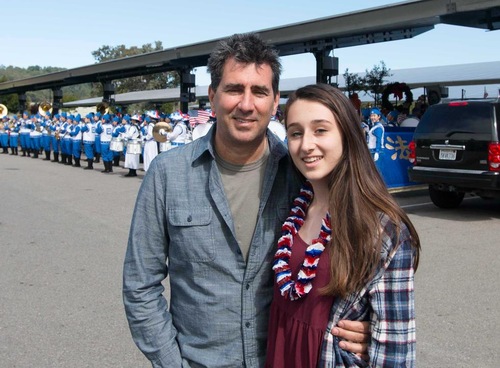 Jenny and her father Paul Coleta said they are against the persecution.
Their father Paul Coleta commended the band's performance and the principles the group stands for. He said Americans treasure freedom, and Independence Day is a celebration of freedom.
"Wonderful Musicians"
"They are wonderful musicians," said Kay, a spectator who was taking video of the performance to share with her son. "Their costumes are beautiful!"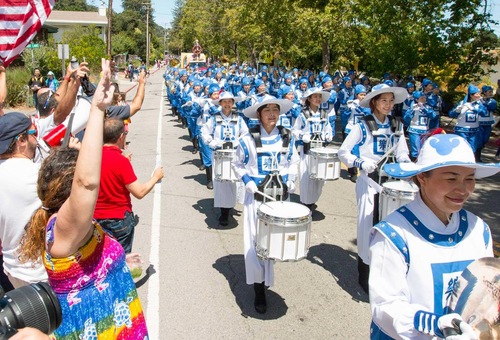 Brazilian Americans shouted, "Celebrate Falun Dafa!"
A group of Brazilian Americans shouted when the band passed by, "Celebrate Falun Dafa!" Illeana Tellas said, "I'm glad Falun Dafa practitioners are celebrating Independence Day with us." Another spectator, Tina said, "Their performance is wonderful. I'm really impressed!"