U.S. Congressman Calls for an End to Forced Organ Harvesting in China
(Minghui.org) Many mainstream Western media outlets covered the news that House Resolution 343 was unanimously passed by the U.S. House of Representatives on June 13, 2016. The Resolution condemned the Chinese Communist regime's state-sanctioned organ harvesting from non-consenting prisoners of conscience, especially Falun Gong practitioners.
Promise Was a Ruse
U.S. Representative Joe Pitts from Pennsylvania recently wrote to The Mercury, a daily newspaper of Montgomery County in the Greater Philadelphia area, calling for an end to the Chinese regime's crimes against humanity.
"It's time for China to stop harvesting organs from prisoners," he stated, "but furthermore, it's time for its government to stop targeting individuals with dissenting political and religious views."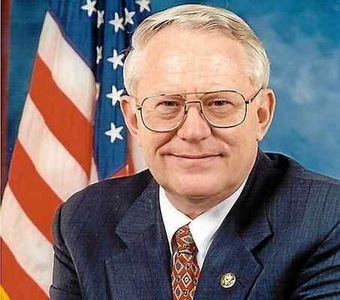 U.S. Rep. Joe Pitts from Pennsylvania
Joe Pitts has been Representative of the 16th Congressional District of Pennsylvania since 1997. His article, titled "China harvests human organs" was published on The Mercury Columns website on June 17.
He noted, "In 2014 China said that it would stop harvesting organs from prisoners. In 2015, we found out that promise was a ruse."
Paying Top Dollar for an Organ
He stated in his article, "When you have a country like China where hospitals are advertising online that you can come and they will get you a liver within weeks, the likelihood is that they're going out, finding prisoners that will match these transplant tourists that are willing to pay top dollar for an organ, and then executing them."
This is called "killing on demand." He cited Dr. Arthur Caplan, founding director of the Medical Ethics Division at New York University, who now serves as a professor at the University of Pennsylvania. Dr. Caplan explained that term, "if you go to China and want a liver transplant during the three weeks you're visiting, someone has to locate a prisoner that matches your biology and kill him or her while you're there."
Congressman Pitts further noted, "...prisoners eligible for execution in China are often in prison for suspect reasons. The list of qualifiers for death row includes minor petty crimes and political or religious dissidence."
He commented, "In order for society to flourish, freedom of speech and religion must also flourish. People must not be afraid that adhering to their conscience will result in the state harvesting their organs, imprisoning them, or murdering them. In China, there is an entire class of people whose rights are so vulnerable that they can be imprisoned, executed, and harvested simply because of what they believe."
As co-chairman of the Tom Lantos Human Rights Commission, dedicated to advocating for internationally recognized human rights and norms across the globe, the congressman stated, "The Chinese government is one of the world's biggest violators of fundamental human rights, and something must change."
He noted that the House recently passed H.R. 343, which was introduced by Congresswoman Ileana Ros-Lehtinen (R-FL) and wrote, "This resolution will spotlight China's brutal organ transplant market, and hopefully move it to create an infrastructure to handle organ transplants in an ethical manner."
His final words were, "As a country, we must take a strong stance on the human rights climate in China, and do everything we can to actively stop the suppression of freedom there and around the globe."