Canada Day in Ottawa & Toronto: Sharing the Universal Values of Truthfulness-Compassion-Forbearance
(Minghui.org) July 1 marks Canada's 149th birthday, and the date is celebrated each year as Canada Day. The Falun Gong groups in Ottawa and Toronto participated in a series of celebrations, and contributed to the country's multi-cultural flavor with the universal values of Truthfulness-Compassion-Forbearance.
Practitioners from Ottawa, New York, and Montreal performed at a celebration on Parliament Hill in Ottawa, which was watched by more than 40 thousand people.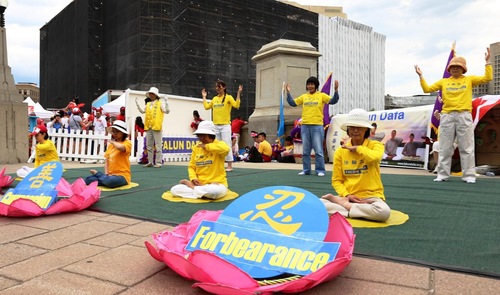 Practitioners demonstrate the exercises.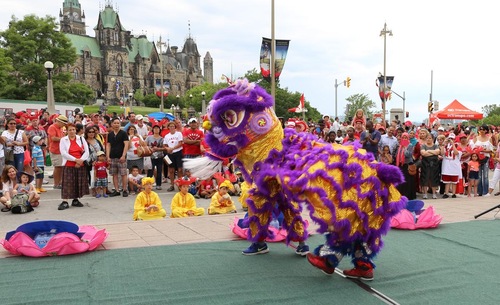 The lion dance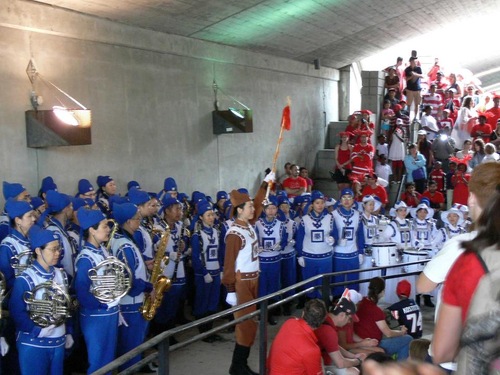 Divine Land Marching Band plays on Parliament Hill.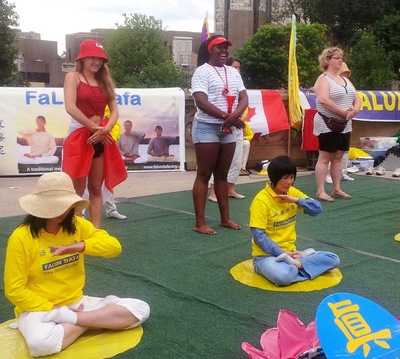 Tourists (second row) learn the Falun Gong exercises.
Michel Marenger was in the audience and said that he was touched by the Falun Gong meditation. He believes that people can communicate with the surrounding environment through meditation.
Michel also agrees with the principles of Truthfulness-Compassion-Forbearance. "Being compassionate is a basic value. If one's speeches and behaviors pollute the environment, his own heart and body will be polluted too." He continued, "So, it is very important to treat others and environment with benevolence. However, not everybody understands this. This kind of spirituality comes from deep in one's heart."
"Being compassionate is most important and most wonderful, and it will be rewarded," he said.
A man named Herelle also supports the principles of Truthfulness-Compassion-Forbearance. "It is very important to be true and kind, and forbear the difficulties in daily life," he said.
Falun Gong representative Grace Wollensak explained that practitioners have participated in the Canada Day celebration on Parliament Hill every year since 2000. "We want to contribute to society and share the beauty of traditional Chinese culture with Canadians," she said.
Canada's Prime Minister Trudeau emphasized the importance of diversity in his Canada Day address. "Diversity is our strength, is something we have known for a long time. Today, it is something we are celebrating," PM Trudeau said in French.
He switched to English and said, "We share values; things like kindness, compassion, and deep sense of fairness. And we know that the best Canada is the Canada in which we can all succeed."
The Canadian government has strongly supported Falun Gong's peaceful resistance. Last November, PM Trudeau brought up the Falun Gong issue to the Chinese president at the G20 Summit. In February, 2015, the Canadian Parliament passed a resolution condemning state-sanctioned organ harvesting in China. Former PM Harper took similar actions to urge Beijing to end the persecution.
Two Parades in the Greater Toronto Area
The Divine Land Marching Band performed in the Canada Parade in Port Credit on the morning of July 1. After a short break, the same band rushed to the other end of the metro area for an afternoon parade in Scarborough.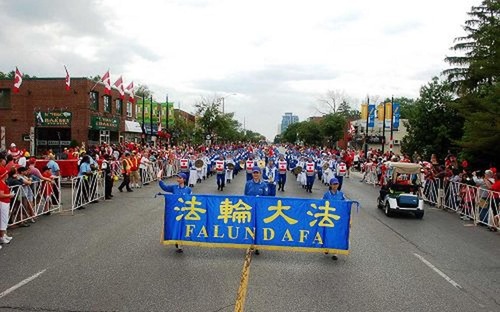 The band in Mississauga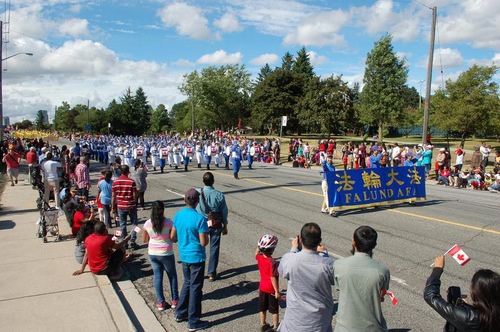 The band in Scarborough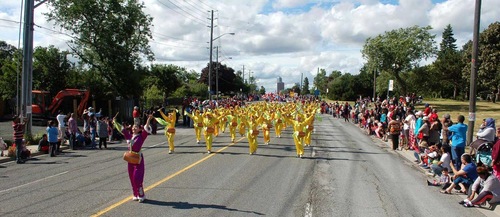 Waist drummer in the parade in Scarborough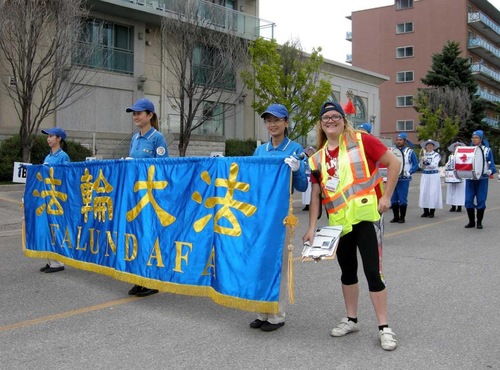 Brittney Mylko (right), the organizer of the parade in Port Credit, said the principle of Truthfulness-Compassion-Forbearance is what she longs for. She believes this principle comes from a higher level. "I want to try the Falun Gong meditation," she said. "The persecution in China is horrible. China should learn from Canada and the USA how to accept groups with different beliefs. The persecution should be ended."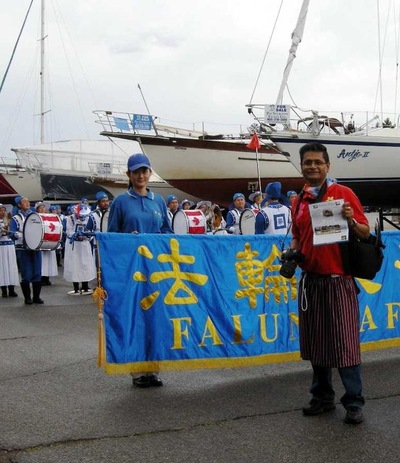 Ehsan Khandaker, the head of Heartland Creditview Community & Health Services, enjoyed the band performances very much. He took a lot of pictures and said that he will invite the band to another parade in August.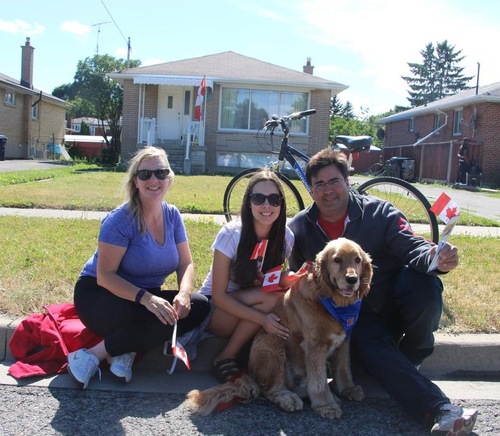 Liselle, her husband Mike, and daughter July see Falun Gong in this parade every year. "They are full of energy," July said, "and they bring peace to the audience." Mike was sad to hear that the persecution of Falun Gong in China is still going on. "When people say the beauty of Falun Gong in the parade, they don't know the sad story behind them," Mike said, "I will get online to learn more about how to help them. I hope more people will stand out supporting their peaceful resistance."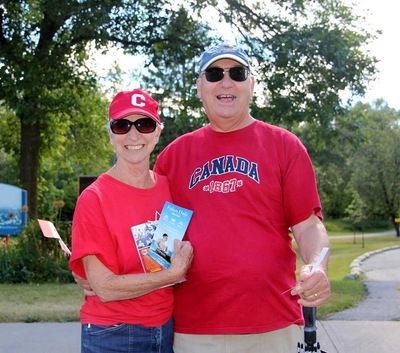 Linda and her husband Peter have seen many parades, but the Falun Gong group is "very unique" for them. "They are peaceful, happy, and have strong energy," Peter said.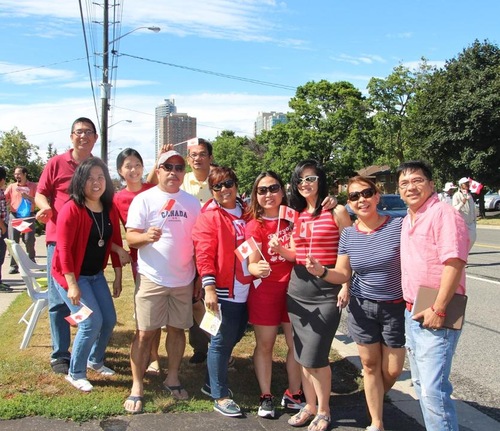 A Filipino group said that they all support Falun Gong. "The persecution of Falun Gong will not last long," Edward (on the right) said.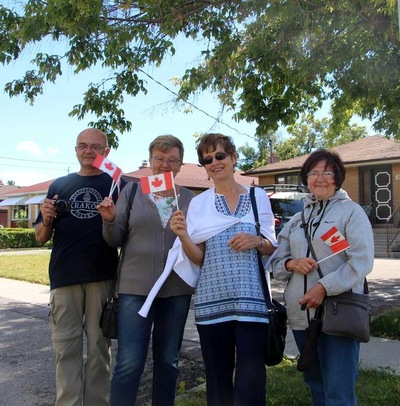 Loza (2nd from the right) and her friends from Poland were excited to see Falun Gong in the parade. "They will take Falun Gong flyers and a Canadian flag back to Poland. This is such a wonderful experience for them," Loza said.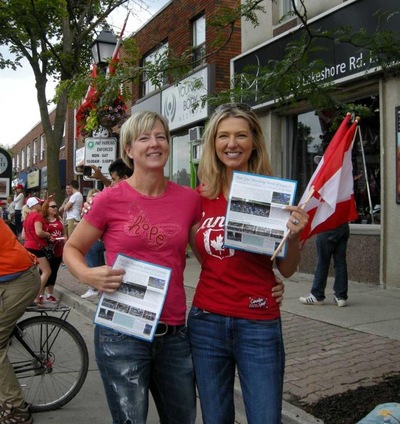 Margaret Zanel (right) hopes to see the band next year.