From Vancouver to Toronto, Practitioners Bring the Harmony of Falun Dafa to Nearby Communities
July 28, 2016 | By Minghui correspondents in Canada
(Minghui.org) Although Falun Dafa is suppressed in China, the health benefits and mental and spiritual value of the practice have attracted people in more than 100 nations. Canada is home to large numbers of Dafa practitioners who enjoy reaching out to others to share the beauty of Falun Dafa and to raise awareness about the ongoing, 17-year persecution of the practice in China.
Below are reports from recent events in Canada – a parade in Vancouver and a rally in Toronto.
Vancouver Parade
Falun Dafa practitioners joined the Caribbean Days Parade in North Vancouver on July 23. The Mayor of North Vancouver, Darrell Mussatto, walked with practitioners for more than half of the parade route.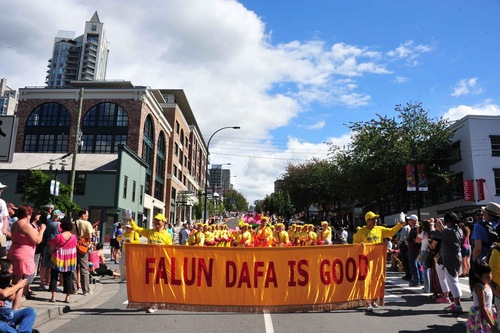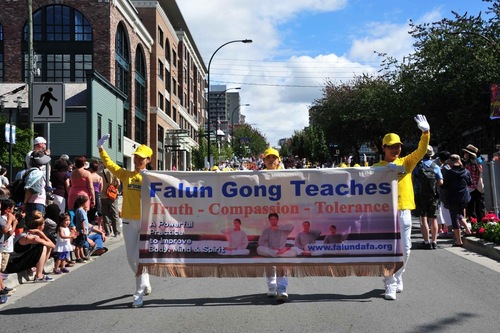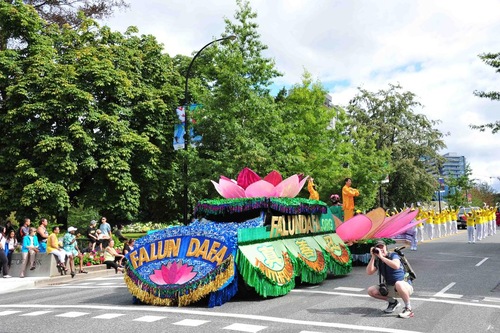 The Caribbean Days Parade in North Vancouver on July 23, 2016.
Holding a pamphlet from practitioners, local resident Kim said she has lived in North Vancouver for 60 years. "I like this group [Falun Dafa]. The colors are great and the float is the best," she smiled.
Pointing to the words "Truthfulness, Compassion, Tolerance" on the float, Kim said that she agreed with these principles because they apply to all Canadians.
Another spectator, Catherine followed along with the practitioners' exercises movements. She was excited to see the meditation and said that she planned to learn more about the practice.
Ms. Song, a tourist from China, waved to practitioners in the parade. She said that she is a Buddhist and was glad to meet practitioners. "I am very happy to see Falun Dafa here in Canada. This is very different from the suppression in China." Ms. Song said she had taken photos of Falun Dafa in the parade and looked forward to showing them to her friends and family back in China.
Toronto Rally
Nearly 1,000 practitioners gathered outside Metro Hall in Toronto on July 23 for a rally, march, and group exercises. The two-hour march through the city center was well received by spectators.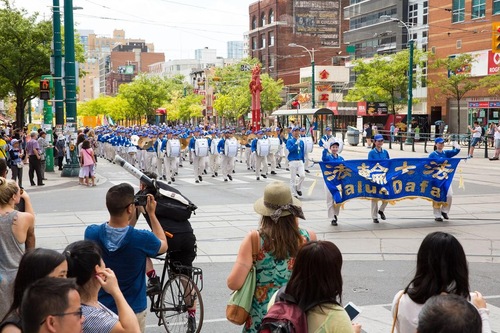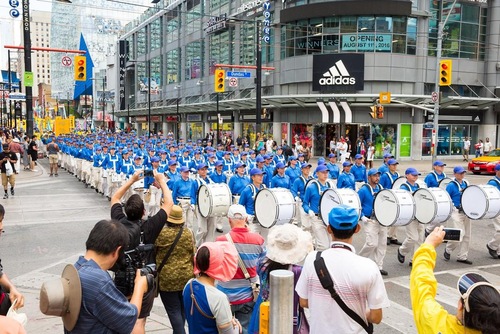 The Divine Land Marching Band led the march in Toronto on July 23.
Robert Crocco, a teacher at an international school, said he was impressed that Falun Dafa practitioners are so diverse and peaceful. Among them he saw Asians as well as people from other ethnic backgrounds. He said the principles of Truthfulness-Compassion-Tolerance are consistent with the traditional values of Canada.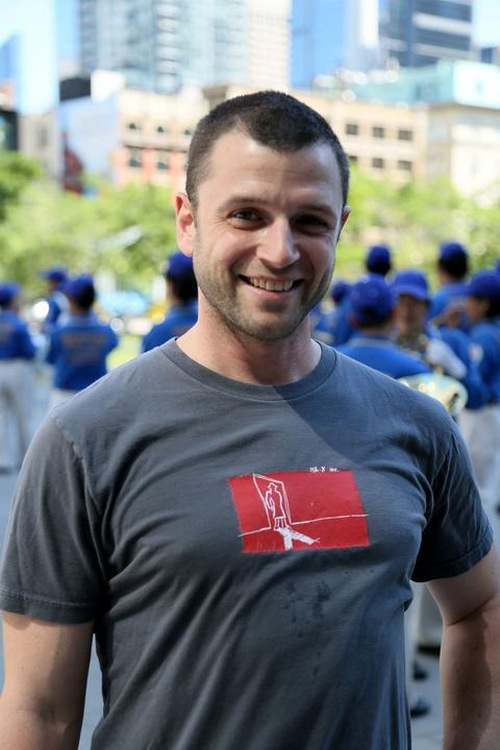 Robert Crocco, who works at an international school, was impressed by the peace demonstrated in the Falun Dafa practitioners' meditation.
Jean-Paul Tremplay, an engineer who works in Montreal, said that the principles of Falun Dafa are very good and "should be embraced by the entire world." Upon hearing how practitioners suffer for their belief in China, including being subjected to state-sanctioned forced organ harvesting, he said that he felt bad about the atrocity and hoped it could end soon.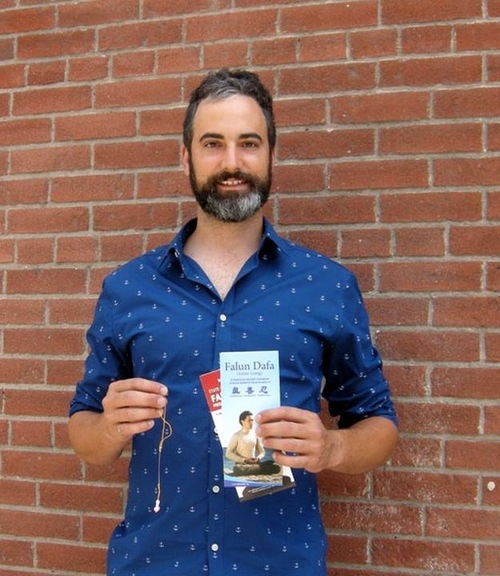 Engineer Jean-Paul Tremplay agrees with the principles of Truthfulness-Compassion-Tolerance.
Margaret attended the event with her son. She watched the practitioners do the exercises and followed along with them. She was glad to receive a pamphlet from a practitioner and said she would try the exercises at home.
"My entire family like sports and we have been searching for something that is suitable for all of us to improve our health. I think this is a good choice," Margaret said.