Toronto Press Conference and Vigil Mark Falun Gong's 17 Years Resistance to Persecution, Receive Public Support
July 26, 2016 | By Zhang Yun, a Minghui correspondent in Toronto
(Minghui.org) Hundreds of Falun Gong practitioners and supporters held a series of activities in Toronto on July 20, 2016, to expose the facts about the persecution by the Chinese Communist Party (CCP), and call for bringing Jiang Zemin, the former head of the CCP, to justice. Practitioners held a press conference in the morning and a candlelight vigil in the evening in front of the Chinese Consulate. They further exposed the persecution with large banners at the crossing of Queen and Yonge Streets in the afternoon, forming a "Great Wall of Truth." Their activities received great support from the public.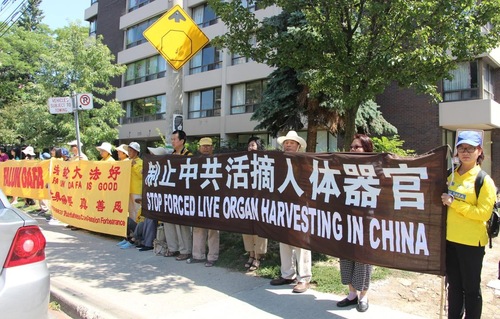 Hundreds of Falun Gong practitioners and supporters hold a press conference in Toronto on July 20, 2016.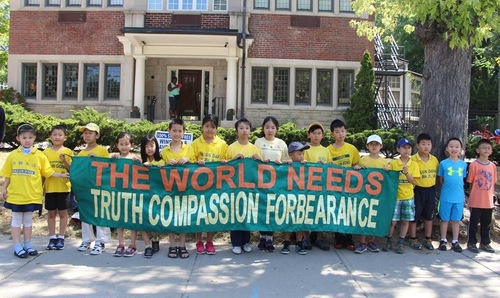 Young practitioners from Minghui School participated in the activities.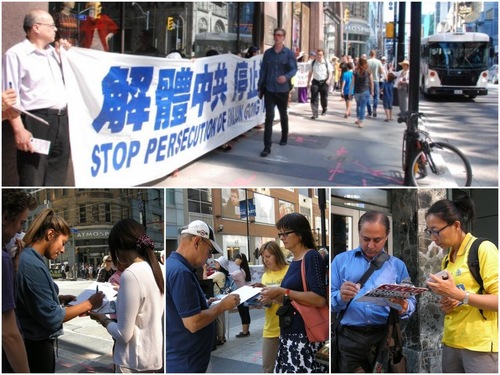 "Great Wall of Truth" exposes the CCP's organ harvesting from living practitioners in China. Many people signed a petition calling for an end to the organ harvesting.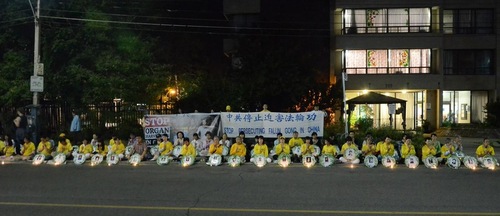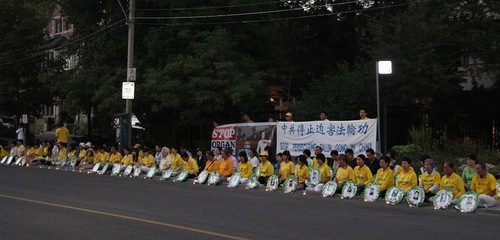 Candlelight vigil
"I Will Stand with You"
Many people who went to the Chinese Consulate for business learned the facts about the persecution from Falun Gong practitioners. One Chinese man watched the activity for a while, and signed the petition. He said he knew facts of the persecution.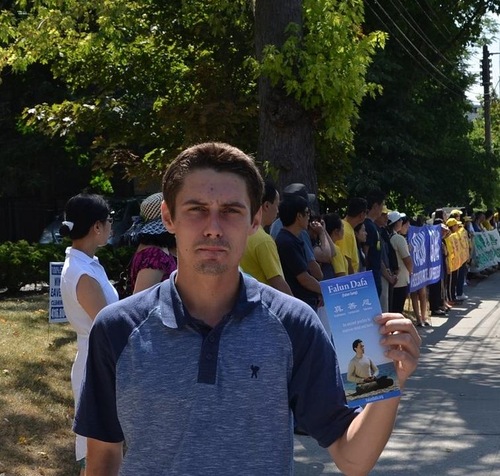 Justin told practitioners, "I will stand with you!"
A young man named Justin took many pictures of the activities. He said he was saddened by the persecution, especially the organ harvesting from living practitioners. He asked, "What can I do to help you? I will stand with you!"
Peter, a producer, signed the petition. He said it was the first time he had seen so many people hold a peaceful demonstration. He said the persecution shouldn't have happened, and said that he would like to learn more about Falun Gong. Even though he wasn't sure if the Chinese government would deny his entry for sympathizing with Falun Gong, he still left his contact information, and asked practitioners to contact him if there was anything he could help with.
Phone Call from China: "I Would Like to Announce I Quit the CCP on This Special Day"
Ms. Wang, from the Tuidang Center (quitting the CCP center), received a phone call from Shanghai, China, at 3:00 a.m. on July 20. It was from a man named Yao. He said, "I know today is an anniversary commemorating Falun Gong's struggle against the persecution, which started today 17 years ago. I know Falun Gong practitioners are nice people. I admire Falun Gong for walking through the dark days. I would like to announce that I quit the CCP on this special day."
Yao added, "The CCP has bloody debts from the Cultural Revolution, the Tiananmen Square Massacre, and the persecution of Falun Gong. It has killed countless lives. It's a true evil cult. Assimilating to the Party nature would mean giving up human nature. I haven't paid my party membership dues for years. But I would like to make this call to announce my formal withdrawal." Mr. Yao asked Ms. Wang to help him quit the CCP using his real name.
Before he hung up, he said sincerely, "I wish Falun Gong's Master, Mr. Li Hongzhi, great health and peace!"
Toronto Lawyer Supports Falun Gong
Falun Gong built a "Great Wall of Truth" with banners about ending the CCP's organ harvesting at a street crossing. Many passersby stopped and signed the petition.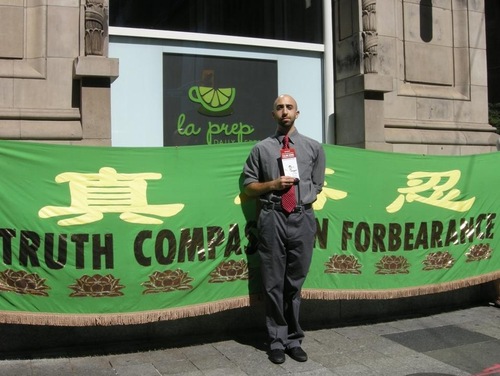 Mr. Smith, a Toronto lawyer
Mr. Smith was outraged by the organ harvesting atrocity against people following Truthfulness, Compassion, and Tolerance. He said it was a moral issue, and the Communist Party had violated human rights for insulting and harvesting organs from Falun Gong. He said he hoped the Canadian government would take diplomatic measures, and ask China to immediately stop it. Mr. Smith signed the petition and planned to tell his colleagues about it.
Candlelight Vigil Touches People's Hearts
More than 400 Falun Gong practitioners participated in the candlelight vigil at 8:00 p.m. They sat quietly with candles in rows along several blocks of the streets. Many passersby were touched to tears upon seeing this compassionate and solemn scene. The police officers stayed with practitioners until 10:00 p.m., and wished everyone good night as the practitioners left.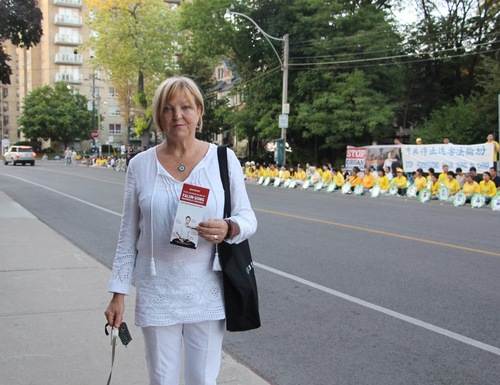 Local resident Marianne said, "I have seen them demonstrate here in past years. What the Chinese government has done is horrible and disgusting, taking organs from living people and selling them! It should stop immediately."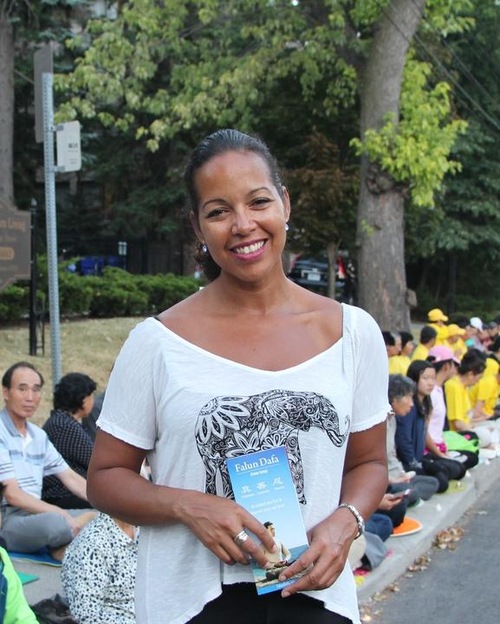 Nadine was saddened by Falun Gong practitioners' death. She had accessed information about Falun Gong on the Internet after hearing about the documentary screening in University of Toronto. She encouraged practitioners, "I believe justice will win!"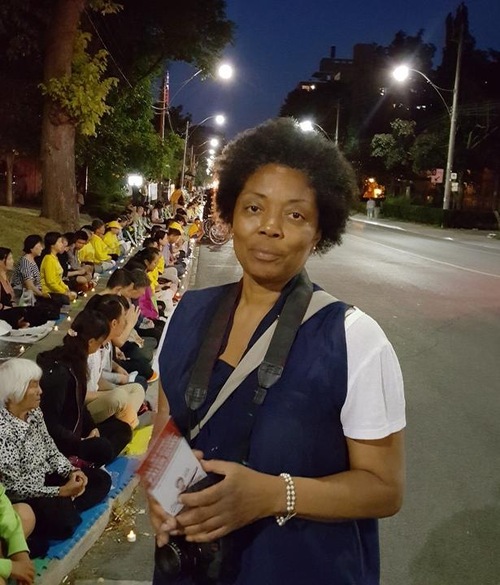 Lana took photos of the vigil, and planned to sign the petition online, asking the Prime Minister to help stop the persecution.