Seoul, Korea: Rally and March Commemorating the 17-Year Peaceful Resistance Against the Persecution
July 20, 2016 | By a Falun Gong practitioner in Korea
(Minghui.org) July 20 marks the 17th year since the communist regime began the campaign against Falun Gong in China. Falun Gong practitioners worldwide held a series of activities every year to call for an end to the brutal persecution of their spiritual practice with its core tenets of Truthfulness-Compassion-Forbearance.
About 800 Falun Gong practitioners in Korea held a rally on the square in front of Seoul City Hall, followed by a march in downtown Seoul on July 17, 2016. They raised awareness of the Chinese Communist Party's (CCP) state-sanctioned forced organ harvesting atrocities and called for bringing chief perpetrator Jiang Zemin to justice for his personal role in initiating and directing the persecution.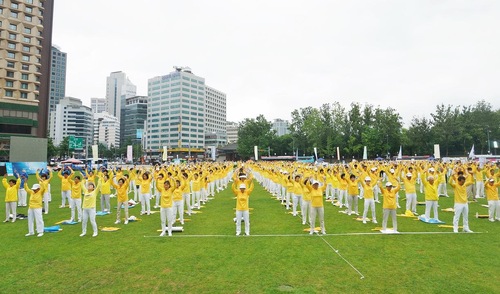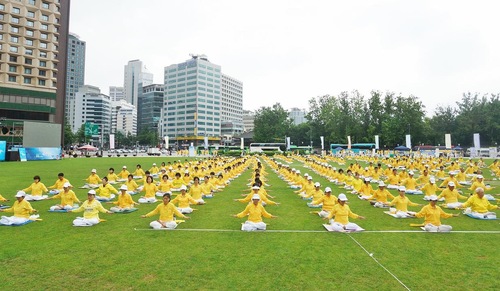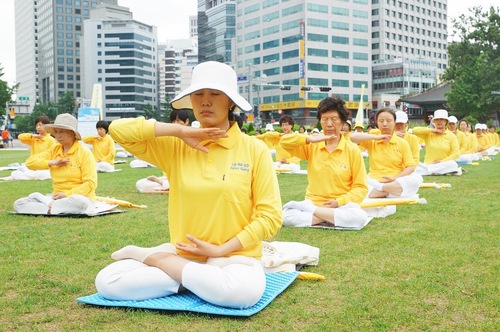 Large group practice prior to the rally in the morning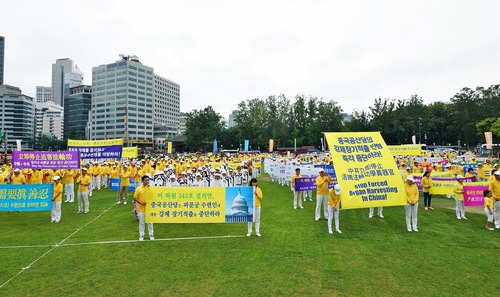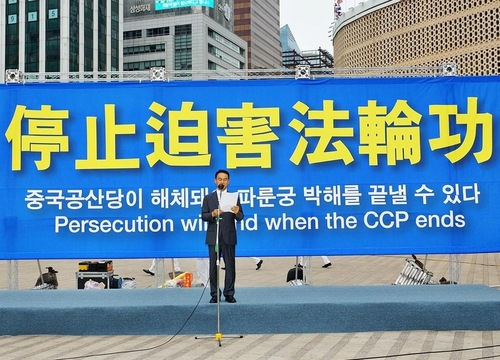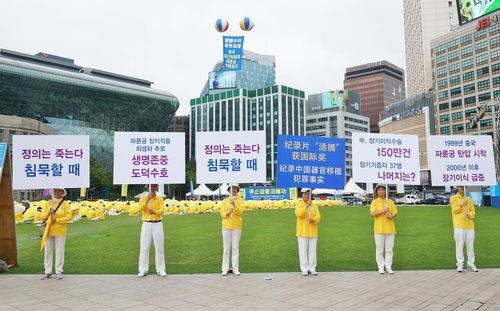 Rally calling for an end to the persecution
The Righteous Will Prevail
Dr. Choi Woo-Won, Co-President of the Asian Philosophical Association and a professor at Pusan National University, spoke at the rally. He said that the evildoers will definitely meet their demise, and the righteous will prevail. He called upon the world's people to work together to stop the evil suppression. "While facing the persecution, we should guide our conduct with the principles of Truthfulness-Compassion-Forbearance as an example for future generations," he said.
Persecution Will End When the CCP Ends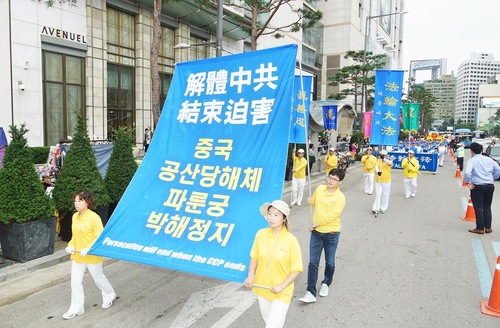 Chinese characters on the first banner reads "Persecution Will End When the CCP Ends"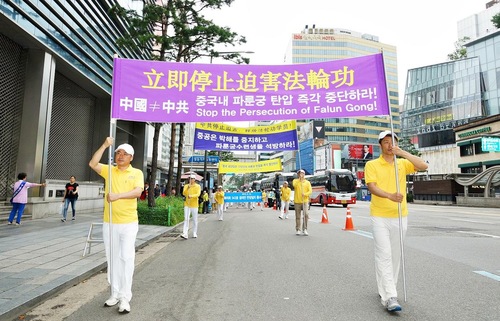 Second banner reading "Falun Dafa Is Good"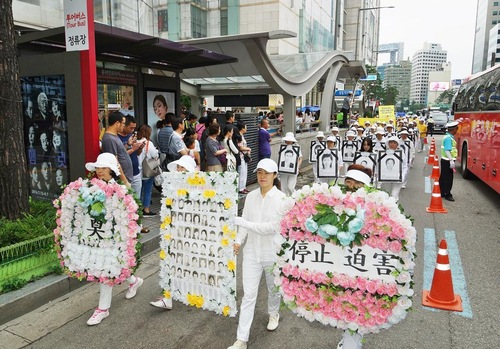 Practitioners carrying portraits of fellow practitioners who lost their lives in the 17-year brutal persecution in China
Chinese characters on one placard read, "United States House of Representatives Passed Resolution 343 Demanding the CCP Stop Harvesting Organs from Living Falun Gong Practitioners"
Chinese characters on the second banner read, "Bringing Chief Perpetrator Jiang Zemin to Justice for Persecuting Falun Gong"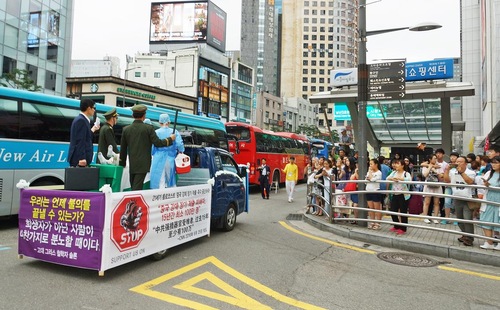 Reenactment of forced organ harvesting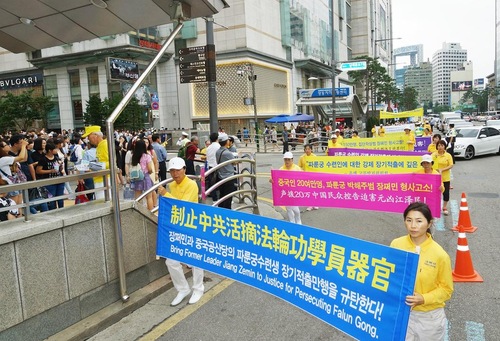 March in downtown Seoul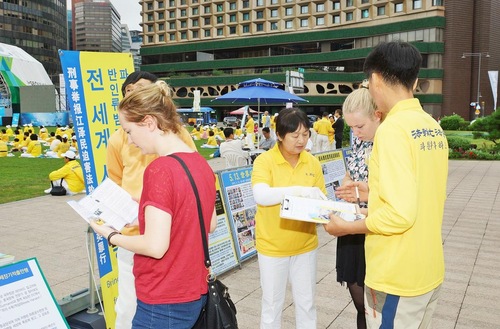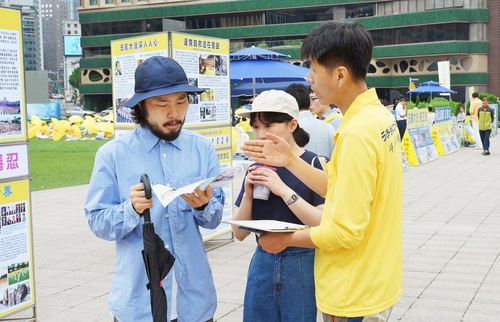 Citizens learn about the persecution of Falun Gong during the event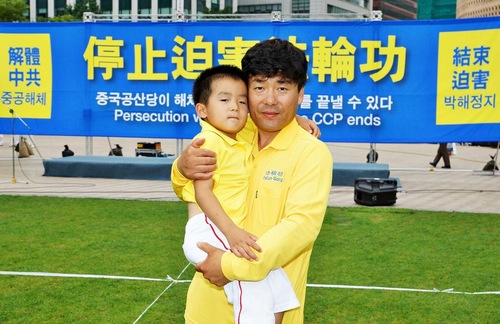 Falun Gong practitioner Jin Xuezhe and his son participate in the event calling for bringing chief perpetrator Jiang Zemin to justice, putting an end to the persecution and restoring the reputation of Falun Gong
Mr. Jin Xuezhe from Changchun City in China spent 7.5 years in prison for participating in the interception of TV signals to broadcast the facts about Falun Gong in 2002 to debunk the communist regime's slandering and smearing of Falun Gong. He was subjected to various tortures, including "tiger bench," being smothered with a plastic bag covering his head, etc.
He was grateful that the Members of Parliament and the public in Korea once carried out a signature campaign to rescue him. "Their righteousness subdued the evil," he said, so that the guards in prison did not dare to persecute him so severely. He hopes that chief perpetrator of the persecution Jiang Zemin will be brought to justice soon.
"Return Us a Complete Family"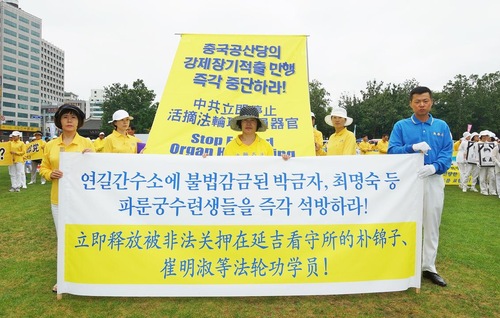 Falun Gong practitioners Jin Guangzhe and Pu Jinfu from China demand the Chinese regime to immediately release their mother and sister illegally detained for practicing Falun Gong.
Mr. Jin's mother was arrested last October and Ms. Pu's sister was arrested last December for talking to people about Falun Gong. Both of them have been detained in Yanji Detention Center since their arrests. Family visits were denied. Their families are very concerned about their situation and demand their immediate release.