Taiwan: Rallies in Four Cities Protest 17-Year Persecution in the Mainland
July 20, 2016 | By Minghui correspondents in Taiwan
(Minghui.org) July 20 marks the 17th year that Falun Gong has been brutally suppressed in mainland China. Across the strait, practitioners in Taiwan held many events recently on this occasion to raise awareness. Below are reports from Changhua, Taipei, Hualien, and Chiayi.
Changhua: Strongly Oppose the Atrocity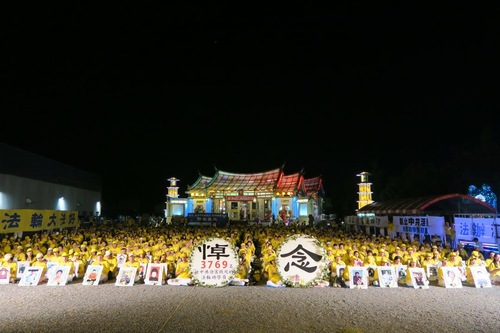 Practitioners gathered near the tourist site of Taiwan Glass Pavilion to commemorate practitioners who lost their lives in the persecution.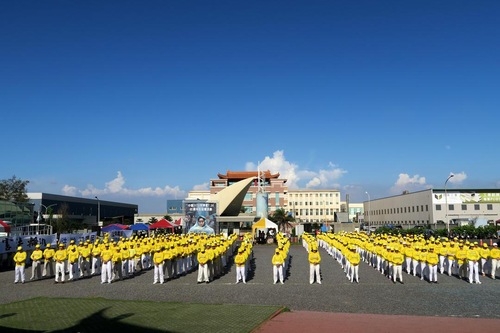 Group exercises of Changhua practitioners.
Ouyang Zhenzhu, Changhua County Council Member, is disturbed by the atrocity in mainland.
"We strongly oppose the vicious deeds of Jiang Zemin [in persecuting Falun Gong]," said Ouyang Zhenzhu, Changhua County Council Member, at a gathering on July 16.
Next to the tourist site of Taiwan Glass Pavilion, practitioners set up posters, performed the meditative exercises, and held a candlelight vigil to raise awareness.
Shocked by the severe mistreatment suffered by practitioners, including forced organ harvesting, Ouyang said she hopes more people will pay attention to this. "We must hold former Chinese leader Jiang Zemin responsible for persecuting Falun Gong."
Zheng Jingyi, former president of a lions club, said the persecution of Falun Gong is anti-humanity. "This should not have happened in the first place, because freedom of belief should always be protected."
Having several friends as Falun Gong practitioners, Zheng said they are honest and reliable. "Just think about forced organ harvesting—we all have family members, including our children. How could Chinese officials do things like this?!"
Taipei: "The Truth Speaks for Itself"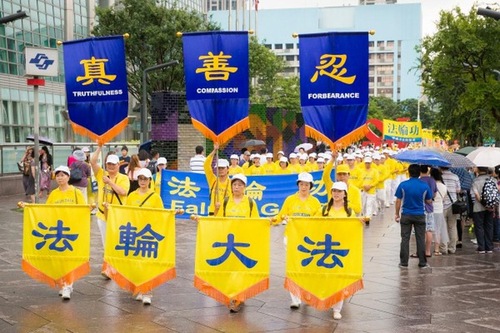 March near Taipei 101 on July 17.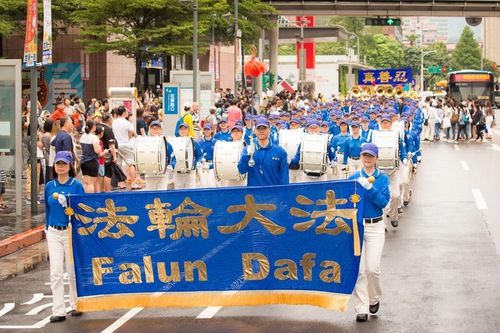 Many spectators were impressed by the Falun Gong group's Divine Land Marching Band.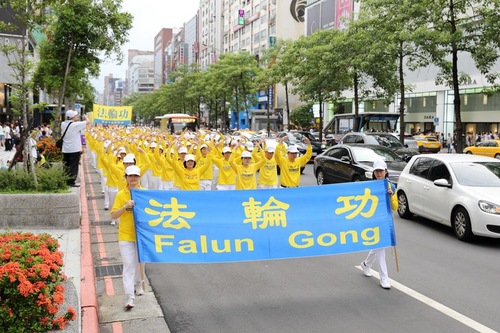 Exercises demonstration during the march in Taipei.
Mr. Lin, a tourist from Guangdong Province, watched the march in Taipei on July 17. "Now I know why the Communist Party could not successfully suppress Falun Gong: Because the truth speaks for itself."
With banners of "Supporting 200,000 people filing criminal complaints against Jiang Zemin", more than 1,700 practitioners joined the march near the tourist site of Taipei 101. As the four-mile march continued, spectators cheered on the Divine Land Marching Band and exercise demonstration.
Mr. Wu from Singapore said he did not know about Falun Gong in the past. Upon hearing the suppression in China, especially organ harvesting from living Falun Gong practitioners in China, he was very disturbed, saying, "No government should allow this to happen. It [forced organ harvest] must stop."
Hualien: "We Will Keep Coming Here Till the Persecution Stops"
Hualien Falun Gong practitioners gathered at Chishingtan Beach on July 10, to commemorate the practitioners who lost their lives because in the persecution.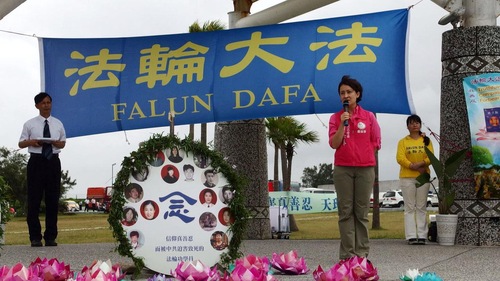 Hsiao Bi-khim, member of the Legislative Yuan, said people should pay more attention to the persecution.
Hsiao Bi-khim, member of the Legislative Yuan, said she admires Falun Gong practitioners' courage. "Facing the severe persecution from the communist party, they risked their lives, or even became victims of forced organ harvesting, to uphold their faith. We all need to support them. We will keep coming here until the persecution stops."
Hualien County council member Huang Zhenfu said the principles cherished by Falun Gong practitioners, Truthfulness-Compassion-Forbearance, are universal. "They are important and they relate to all of us."
Chiayi: This Type of Viciousness Should Not Exist on Earth
When Chiayi Falun Gong practitioners gathered at the Jiayishi Cultural Park on July 10, many elected officials and human rights advocates spoke at the event.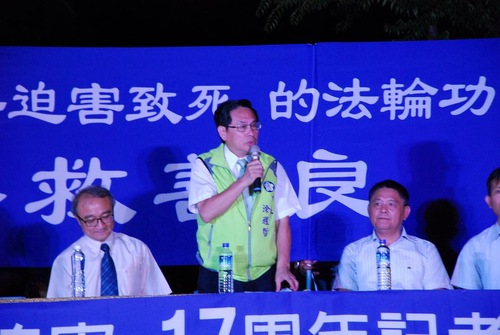 Twu Shiing-jer, mayor of Chiayi, said people should help innocent Falun Gong practitioners.
Twu Shiing-jer, mayor of Chiayi, said he was glad to hear that more than 660,000 signatures had been collected calling for an end to the persecution in the mainland. As a physician, he was convinced by the evidence provided by investigators on forced organ harvesting. "This type of viciousness should not exist on earth," he said.
Ai Changrui, professor at National Chung Cheng University, said he first heard about Falun Gong 17 years ago. "From labor camps, to military, to hospitals, forced organ harvesting and a live organ bank has involved many government agencies. This state-sanctioned crime must stop."
At least 10 cities or counties, including Kaohsiung and Taichung, have passed resolutions to expose forced organ harvesting and support the lawsuit against Jiang, explained Ai.
Related articles in Chinese: 台湾花莲法轮功反迫害集会 政要到场支持(图) 台湾嘉义法轮功学员举行反迫害17周年记者会(图)