Hong Kong: Falun Gong Rally to End 17-Year Persecution Joined by Supporters from Taiwan and China
July 20, 2016 | By Zheng Yuyan, a Minghui correspondent in Hong Kong
(Minghui.org) A Falun Gong rally in Hong Kong commemorated the group's 17-year effort to resist the persecution in China that began on July 20, 1999.
The rally on July 17, 2016 exposed the facts behind the persecution of Falun Gong (also known as Falun Dafa). Participants condemned the Chinese regime's crime of systemically harvesting organs from living practitioners incarcerated for their faith.
Speakers at the rally, which included democracy activists and members of the legislative council, called for an immediate end to the persecution. They also expressed support for practitioners' efforts to sue the former Chinese leader Jiang Zemin for launching the brutal persecution.
Falun Gong is a spiritual discipline first taught to the public in China in 1992 by its founder Mr. Li Hongzhi. The practice and its teachings based on Truthfulness-Compassion-Forbearance gained huge popularity in China, with more than 100 million practitioners within just a few years of its introduction. In 1999, the then Chinese leader Jiang Zemin viewed its popularity as a threat to his political power and unleashed a nationwide campaign to "eradicate" the practice.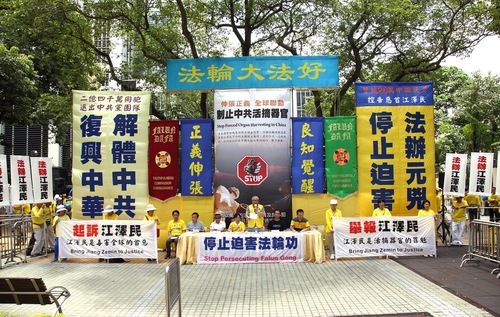 Falun Gong rally in Hong Kong
A Better Future Without the Chinese Communist Party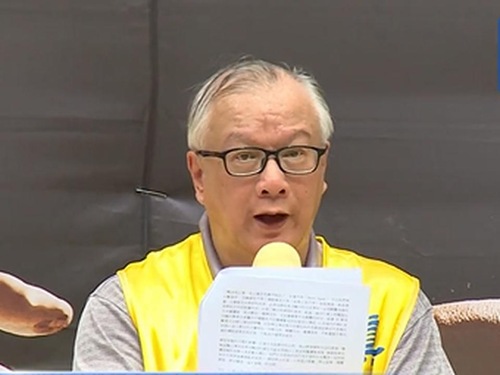 Kan Hung-Cheung from the Hong Kong Association of Falun Dafa.
At the rally Kan Hung-Cheung, spokesperson of the Hong Kong Association of Falun Dafa, told how the Chinese Communist regime systemically harvests organs from living Falun Gong practitioners unlawfully imprisoned by the state. He demanded that they stop these crimes because "those who actively persecute Falun Gong will be brought to justice."
Supporters from Taiwan Call for Jiang's Prosecution
Taiwan petitions to support Falun Gong practitioners' lawsuits against Jiang Zemin were held at the same time in six major cities/counties, said rally speaker Liu Binghua. Liu is the vice president of The Taiwanese Association for the Rescue of Persecuted Falun Gong Practitioners. So far over 600,000 people in Taiwan have signed petitions to support the lawsuits.
Democracy Activists Condemn the Persecution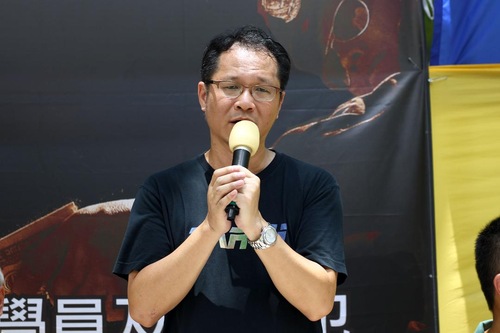 Richard Choi Yiu Cheong from Alliance in Support of Patriotic Democracy Movements of China
Richard Choi Yiu Cheong, deputy chair of Alliance in Support of Patriotic Democracy Movements of China, believed that justice would side with Falun Gong. He condemned the persecution and said that the only way to stop it is to (eliminate the CCP) and start a different system in China.
Hundreds of thousands of practitioners worldwide have filed criminal complaints against Jiang since last May. Lim Wing-Yin, member of the Sai Kung District Council, believed that it wasn't enough. "The (CCP) system must be completely dissolved (for the persecution to stop). Only then will the Chinese people be truly free."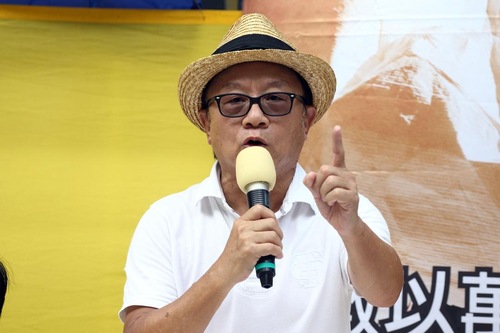 James Hon Lin Shan from the League in Defense of Hong Kong's Freedoms.
James Hon Lin Shan, spokesperson for the League in Defense of Hong Kong's Freedoms, said that Hong Kong's freedoms have suffered under the policy of "One Country, Two Systems." He accused the current leader Leung Chun-Ying for allowing the CCP to extend its hand of persecution to Hong Kong.
Legislators Urge That Jiang Be Brought to Justice
Lee Cheuk-Yan, member of the Legislative Council and chair of the Labour Party, said through a pre-recorded message that the international community has been paying close attention to the crime of forced organ harvesting. The US House of Representatives recently passed a resolution demanding China to stop harvesting organs from Falun Gong and other prisoners of conscience. "People of the world are appalled by these vicious crimes," said Lee.
Leung Kwok-hung, member of the Legislative Council from the League of Social Democrats, said that forced organ harvesting was an ongoing crime. He demanded the Chinese regime to "immediately stop violating the freedom of religion and end the persecution of Falun Gong."
Sin Chung-Kai, member of Hong Kong Legislative Council from the Democratic Party, stressed that all individuals involved in forced organ harvesting should be investigated and brought to justice.
Renowned Chinese Lawyer and Prosecutor Admire Falun Gong's Efforts
Shen Liangqing, former prosecutor of Anhui Province Procuratorate, showed his support through a recording. He believed that those who committed the crime must be held responsible. "It's a crime against humanity and genocide committed by the state," said Shen. He called on the international community to do more to safeguard human rights.
Zheng Enchong, human rights lawyer based in Shanghai, said that the persecution is unconstitutional. "I support Falun Gong and admire their effort to fight for freedom peacefully and rationally. I believe that the human rights lawyers in China will side with them."