Meeting in British Parliament Discusses Organ Harvesting in China
July 12, 2016 | By Tang Xiuming, a Minghui correspondent in London
(Minghui.org) Following the hearing on the Chinese Communist Party's (CCP) organ harvesting from prisoners of conscience on June 30, 2016, a meeting on the same topic was held in the Palace of Westminster on July 4. The Baroness Finlay of Llandaff, a member of the House of Lords, was shocked to learn that organ harvesting involving such a large number of people was still going on in China. She felt that the U.K. and international society should take solid actions to stop the persecution.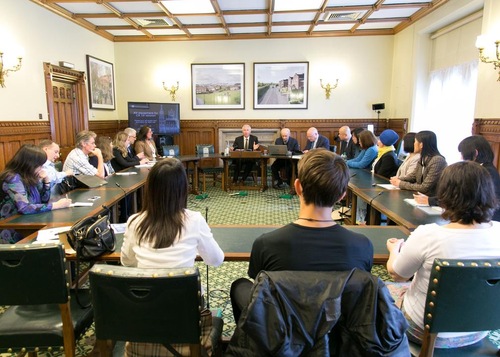 Meeting on the CCP's organ harvesting from living prisoners of conscience was held in the Palace of Westminster on July 4, 2016.
Mr. Daniel Zeichner, a member of the Parliament, hosted the meeting. Canadian human rights lawyer David Matas introduced updated research findings on organ harvesting. China expert and investigative journalist Ethan Gutmann introduced the books on the topic, Bloody Harvest and The Slaughter. This was the third trip they made to the British Parliament to expose the organ harvesting crimes within the past week. Dr. Enver Tohti and Falun Gong practitioner Ms. Song also gave testimonies.
MP Zeichner: New Report Exposes Organ Harvesting after Ten Years of China's Denials
MP Daniel Zeichner hosted the meeting in the Palace of Westminster on July 4, 2016.
MP Daniel Zeichner said during his introduction that organ harvesting in China began to emerge ten years ago, with new evidence emerging and Chinese officials denying it ever since, but the new report contains more data proving its continuation.
MP Zeichner introduced the internationally-renowned speakers who had presented their research findings at hearings of the U.S. Congress, and before the European Parliament just a few weeks prior. He commented that this was a huge issue across the party, and it deserved additional hearings to address organ harvesting and prisons' functions in greater detail.
Member of House of Lords Concerned That Restrictions on Transplant Tourism Alone Won't Be Enough to Stop Persecution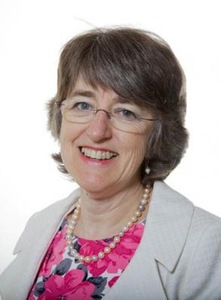 Baroness Finlay of Llandaff
Baroness Finlay of Llandaff, professor of medicine and member of the House of Lords, attended the meeting with her assistant. She expressed concern that restrictions on transplant tourism alone wouldn't be enough to stop the persecution.
She said, "We have the NHS (National Health Service), but most other countries don't have an unified system. It's not that difficult to tell from a list of those who are taking immunosuppressive [drugs] post transplant, to get an aggregate number, but I have a concern it's not actually going to put any real pressure or have any leverage on China. People from all over world are getting organ transplants...
"My concern is in taking a measure like, it becomes a comfort measure that the U.K. would say we are doing something. But it doesn't actually protect those in China who are wishing to get to practice their religious freedom, without any kind of persecution. It's a terrible persecution that we heard about. People are risking their lives. I have a concern that actually all the Western nations have been too shy of putting into trade agreements, for example, that trade agreement depends on an agreement not to transplant tourists...We need to be bolder."
Baroness Finlay of Llandaff hopes that the Transplantation Society will contribute to stopping the organ harvesting, and planned to send an inquiry to the related British government office for further action.
Testimonies at Meeting Expose Organ Harvesting
Mr. Matas pointed out during his speech, "We came to the conclusion that rather than the official figure of 10,000, it was in the range of 60,000 to 100,000. It was only looking at the 146 approved hospitals. We think it was a far larger number of transplants. This number was only for one year. Over years, we are getting a number over a million. It's a huge number, far larger than anywhere else in the world... It's industrial scale...
"The individual hospital statistics are on the surface, though not necessarily more reliable than the Chinese statistics. We are not just looking at what they are saying, but cross-checking. We looked at the number of hospital beds, staff compliment, waiting time, the money spent on the anti-rejection drugs, their internal newsletters, websites, the search report of doctors' publications, and others."
Mr. Gutmann stated his research findings, specifically the state-sanctioned genocide crime of harvesting organ from living Falun Gong practitioners. "In 1999, the state security launched a campaign to eliminate Falun Gong. In 2001, more than one million Falun Gong practitioners were incarcerated in Laogai (re-education through labor) system, or, rather the black jails, detention centers, labor camps, and psychiatric hospitals. So they were subject to detailed organ testing..." Despite the authorities' cover-up, "In 2012, the thin tissue was shred by the revelation of Bo Xilai and Wang Lijun." He said he had always been thinking it wasn't limited to the issue of Falun Gong, but a historical genocide.
Falun Gong practitioner Ms. Song recounted the persecution she had personally experienced in China. She had been imprisoned twice, in 2010 and 2012, and subjected to tortures. She said, "During my imprisonment, I was given very detailed medical examination, including X-rays of my lungs and blood tests. They even examined me to see if my skin had small scars. I was also given detailed medical examinations and blood tests when I was in a forced labor camp in Beijing. There was never any explanation why I was given these medial examinations."
Mr. Enver Tohti used to be a surgeon in Xinjiang, China. He recounted his experience of being forced to end the life of a death-roll prisoner by taking his organs 18 years ago. He used his own experience to tell how the CCP's brainwashing education and thought control was the background of the organ harvesting atrocities. He said, "Many people asked me, 'As a doctor, isn't it your responsibility to save people's lives?' My experience told me that we were born to that society and became a tool of this ruling mechanism. I was even proud of being part of the mechanism." He said once someone is designated as an enemy of the state, this person would be treated as the property of the state and disposed of in whichever way they desired. Mr. Tohti felt sorry he was put on the opposite side of the victims, and was greatly shaken by the Falun Gong practitioners' speech.