Second Falun Gong Cultivation Experience Sharing Conference for Young Practitioners Held in San Francisco
June 06, 2016 | By Minghui correspondent Wang Ying in San Francisco
(Minghui.org) The Second Falun Gong Cultivation Experience Sharing Conference for Young Practitioners was held on June 4 in San Francisco. Some 200 practitioners attended the conference, and eighteen young practitioners, ranging in age from 6 to 18, gave prepared speeches about their cultivation journeys.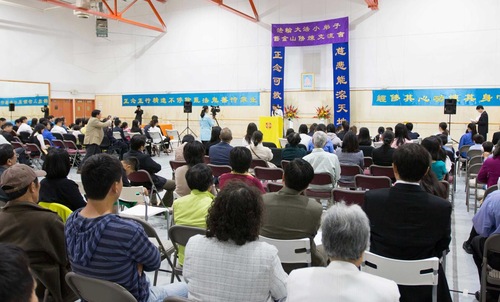 The conference venue for the Second Falun Gong Cultivation Experience Sharing Conference for Young Practitioners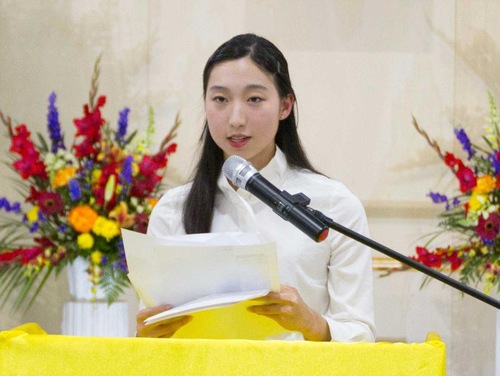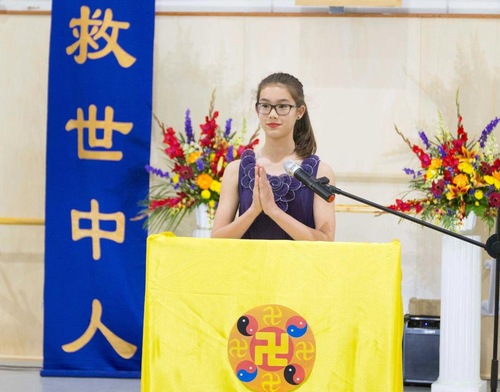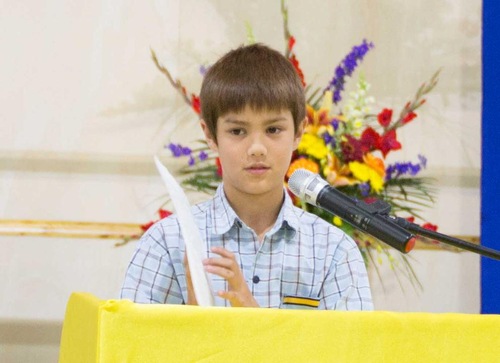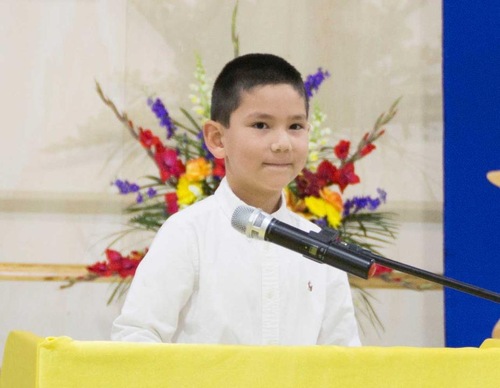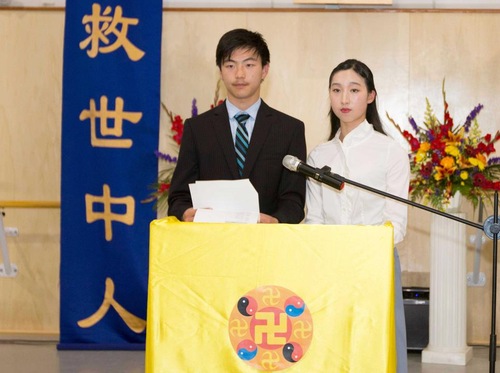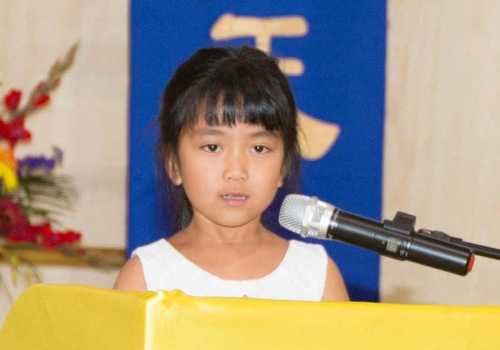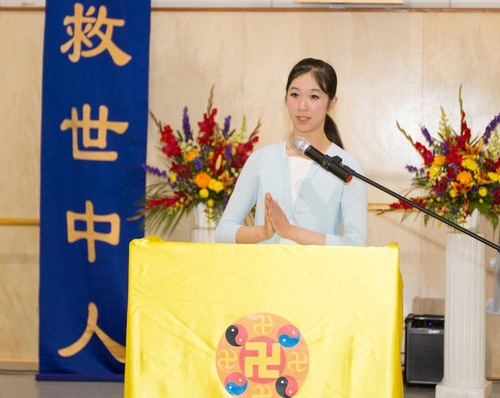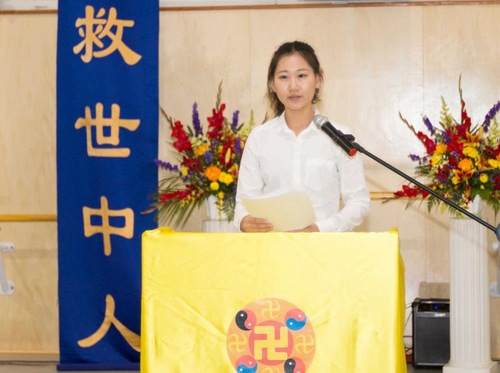 Young practitioners present their experience sharing papers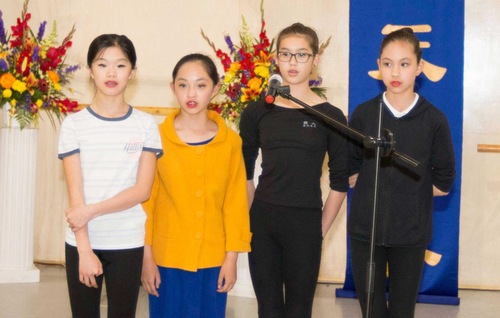 Four young practitioners recite poems from Hong Yin together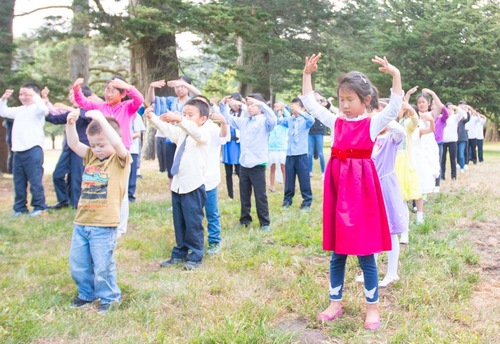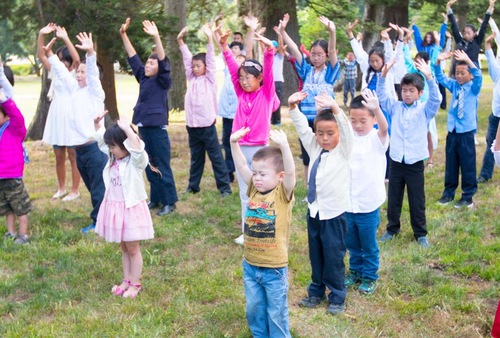 Doing the exercises together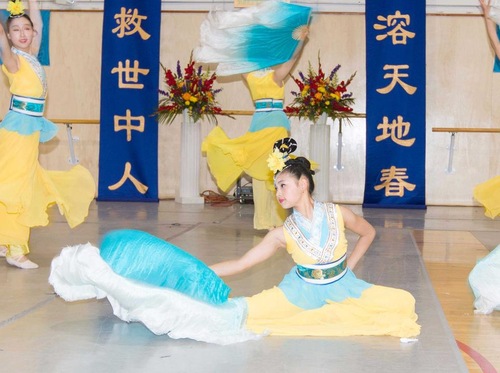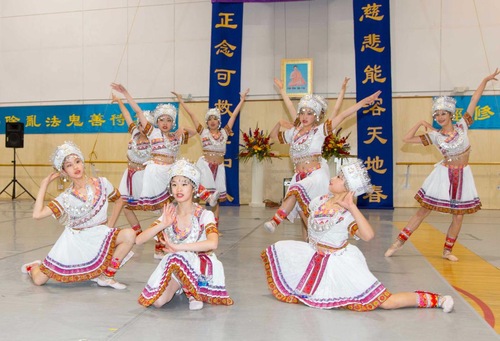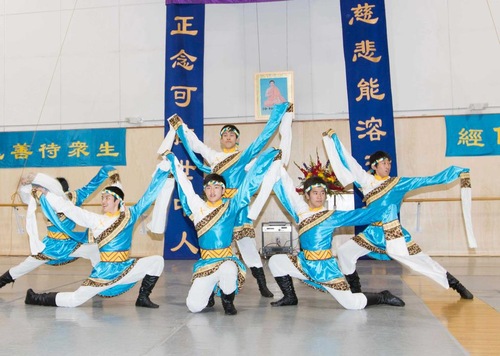 Dance performances after the conference
Some of the speakers started practicing Falun Gong with their parents when they were very little, while some just began cultivation practice not long ago. They shared their understandings of cultivation and life, and talked about how they apply the principles of Falun Gong in every area of their lives – including how they handle conflicts at school and home, and how they constrain their behavior according to the teachings of Falun Gong.
Astonished by Son's Changes, Mom Starts Practicing Falun Gong
Fourteen-year-old Kevin An is from China. He used to be a real headache to his mother! Falun Gong helped him change his temper.
One day he and mom had a disagreement on the phone. He tried to convince her, but failed. Then he lost control. He yelled at her on the phone and hung up. At lunch, Kevin felt bad. "As a cultivator, how can I treat her like that?" He rushed through lunch, called her back, and apologized to her. He calmly told her his thoughts, and finally his mother agreed with him.
Later, Kevin's mom told his teacher that she was very surprised by Kevin's change. He had never been able to settle an argument peacefully, not to mention apologizing.
"It is amazing," she said. Due to Kevin's changes, his mother started to read Zhuan Falun (the main book of Falun Gong) with him, and started cultivation herself.
Learning to Be Honest
Twelve-year-old Xin Yuqing shared her experience of learning to be honest.
Once, she lost her backpack, and lied about it to her mother. Her mother found out and told her that the teaching of Falun Gong is Truthfulness-Compassion-Forbearance. Yuqing then understood that we all need to be honest and have the courage to admit our mistakes – even if our parents might get mad.
Two months ago, Yuqing lost her glasses. She was afraid and didn't dare to tell her mother. All the next week, every time she thought of it, she felt uncomfortable. One day, she had the courage and told her mother the truth. Her mom said, "Thank you for telling me the truth. I am glad that you are being honest."
Getting Rid of the Attachment to Food
Pan Xingyue, 6, was the youngest speaker at the conference. She started to read Falun Gong books and do the exercises with her father when she was three.
So far, she has already finish reading Zhuan Falun. She learned a lot of Chinese characters from reading the book.
Xingyue said that she has a strong attachment to food. One day, her mother bought an order of fried chicken. Her brother grabbed it and didn't save any for her. Her father said that the little boy wouldn't be able to finish it, and she could have some. But the boy finished it all. Xingyue cried. In her speech, she said that she really wants to get rid of this attachment. But she can't yet control herself in front of her favorite foods.
"My dad said that if I cultivate Falun Gong diligently, I will be able to get rid of it. I will follow his suggestion," Xingyue said.
Many young practitioners agreed that age should not be a problem in cultivation, and they also indicated that one should not rely on his or her parents in cultivation.
After the speeches, the conference attendees did the Falun Gong exercises together and then enjoyed their fellow young practitioners giving dance and instrumental performances.