Swiss Health Exhibition: "This [Falun Dafa] Is What I Need"
June 03, 2016 | By a Falun Dafa practitioner in Switzerland
(Minghui.org) Tisana Health and Wellness Exhibition, a tradition of 20 years, returned to the southern Swiss city of Lugano between April 28 and May 1. About 200 vendors came together to promote natural and healthy living. Over 30,000 people attended the exhibition and many of them showed an interest in learning the peaceful meditation presented by Falun Dafa practitioners.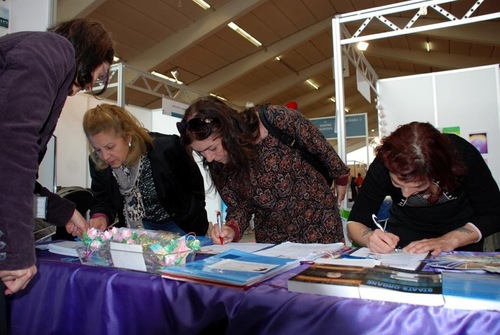 Booth visitors sign petitions to support Falun Dafa.
"How Can I Get Started?"
Pascale, who learned Falun Dafa in Venezuela 15 years ago, was glad to meet practitioners. "I haven't been able to keep up with the exercises. Now I will start up again."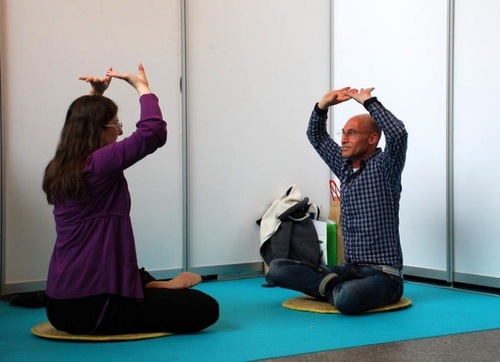 Pascale learned the meditation 15 years ago and plans to pick it up again.
A young man from Italy was drawn to the exercise video played at the booth. "This [Falun Dafa] is what I need," he said with determination, "How can I get started?"
A woman in her 40s said she had seen people doing the meditation in Rome several months ago. "I have been looking for it since then, and I am so happy to find it here." She made plans to attend a local exercise site in the near future.
Nearly 70 people left their contact information to be updated on upcoming events and exercise instruction sessions.
Stop the Persecution in China
Paolo, from Italy, and his Japanese wife had heard about the suppression in China before. After signing petitions to support Falun Dafa, the wife bought a copy of Zhuan Falun in English and an exercise DVD. Paolo also came back again the following day and purchased a DVD of Free China: The Courage to Believe, an award-winning documentary.
"This is insane!" said Mario, a Lugano resident, who was shocked upon hearing what Falun Dafa practitioners in China have suffered for their belief. He signed a petition asked about learning the exercises.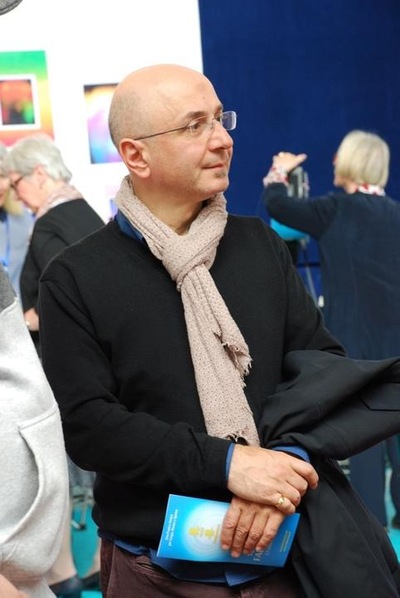 Mario was disturbed by the persecution of Falun Dafa practitioners in China.
Miraculous Experience
When a young Italian woman passed by a practitioners' poster, she exclaimed, "Oh, Falun Dafa is here!" She said she had seen Shen Yun twice, once in London and once in Milan. She even looked up "Falun Dafa" on the internet after the shows to learn more.
"When I wanted to see Shen Yun in Milan last year, my boyfriend did not want to go," the woman continued. Later she was on a business trip to London and her boyfriend went there to visit her. At a subway station, the boyfriend saw a poster for Shen Yun and suddenly said he wanted to see it. "Why?" asked the woman, "You told me before that you did not want to go."
Just then a man next to them overheard their conversation and turned to them, "Are you talking about Shen Yun Performing Arts? I bought two tickets for my friends and they cannot make it. Why don't you take these tickets?" Thus, they received the tickets and watched the performance.
"You won't believe what happened next," the woman continued eagerly."My boyfriend's illness improved a lot. And I could feel myself also filled with energy."
"Seeing your group here and remembering all that has happened to me, I am convinced that Falun Dafa is wonderful. I want to try it, too," she added.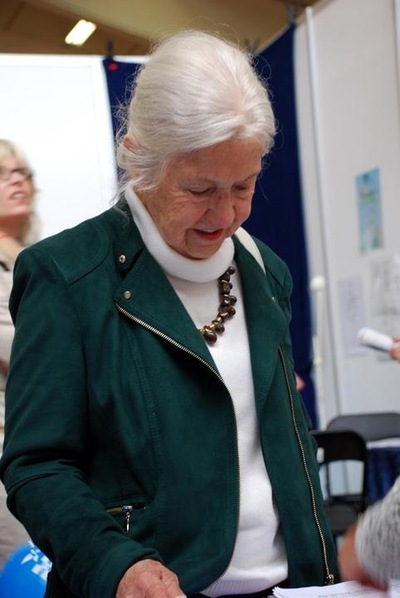 A woman bought a copy of Zhuan Falun and left her contact information to learn the exercises at a later time.