Auckland, New Zealand: Reaching Out for Support to End Forced Organ Harvesting
June 29, 2016 | By a Falun Gong practitioner in New Zealand
(Minghui.org) Falun Gong practitioners in Auckland, New Zealand have continued holding weekend events since early June to raise awareness about atrocities befalling this group in China under the communist regime.
Their June 19 event was at Avondale Racecourse, located west of Auckland, where a large market is held on Sunday mornings.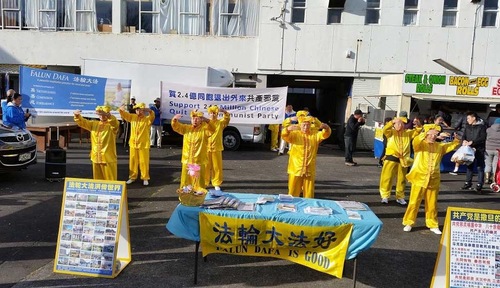 Practitioners demonstrate Falun Gong exercises at Avondale Racecourse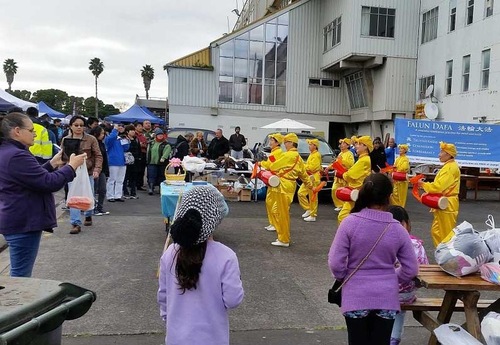 Practitioners play waist drums
Seeing the banners exposing forced organ harvesting from living Falun Gong practitioners in China, many passersby stopped to inquire and sign petitions.
Ethlina, a local Maori citizen told a practitioner that she had heard about the black market organ transplant operation in China. "It's so cruel and immoral!" she said. She signed the petition and asked how she could help. She promised to spread the news among her neighbors and friends.
Several young Indian men asked, "Were all the organs they harvested from Falun Gong practitioners?" The practitioner told them that the Chinese communist regime mainly targets Falun Gong practitioners, but the victims also include other prisoners of conscience. The young men listened attentively and signed the petition.
A Chinese man passed by and said, "The Chinese Communist Party is really evil. I understand what you're doing. Everyone should quit the Party!" He said he had already withdrawn his membership in the Party and would urge other Chinese who are members of the Party or its affiliates to do the same.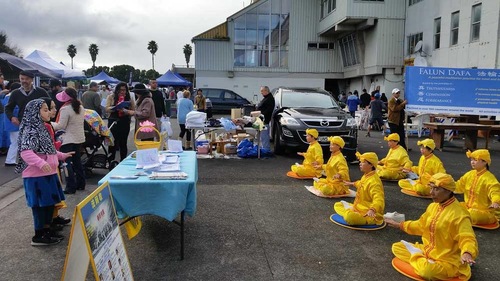 A young girl (left) follows along in meditation
Many people were attracted by the waist drum performance and Falun Gong exercise demonstration. A seven-year-old Middle-Eastern girl followed along with a group of practitioners doing sitting meditation. Though she was still standing in front of the booth, she held the hand positions and closed her eyes in tranquil meditation.
Within four hours, the practitioners collected 349 signatures for the petition calling for an end to the forced organ harvesting atrocities, and more than 60 Chinese decided to withdraw from the Chinese Communist Party.