Teenager Brings Out Kindness with Music on 3,000-Mile Bike Ride
June 26, 2016 | By Ruo Si
(Minghui.org) Borong's story began when he heard a classical piece played on a guzheng, an ancient Chinese string instrument, at the age of 7. He fell in love with the instrument and was determined to master it. Having learned the instrument, he had yet a dream to fulfill.
At age 15, he joined a 3,000-mile bicycle ride across the United States to raise awareness of and rescue children orphaned through the brutal persecution of Falun Gong in China. During the journey, he often played the instrument and his favorite piece "Phoenix Singing in Heaven" during rallies and press conferences.
"I hope the music can send my heartfelt wish to the people in China. There was a legend that only when people have love in their hearts, can they hear the songs from phoenix. I truly hope this piece can awake the love and kindness in the hearts of the government officials in China so that they won't participate in the persecution anymore."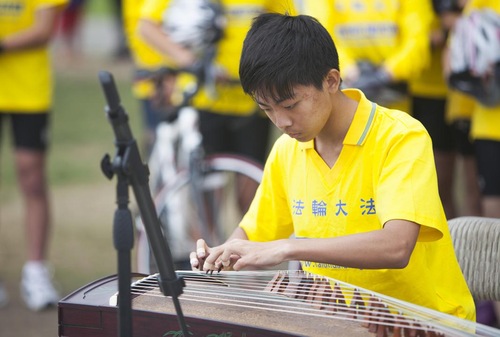 Cai Borong plays the guzheng in Los Angeles, the starting point of their 3,000-mile bike ride, on May 31, 2015
Desire to Help Those in Need
Cai Borong, a quiet teenager from Baltimore, Maryland, grew up practicing Falun Gong with his parents, who immigrated from Singapore to the U.S. His father is a scientist, and his mother is a media professional.
Falun Gong is an ancient self-cultivation practice to improve mind and body. Its guiding principles are "Truthfulness-Compassion-Forbearance."
Borong said practicing Falun Gong has been very helpful for him in doing well in school and in his practicing music, as well as in helping him develop a calm and peaceful personality.
But in China, not every child can grow up happily like Borong did.
"Since I was a kid, I often heard there were so many children who lost their parents due to the persecution of their faith in Falun Gong. I really cared about them, but there wasn't much I could do to help them, except for telling people around me about it," he said.
A Cross-Country Journey
When he heard about the coast-to-coast bicycle campaign "Ride2Freedom" in the summer of 2015 to raise awareness and funds to rescue those orphans, he decided to join almost immediately. "This trip gives me opportunities to really do something and save orphans of my own age."
More than 20 teenagers from 15 countries joined Borong in the 3,000-mile ride that lasted for 46 days. Growing up in comfortable conditions, it wasn't an easy trip for these young riders to ride across the desert and spend the night in the woods. With strong determination and a sincere wish to rescue those orphans, they overcame the difficulties and finished the trip.
"I fell from my bike one day. My fingers were fractured, and my wrist was dislocated. I just couldn't move my hand. But I wasn't afraid and didn't give up. The next morning, I did the Falun Gong exercises with the other riders, and my hands recovered very quickly." Borong recounted some of the challenges he had to face on the road.
Bringing Out Kindness in Communities
No matter how difficult it was, he was happy that many people learned about the persecution of Falun Gong from them.
"Many people were touched by our efforts to save those orphaned kids. They all showed strong support and wished us success. We met a police officer at a gas station. We explained to him the purpose of 'Ride2Freedom.' He was really touched and escorted us along the way. When we were about to enter another state, he contacted the police there, who continued to escort us. He invited us to his home and gave us a lot of water and food. He was truly wonderful."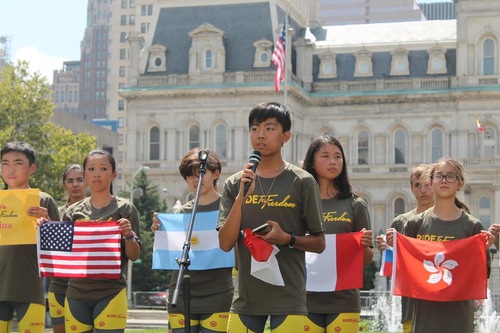 Borong talks about his story at a press conference in his hometown of Baltimore on July 14, 2015
Borong's courageous effort was also recognized in his hometown. On July 14, 2015, the Baltimore County Executive Kevin Kamenetz proclaimed that day to be "Ride to Freedom Day."
"Ride to Freedom participants are demonstrating an unwavering devotion to helping these children…The remarkable participants of the Ride to Freedom are setting an outstanding example for people of all ages throughout the world. Thank you all for your desire to raise awareness and help those in need," wrote Kamenetz in the proclamation.