Northern Ireland: MEP and Citizens Petition to Stop Organ Harvesting in China
June 26, 2016 | By Falun Gong practitioners in Northern Ireland
(Minghui.org) Offices of the Northern Ireland Members of European Parliament in Belfast and Lisburn condemned the Chinese communist regime's atrocity of harvesting organs from living prisoners of conscience on June 21, 2016.
Falun Gong practitioners visited Jim Nicholson's office (Ulster Unionist Party, MEP) in Belfast, and met international secretary Mr. Rodney Corrigan.
Mr. Corrigan said he was shocked to learn of the forced organ harvesting practice in China. He said he would pass the information on to Mr. Jim Nicholson, and expressed hope that the persecution would end soon in China.
Staff members of the Ulster Unionist Party office signed the petition form (Petition to sign Written Declaration 0048/2016—On stopping organ harvesting from prisoners of conscience in China).
Ms. Pamela Stewart, an office staff member, offered to scan the petition form and forward it to other offices. She said, "I will scan it and send it to the other offices. I wish more people can participate. Please also let us know if there is more information about Falun Gong."
Falun Gong practitioners went to the Office of the Democratic Unionist Party in Lisburn in the afternoon. Political analyst Mr. Andrew McIlwrath said he would notify Ms. Diane Dodds, MEP, as soon as possible.
Mr. McIlwrath said the petition submitted by 12 Members of European Parliament is very important and meaningful. (Submitted under Rule 136 of the Rules of Procedure---On stopping organ harvesting from prisoners of conscience in China)
He was very concerned about human rights and freedom of religion issues, and expressed his wish that the brutal persecution of Falun Gong in China would end immediately.
While some practitioners were visiting offices of MEPs, other practitioners held a signature drive in Lisburn, the third largest city in Northern Ireland.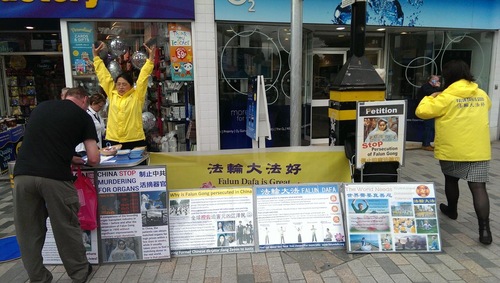 Signature drive to stop organ harvesting from prisoners of conscience in China in Lisburn Northern Ireland on June 21, 2016.
"I come to sign the petition today!" said Graham Lambert, security manager of a local company. He said he had watched news and a documentary about the organ harvesting crimes in China on BBC.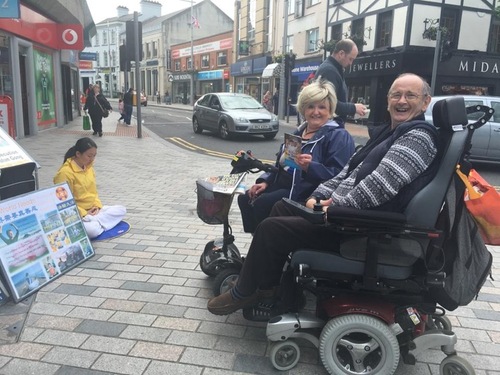 Heather and Billy
Heather and Billy read the display board closely. Billy said, "I can't believe such a thing has been happening all this time. We want to sign the petition. Thank you so much for telling us this important information."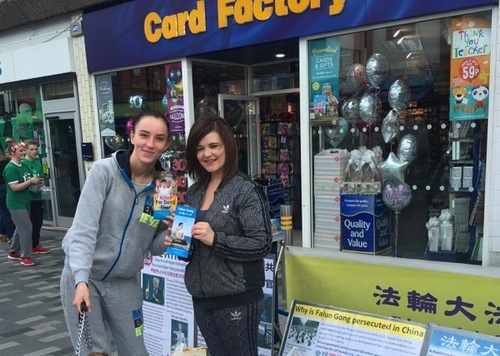 Chelsea Shaw and Ashley Lyttle
Chelsea Shaw and her friend Ashley Lyttle learned about the organ harvesting crimes in China, and both signed the petition. Chelsea also wanted to bring a form to her family and let everyone sign it.
Related article in Chinese:http://www.minghui.org/mh/articles/2016/6/23/北爱利斯本民众签名支持法轮功反迫害(图)-330441.html