School Teacher Ms. Zuo Xianfeng Imprisoned and Tortured
June 21, 2016 | By a Minghui correspondent from Heilongjiang Province, China
(Minghui.org) Ms. Zuo Xianfeng, 37, is a school teacher from Yilan County, Heilongjiang Province. She was arrested on December 8, 2015 for inviting people to attend the court trial for practitioner Mr. Li Chang'an. She was subsequently sentenced to a five-year prison term by the Fangzheng County Court, and sent to Heilongjiang Women's Prison on May 4, 2016.
Ms. Zuo's mother Lu Huiwen traveled a long distance to the prison twice, on May 13 and 20, but each time prison officials refused to allow her to see her daughter. The mother did not give up and returned to the prison on May 27, and was finally able to see her daughter.
As soon as Ms. Zuo arrived in prison, the prison authorities began using a forced-transformation procedure on Ms. Zuo, attempting to force her to give up Falun Gong. When she refused to comply, they assigned two inmates to attack her physically. When her mother visited, Ms. Zuo was in the middle of a "sitting torture," in which she was forced to sit on a small stool from 4:30 a.m. to 10:30 p.m. every day.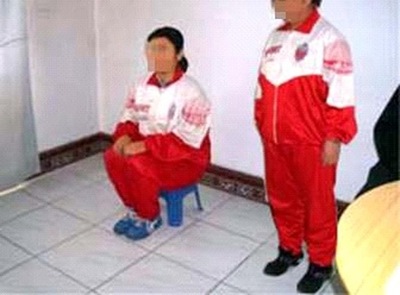 Re-enactment of the sitting on a small stool torture.
For years, the Chinese Communist Party has used the sitting on a small stool torture on Falun Gong practitioners. It is one of the most notorious torture methods, and causes severe pain, injury, and mental breakdown.
Ms. Zuo's mother was upset about her daughter's mistreatment in prison, and strongly protested to the authorities. Two of the prison division heads eventually promised her mother that they would no longer use violence against her daughter.