Melbourne: Celebrating the Upcoming World Falun Dafa Day
May 08, 2016 | By Xia Chunqing, a Minghui correspondent in Melbourne Australia
(Minghui.org) Falun Dafa practitioners from Melbourne gathered in Fitzroy Gardens on May 1, 2016, to celebrate the upcoming 17th World Falun Dafa Day and wish Mr. Li Hongzhi, the founder of Falun Dafa (also called Falun Gong) a happy birthday.
World Falun Dafa Day is May 13, and also marks the 65th birthday of Mr. Li Hongzhi, who introduced the cultivation practice to the public in China 24 years ago.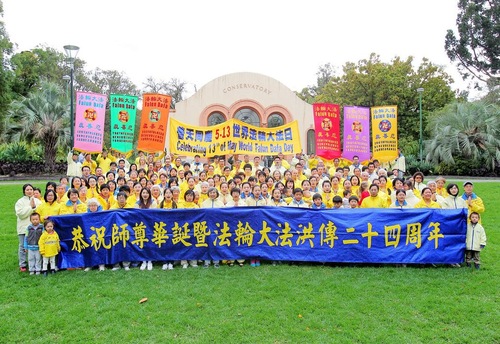 Falun Dafa practitioners from Melbourne Australia gathered in Fitzroy Gardens on May 1 to celebrate the upcoming 17th World Falun Dafa Day and the birthday of Mr. Li Hongzhi, the founder of Falun Dafa.
The weather was very cooperative. Heavy rains the night before made way for clear skies on the morning of the event. Clouds and a slight drizzle returned after the event completed.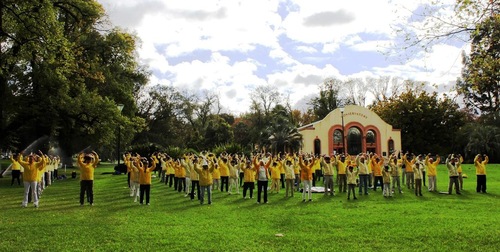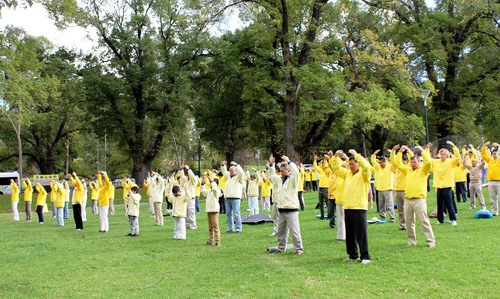 Group Falun Dafa exercise practice starts off the celebration day.
A group Falun Dafa exercise practice started the day of celebration. Practitioners, young and old, and from various walks of life, participated. When talking about their personal experiences of practicing Falun Dafa, each expressed their sincere gratitude for Master Li's kindness and compassion.
Late-Stage Liver Cancer Patient Regained Health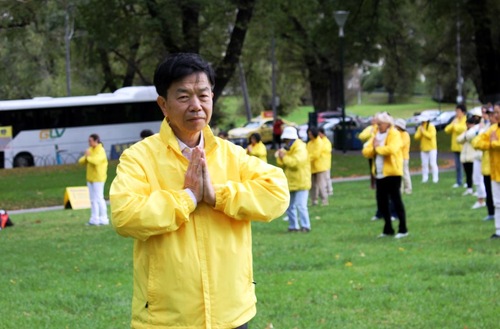 Mr. Liu, a Chinese Vietnamese, was diagnosed with late-stage liver cancer 18 years ago. Practicing Falun Dafa brought him back to health.
Mr. Liu, a Chinese person from Vietnam, was a successful businessman who was so busy that he ignored the symptoms of his illness at the beginning. When his health deteriorated so much that it forced him to see a doctor in 1998, he was diagnosed with late-stage liver cancer.
Liu had heard of Falun Dafa two years prior, but didn't make up his mind to start practicing. Now, encouraged by some practitioners, he started practicing the exercises.
"I didn't think of anything. Like Teacher advised in Zhuan Falun, I totally gave up the worry of life or death," recalled Mr. Liu. "Now, more than a decade has passed, and I feel younger year after year... I can't find a proper words to express my gratitude to Teacher!"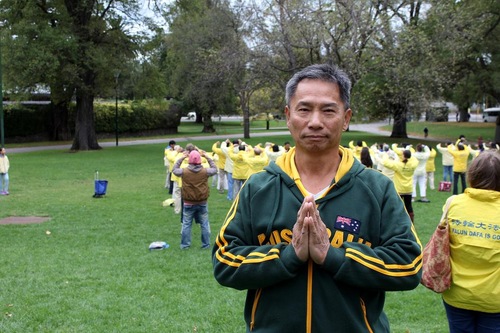 Mr. Zhang from Guangdong China
During China's Cultural Revolution, Mr. Zhang's family was persecuted by the Communist Party. He fled to Hong Kong, then migrated to Australia 26 years ago.
Zhang worked very hard to make a living and didn't take care of his health properly. He said, "I often didn't have the energy to pick up the chopsticks to eat dinner after work."
He got to know a Falun Dafa practitioner at an unexpected occasion, and read some printed materials about Falun Gong. He began practicing the exercises in 2004.
Now, a dozen years later, his job is still as demanding as before, but he feels energize, and is no longer tired after work.
Mr. Zhang said, "I have experienced so many magical things during the decade-I have cultivated! Without Teacher's guidance and protection, I had no chance of becoming a healthy person like I am now."
Practicing Falun Dafa also rid him of severe allergies to pollen and many other ailments.
Seeing the mighty power of Falun Dafa, Zhang's wife and son both started practicing. Following the principles of "Truthfulness Compassion Forbearance", the family is full of happiness and peace where everyone supports, encourages and tolerates each other.
New Practitioner: I Felt a Strong Energy Field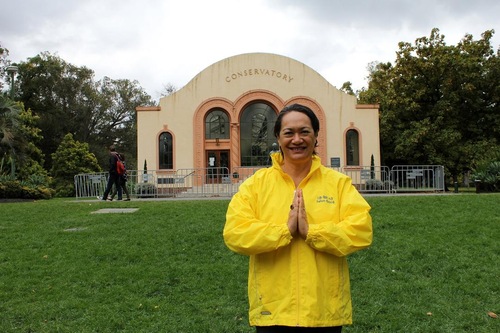 New practitioner Hinemoa Puriri-Komarnicki
Australian aboriginal Ms. Hinemoa Puriri-Komarnicki had heard of Falun Dafa a long time ago and thought of learning the exercise for years. She started practicing the exercise two month ago.
"I am still learning. There are many new things to me. I feel really great. The energy is positive and uplifting. I am making progress." Commented Ms. Puriri-Komarnicki. "I want to thank Teacher for giving me an opportunity to return to our true nature by following the principles of Truthfulness-Compassion-Forbearance."
Sofia from Greece started practicing Falun Dafa four years ago.
To Sofia, an immigrant from Greece, practicing Falun Dafa lightened her life. Four years ago, she was only 21 years old but she felt hopeless and was submerged in negative thoughts about life and society.
However, Falun Dafa brightened her life. "I've experienced many amazing things since then. I also met with many tribulations to test my xinxing."
She was enlightened to the meaning of life and universe and she realized her own mission in this life time. The tests can be painful but she experienced the happiness in looking inward and letting go of attachments.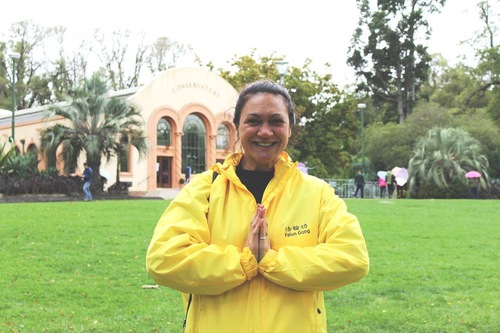 Rajna Jollie: "Falun Dafa saved my life, my body, my heart, and my soul."
From an aboriginal family, Ms. Rajna Jollie is a cheerful and passionate hairdresser who operates her own hair salon.
Ms. Jollie had been looking for a faith since she was very young. The teachings of Falun Dafa enlightened her to the meaning of life and brought her peace of mind since 2010.
"Practicing Falun Dafa greatly improved my life quality. It also has had a big and positive impact on my family and friends." Ms. Jollie remarked, "Thinking of Teacher's compassion always moves me to tears. I sincerely wish Teacher a happy birthday!"
Vietnamese New Practitioner: I Experienced Great Change after Practicing Dafa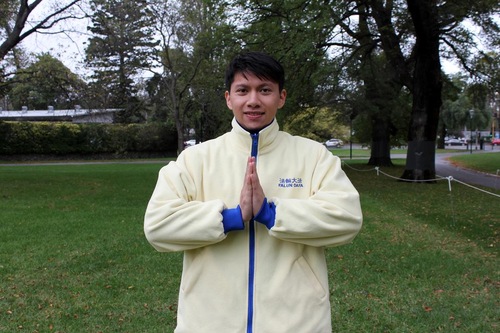 Mike Dang, a new Vietnamese practitioner.
Mike Dang, a recently graduated international student from Vietnam, said the exercise brought big changes to his body and bigger changes to his mind.
Fellow practitioners also noticed his change since he obtained the Fa 2 years ago. He learned to look at himself and change himself first when there was a conflict.
The change of attitude harmonized his relations with friends and family.
His parents worried about him because they knew he didn't study hard and often handled things poorly. Practicing Falun Dafa taught Dang to be responsible for his own life and his behavior as well as being responsible to his family.
"I truly appreciate that Teacher turned me into a better and more useful person," Dang said.
Western Practitioners: Falun Dafa Blessed Our Entire Family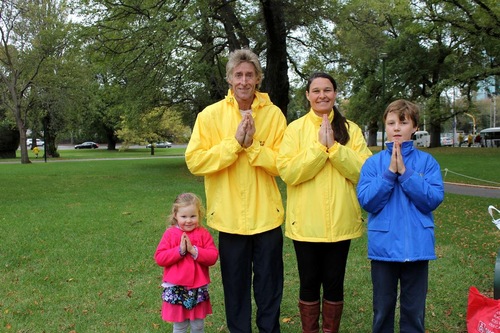 Mr. Dean, Mrs. Peta Evans, and their children wish Teacher a happy birthday!
Peta, the mother, said she started practicing Falun Dafa when she was carrying her first child. She said the son was blessed by Dafa, and born with a good character. He joined the group practice this morning.
She said, "I believe my 3-year-old daughter will soon join us in practicing Dafa. I can feel that Teacher wants our entire family to be practitioners."
Cultivation practice helped her notice and eliminate many improper notions, such as selfishness, and return to a purer nature. With the compassion of a practitioner, she put others first and strived to become a better person. While doing so, she experienced the happiness of being a genuine practitioner and witnessed the virtue of Dafa from the change in attitudes of her family and colleagues.
Mr. Dean said he had been looking for a true mentor since he was five years old. He traveled to many places searching, but to no avail. Then one day 14 years ago, he picked a Falun Dafa book and it touched his heart, "Oh my good heavens! I found you finally!"
Dean said, "Letting go of attachments is a painful process. It is truly not an easy thing to do. I am very thankful to Teacher for giving me the opportunity to practice Falun Dafa and to assist Teacher in saving people.
"Language can't express the gratitude. Just thinking of it brings me to tears."