Taiwan: Celebrating the Upcoming World Falun Dafa Day
(Minghui.org) Falun Gong practitioners in Taiwan held a series of activities in front of the National Sun Yat-sen Memorial Hall on May 1 to celebrate the upcoming 17th World Falun Dafa Day, May 13. The day also marks the 65th birthday of Master Li Hongzhi, the founder of Falun Dafa, also called Falun Gong.
Hundreds of practitioners gathered for the peaceful exercises, after which there were various performances of traditional Chinese dance, instruments, and singing. A photo exhibition on the sides of the square in front of the memorial hall allowed the many passersby to learn about Falun Gong and its worldwide impact.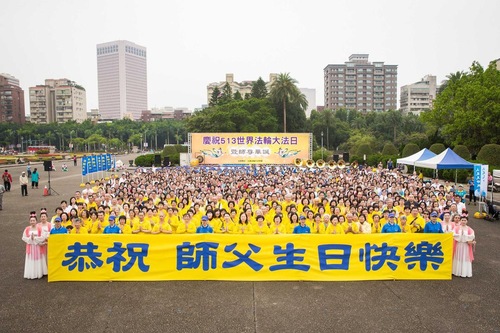 At the end of the celebration, practitioners wished Master Li Hongzhi a happy birthday (the Chinese words on the banner)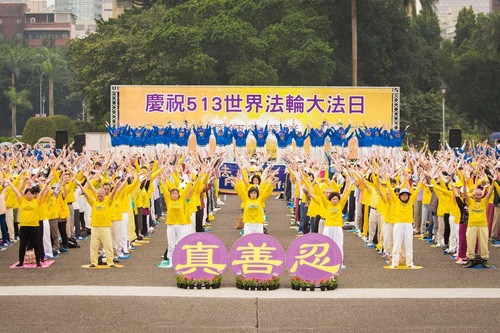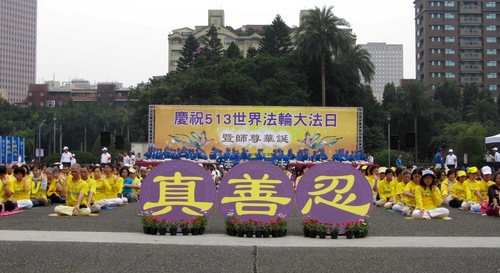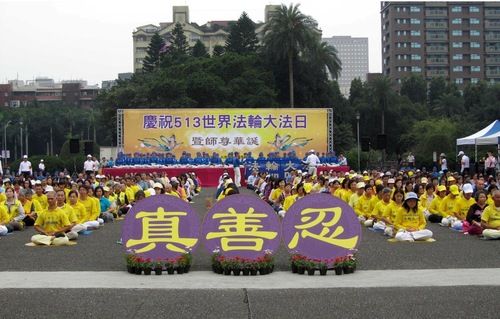 The large scale group exercises. Banner in the back reads "Celebrating 5.13, World Falun Dafa Day." The signs in the front read: "Truthfulness-Compassion-Forbearance."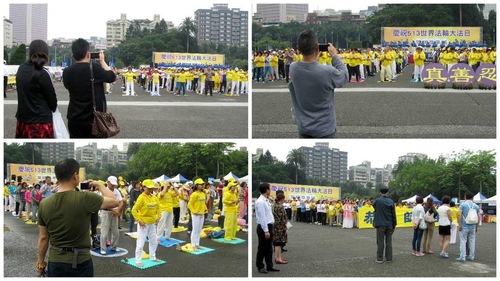 Tourists from China watch and record the large scale Falun Gong event, something they can only see while traveling abroad due to the persecution of Falun Gong in China.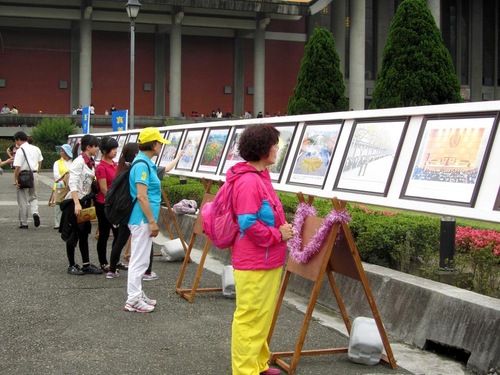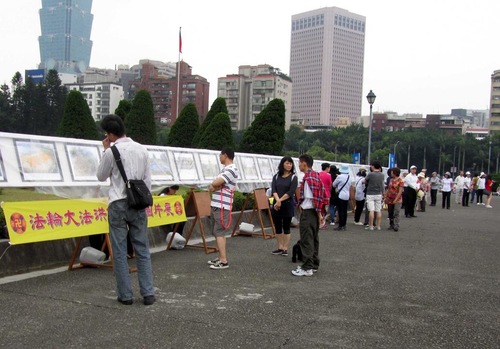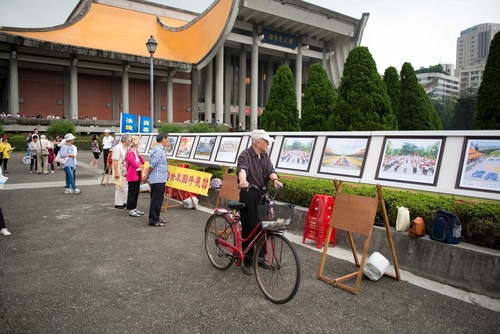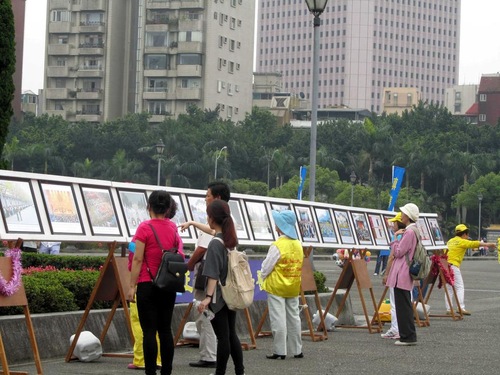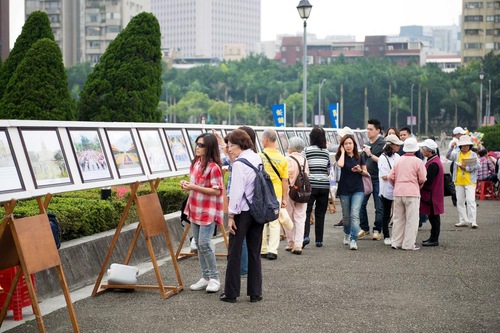 Visitors viewing the Falun Gong photo exhibition.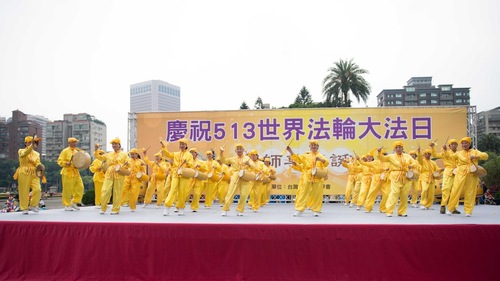 Lively waist drum performances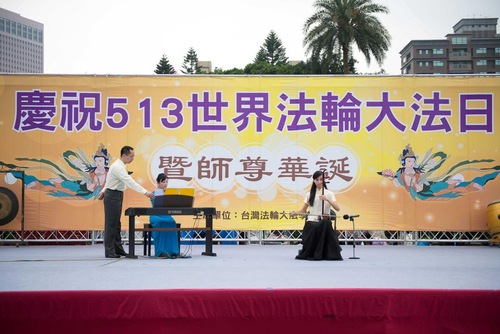 A practitioner plays the Erhu, a traditional Chinese instrument.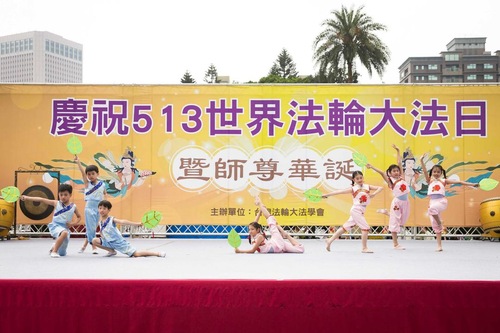 Young practitioners perform traditional Chinese dance.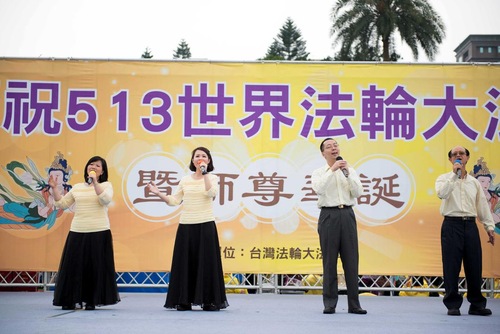 Vocal ensemble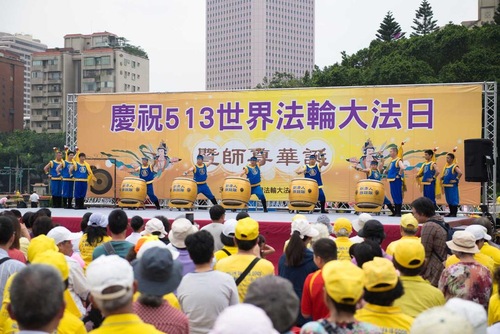 Drum performance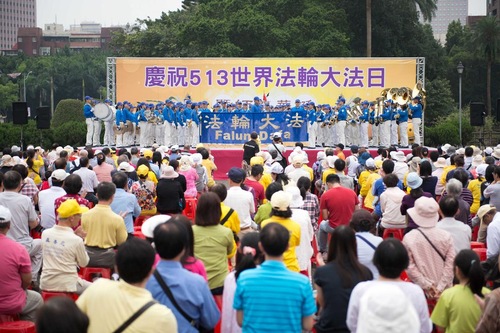 The Divine Land Marching Band performs on the stage.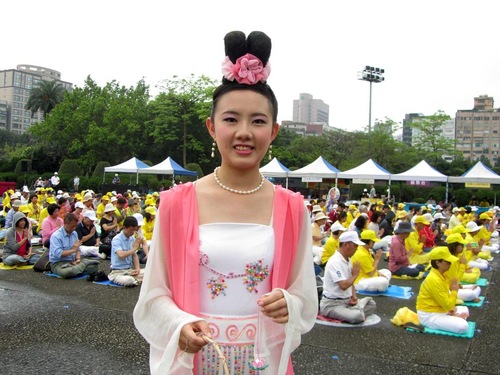 Ms. Liao Weiyi dressed as a "celestial maiden" hands out hand-made lotus flowers to the tourists during the event.
A Family of Practitioners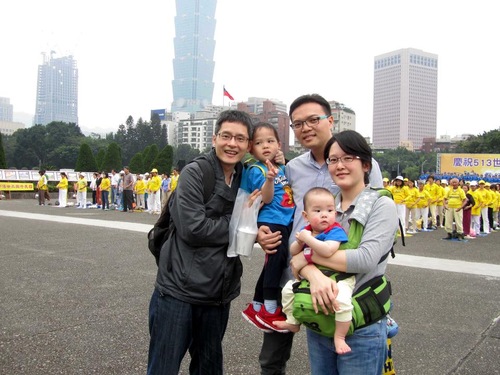 Chen Chunhao (middle), his wife Wanchen, and his brother-in-law Li Jianhao (left) at the celebration
Dr. Chen Chunhao, a graduate of Taiwan University, works for an electronics company. He came to the celebration with his wife Wanchen, their two children, and his brother-in-law Li Jianhao. The whole family practices Falun Gong.
Dr. Chen had always looked for the meaning of life since he was young. In his senior year at college, he saw a professor on TV sharing his experience of cultivating Falun Gong. Dr. Chen was curious, so he found a copy of Zhuan Falun (the main book of Falun Gong).
"'This is what I've been looking for,' I told myself," Dr. Chen said. "The book clearly explains the meaning of life in plain language, yet, profoundly. This is a great uplifting practice, and I joined the journey of cultivation."
"I used to have a short temper, but Falun Gong teaches Truthfulness-Compassion-Forbearance. I try to follow this principle. During conflicts, I try to look inward for my own shortcomings. I also try to give up the attachments to loss and gain. It has helped me greatly at school and work."
Dr. Chen's brother-in-law, Li Jianhao, had poor health since he was little. He was a frequent visitor of local hospitals. Mr. Li had joined all kinds of religious groups, looking for the goal of life. In 2002, he got a copy of Zhuan Falun from his mother.
"Not only has Falun Gong healed all my health problems, but it has also pointed out the direction of life for me. I no longer feel lost. My life has become rich and meaningful."
Mr. Li's sister, Dr. Chen's wife, Wanchen used to think that practicing Falun Gong was only for elderly people. When her mother first told her about Falun Gong, she didn't pay much attention to it. But the changes in her brother sparked her curiosity.
Encouraged by Mr. Li, Wanchen joined the free Falun Gong workshop for college students, where she learned more about Falun Gong, and also started practicing.
"Master Li Hongzhi has done a great deal for all the practitioners," Wanchen said with tears in her eyes. "Today, we come here to express our appreciation and wish Master Li Hongzhi a happy birthday."