Blacktown, Australia: City Councilor Calls Falun Dafa Practitioners "Extraordinary and Wonderful"
May 31, 2016 | By Minghui correspondent Hua Qing
(Minghui.org) On May 28 Falun Dafa practitioners participated in the annual parade that caps off Blacktown City Festival Week. Blacktown is near Sydney.
City Councilor Susai Benjamin said the practitioners were "extraordinary and wonderful."
With a population of 330,000, Blacktown is the fifth most populous local government area in Australia. Falun Dafa practitioners have been participating this annual tradition for more than 10 years and have received many rewards for their performance.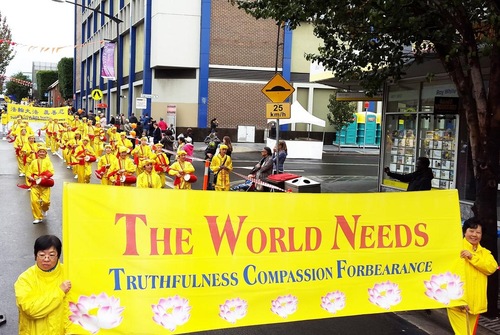 Falun Dafa practitioners joined over 70 groups for the Blacktown parade.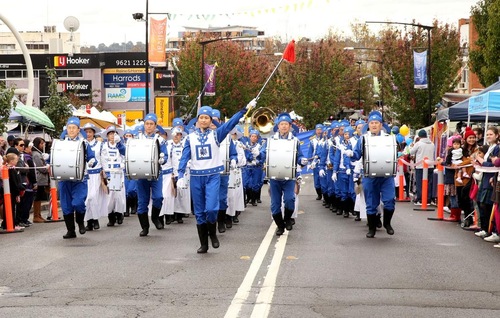 The Divine Land Marching Band led the Falun Gong procession, followed by waist drums and a float.
"After the persecution started in China in 1999, we discovered that the Chinese Communist Party's defamatory propaganda had reached outside of China, so it is important for us to help the community understand what Falun Dafa really is," recalled practitioner John Zhuo.
He and other practitioners have taken part in this annual parade ever since, and he met Frank Mossfield, then Australian House of Representatives, and several city councilors.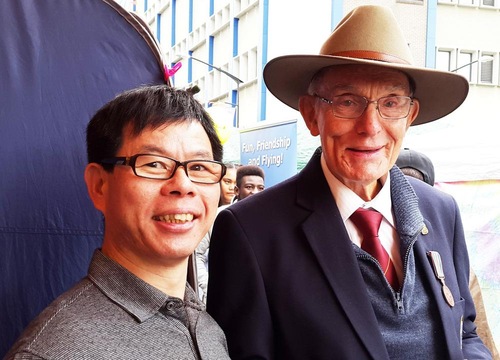 Frank Mossfield, former member of the Australian House of Representatives (right) and practitioner John Zhuo (left)
Mr. Mossfield, who retired in 2004, also came to watch the parade: "I know Falun Dafa practitioners are very nice and friendly. They improve their health through meditation and care about others."
He said he always likes the color and energy in the practitioners' performance and thanked them for sharing with the community.
City Councillor Susai Benjamin said he was impressed by the principles Truthfulness-Compassion-Forbearance. "I have known Falun Dafa since I worked in the city of Parramatta. They are extraordinary and wonderful."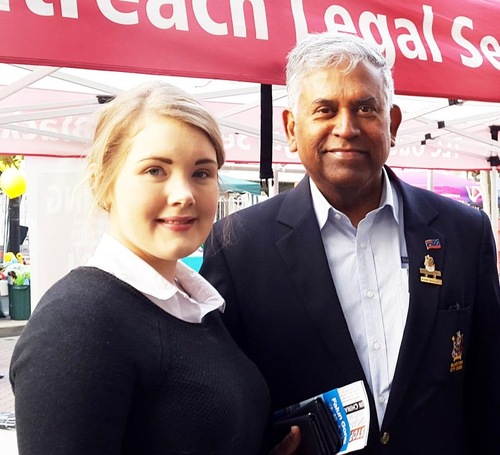 Blacktown City Councillor Susai Benjamin (right) hopes to see Falun Dafa practitioners in the parade every year.
Having seen practitioners doing their exercises near City Hall, Mr. Benjamin said he could feel peace and energy emanating from the group. "I hope they will continue to be in parade every year."
Li Ping, who immigrated to Australia from Beijing 28 years ago, said he had learned the facts about Falun Dafa through the years. "They are good people and what they believe is consistent with traditional Chinese culture."
Having lived in China for many years, he was very upset by the communist party's brutality: "Many people have suffered under the regime, and Chinese people need freedom of belief. Jiang Zemin and other key officials who've suppressed Falun Dafa must be brought to justice."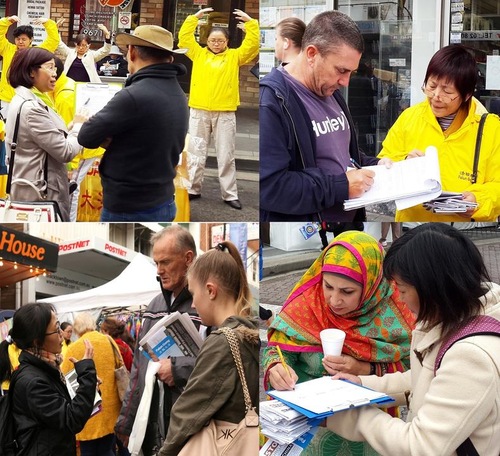 People sign petitions to support practitioners.