Jilin Veteran Informed of Intended Prison Sentence Before Trial Is Even Scheduled
May 03, 2016
|
By a Minghui correspondent in Jilin Province, China
(Minghui.org) A military veteran from Jilin City, Jilin Province was arrested after filing a criminal complaint against former Chinese dictator Jiang Zemin for launching the persecution of Falun Gong that resulted in his repeated arrests and torture.
Even before a trial was scheduled, Mr. Bai He was informed of the court's decision to sentence him to 3-5 years in prison.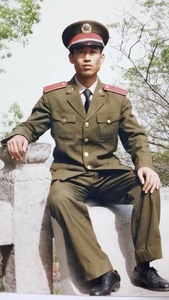 Mr. Bai He
Allegations Changed
Mr. Bai's lawyer argued that it was his client's constitutional right to seek justice against Jiang for infringing upon his right to freedom of belief. The procuratorate twice returned his case, citing insufficient evidence.
Mr. Bai told his lawyer on April 19 of this year that the court had informed him of its intention to sentence him to 3-5 years in prison on charges that he "assisted another practitioner with uploading criminal complaints against Jiang to a banned website (Minghui.org)."
His lawyer was shocked to learn of the intended sentence, as he hadn't had a chance to defend his client's innocence in court yet. The court indicated that there will be a trial, but the lawyer hasn't been informed of a date.
Arrested for Suing Jiang Zemin
Mr. Bai became a target after the persecution of Falun Gong began in 1999. He was put under house arrest for more than one year after speaking out for Falun Gong to the Jilin Provincial Party Committee.
After he was discharged from the military, Mr. Bai was repeatedly arrested and once served two years in a forced labor camp, where he was brutally tortured.
Mr. Bai exercised his legal right and filed a criminal complaint against Jiang in May 2015, only to be arrested on July 23.
Mr. Bai's family, including his 80+ years old mother, kept urging the police, the procuratorate, and the court to release him, as he had done nothing wrong. His lawyer also rebutted the indictment by emphasizing the fact that he broke no law with his lawsuits against Jiang.
The police changed the allegations against Mr. Bai and managed to get the court to proceed with his prosecution. Without holding a trial, the court told Mr. Bai of its intended prison sentence for him. He is now awaiting trial at the local detention center.
Background
In 1999, Jiang Zemin, as head of the Chinese Communist Party, overrode other Politburo standing committee members and launched the violent suppression of Falun Gong.
The persecution has led to the deaths of many Falun Gong practitioners in the past 16 years. More have been tortured for their belief and even killed for their organs. Jiang Zemin is directly responsible for the inception and continuation of the brutal persecution.
Under his personal direction, the Chinese Communist Party established an extralegal security organ, the "610 Office," on June 10, 1999. The organization overrides police forces and the judicial system in carrying out Jiang's directive regarding Falun Gong: to ruin their reputations, cut off their financial resources, and destroy them physically.
Chinese law allows for citizens to be plaintiffs in criminal cases, and many practitioners are now exercising that right to file criminal complaints against the former dictator.