Twelve Members of European Parliament Issue Declaration Calling for Investigation into Forced Organ Harvesting in China
May 29, 2016 | By a Minghui correspondent Rongfa in Belgium
(Minghui.org) Twelve Members of the European Parliament recently issued a joint declaration requesting that the European Parliament investigate the illegal harvesting and trafficking of human organs by the Chinese communist regime.
Belgian MEP Louis Michel is one of the initiators of the declaration. His cabinet director Bénédicte Van den Berg said that the declaration is a strong voice against illegal organ transplantation and advocates an independent investigation in China. Organ harvesting is a key and sensitive issue, she said, because it is about human rights and human lives.
Practitioners of Falun Gong (also known as Falun Dafa), a cultivation practice persecuted in China since 1999, rallied in front of European Parliament in Brussels on May 25 and 26, 2016 to express support.
The group exposed how the communist regime in China harvests organs from living practitioners imprisoned in China for their faith. The organs are used in transplants and sold for profit. In addition to condemning the persecution of Falun Gong, they asked members of the European Parliament to support this effort to bring further investigations into the Chinese regime's harvesting of organs from prisoners of conscience, including Falun Gong practitioners.
Falun Gong practitioners in front of European Parliament call attention to organ harvesting from practitioners detained in China for their belief.
The EP passed a resolution in December 2013 calling on the Chinese regime to stop harvesting organs from living prisoners of conscience. The recent declaration initiated by 12 MEPs from four political parties calls on the EP to take further action and investigate the crime of organ harvesting in China. Once the declaration gains the support of more than half of the MEPs, it will become a resolution.
Nick, a Falun Gong practitioner at the rally, said that they would continue to hold activities in front of the European Parliament until the declaration becomes a resolution. He believes that continuous efforts by people and leaders around the world are what's needed to end China's organ harvesting atrocities.
German MEP: "We Must All Do the Best We Can to Stop the Persecution"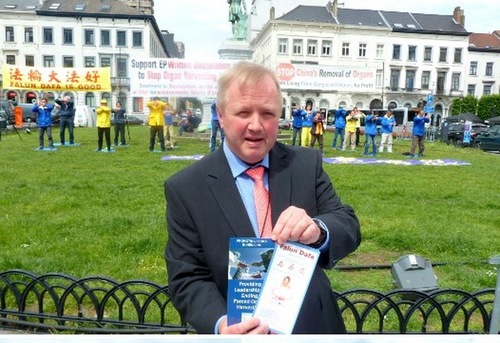 Arne Gericke, MEP from Germany, attends the rally to support the practitioners' efforts.
German MEP Arne Gericke came to the rally with a copy of the declaration in his hand. He said he wants to let more people know about this horrendous crime currently taking place in China.
"It is hard for people in Europe to know clearly what is happening in China. The truth of the tragic organ harvesting is concealed by the Chinese regime. I thank those who closely watch what is going on in China. They help us understand and make proper responses," said Gericke.
"Organ harvesting from living people for profit is unacceptable in Europe," said Gericke. "We are absolutely shocked. We want to help but didn't know where to start, and that is why I am so happy to see [Falun Gong practitioners] here. This allows me to know what I can do. We must all do the best we can to stop the persecution."
"It Is Our Responsibility to Take Action"
Czech MEP Tomas Zdechovsky, another initiator of the declaration, believes that organ harvesting in China is an important issue. "We want to open up the discussion on this issue in Europe. It is essential for our conversation with China, which is related to not only the economy, but also human rights," said Zdechovsky.
"For me, it is important that we speak up on this issue and get everyone's attention," said British MEP Julie Ward, who signed the declaration "for the seven million people I represent."
Explaining why he supports the declaration, German MEP Joachim Zeller said, "I believe that this is the most extreme form of human rights violation, and it is our responsibility to take action."
Raising Public Awareness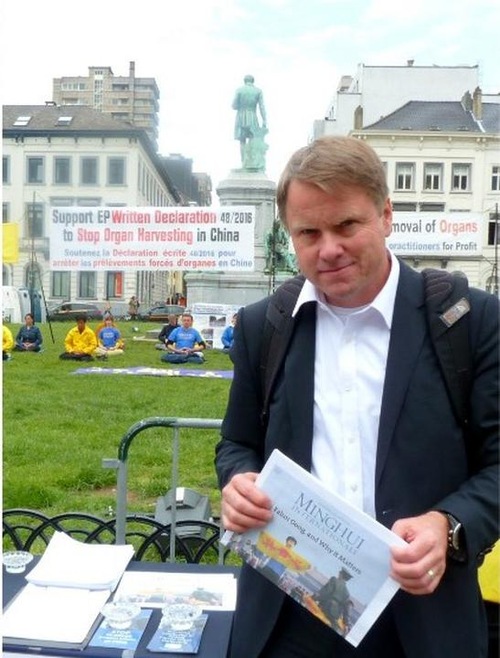 Martin Bursík, a professor from the Czech Republic, hopes to help end the crime of organ harvesting.
Martin Bursík is a professor from the Czech Republic. He stopped at the rally and mentioned having heard a talk given by David Kilgour in the Czech Republic several years ago. Kilgour is a former Canadian MP and an independent investigator of organ harvesting in China. Bursik expressed support for Falun Gong and signed the petition against organ harvesting.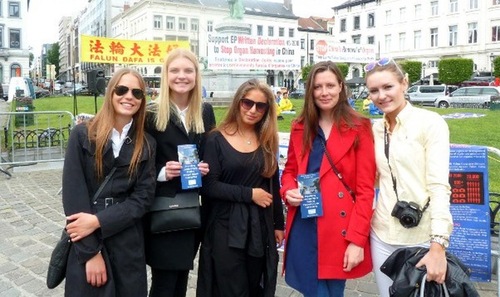 Journalists from Denmark plan to help raise awareness of the organ harvesting crimes in China.
Five journalists from Denmark saw the posters and learned about the ongoing persecution in China. One of them, Ms. Ditte Lumti, said, "This is the first time I've heard about this horrible crime." They said that they would do what they could to help raise awareness of the issue.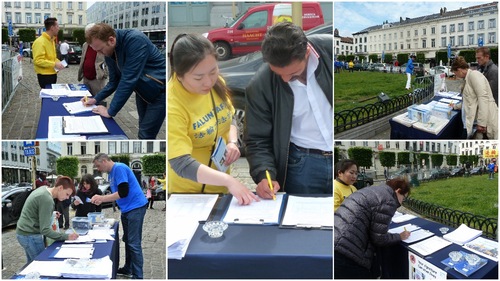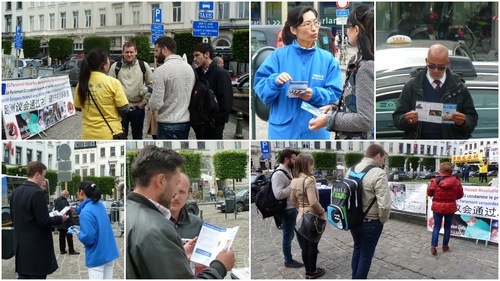 Many passersby sign the petition against the ongoing persecution of Falun Gong in China.