Ottawa: Falun Gong Practitioners at Tulip Festival
May 28, 2016 | By Ying Zi, Minghui correspondent in Ottawa
(Minghui.org) Falun Gong practitioners held a group exercise and introduced Falun Gong (also known as Falun Dafa) from May 21 to May 23, at the Ottawa Tulip Festival, the largest tulip festival in the world. They talked about the benefits of Falun Gong to crowds of tourists at Dow's Lake.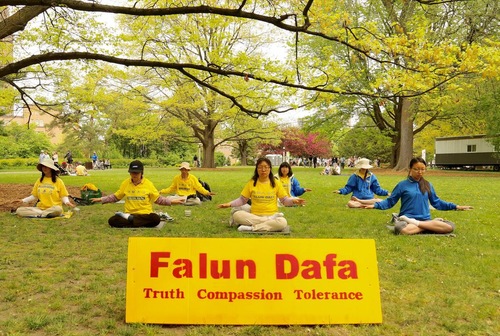 Practitioners demonstrate the exercises at Dow's Lake during the Ottawa Tulip Festival.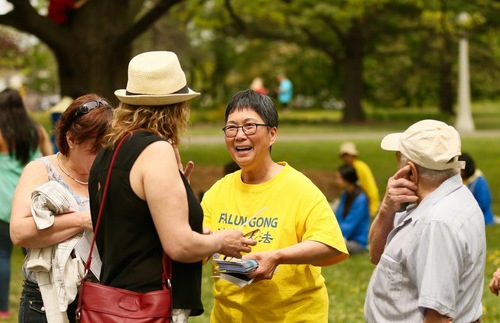 Practitioners introduce Falun Gong to tourists at the Ottawa Tulip Festival.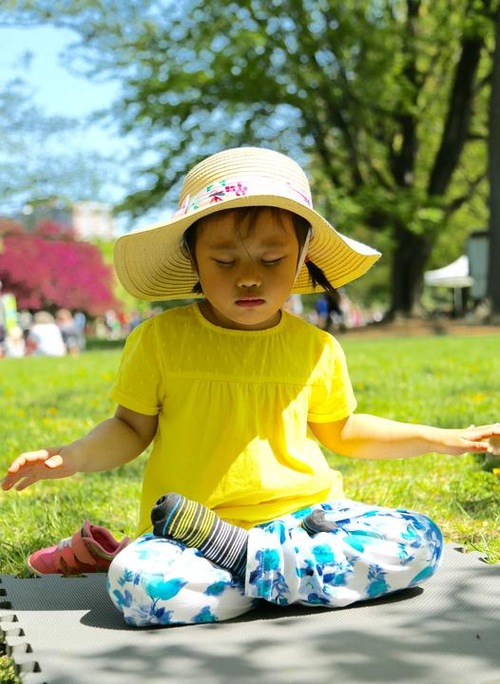 A child practitioner does meditation exercise.
Feeling Refreshed after Learning Exercises
Many tourists took pictures and video of the Falun Gong group exercise, got introduction materials, and asked how they could learn. Some copied practitioners' exercise movements and learned on the spot.
Elise from Gatineau, Quebec, showed great interest in Falun Gong. She learned all five exercises at the event. After doing the exercises, Elise felt great and said, "I feel refreshed!" She took introduction materials with her, and planned to continue doing the exercises.
Edy, manager of a travel agency in Montreal, saw the Falun Gong exercises for the first time. She said, "Beautiful! I thank you for what you are doing. I wish you a great time at the festival! Keep up with your great job!"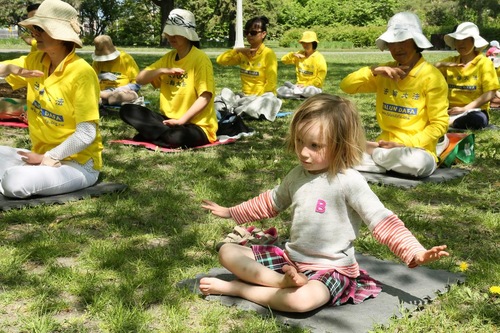 A little girl learns Falun Gong meditation.
Catherine from Ottawa took her three-year-old and five-year-old girls to the festival. The girls were fascinated by the Falun Gong exercises and learned the movements. Catherine said, "Falun Gong is so peaceful. I have got some materials from a lady, so that we can do the exercises at home."
Grace from Mississauga stayed to watch the exercises for a long while. She said her daughter was a natural therapist. She was interested in meditation and yoga herself. It was the first time she had seen Falun Gong. She thought it was so peaceful and tranquil. She wanted to find out more information about Falun Gong.
"Wish Falun Gong Success!"
Jonathan, a biology student at Carleton University, had heard about the persecution of Falun Gong from the Epoch Times newspaper. He said, "It's terrible! I have seen Falun Gong practitioners protest peacefully in front of the Chinese Embassy to Canada. I hope China will undergo a change, and wish Falun Gong success!"
Mr. Liang, an immigrant from Hong Kong, had also heard about the persecution. He said that every group should be allowed a voice.
Many Chinese found out about Falun Gong and the persecution at the festival, and some even agreed to quit the Communist organizations that they belonged to.