Medical Doctor: Suing Jiang Zemin for Repeated Incarceration, Torture, and Job Loss
May 26, 2016 | By a Minghui correspondent from Hubei Province
(Minghui.org) Falun Gong practitioner, Dr. Xiong Jiwei, has been incarcerated numerous times since the onset of the persecution of Falun Gong in 1999. He was given a four-year sentence, sent to forced labor twice, and was tortured while in police custody. He was also fired from his job.
He went on hunger strikes to protest the unlawful persecution by law enforcement personnel. He was close to death several times because of the torture.
Dr. Xiong filed a criminal complaint on June 13, 2015, charging Jiang Zemin, the former Chinese dictator, for launching the persecution of Falun Gong.
Dr. Xiong, 45, recalled in his legal complaint, "I was tied up in a hospital bed. My hands were tied to iron bars and raised as high as they could be, yet my shackled feet were stretched downwards as far as they could go. My entire body was stretched and kept in that position for nearly a week.
The guards kept the thick rubber tube that they used to force feed me inside my stomach for as long as they force fed me. One section head told me, 'It's normal for prisoners to die in prison.'"
1999: One Year of Forced Labor in Xiaogan Forced Labor Camp
I went to Beijing to peacefully appeal for Falun Gong on October 28, 1999, and was arrested while doing the Falun Gong exercises with other practitioners on Tiananmen Square. Police officers body searched us and whipped us with their leather belts. We were detained first in Beijing, and then escorted back to our local areas.
After being detained in Yingcheng City No.1 Detention Center, I was given one year of forced labor, and incarcerated in the Xiaogan Forced Labor Camp.
In the forced labor camp, I had to do hard labor, such as carrying boulders, building houses, digging foundations, and pulling carts full of cement. Yet, I was given very little food to sustain me. The food was of the same quality fed to pigs. In addition, the guards and prisoners punched, kicked, and whipped me with leather belts.
The hospital I worked at terminated my contract. All of the benefits that I had accumulated over the years were cut off.
2001: Tortured in the Yingcheng City No. 1 Detention Center
I was arrested again on October 3, 2001. Zhou Tao, a police officer, repeatedly hit me in the head.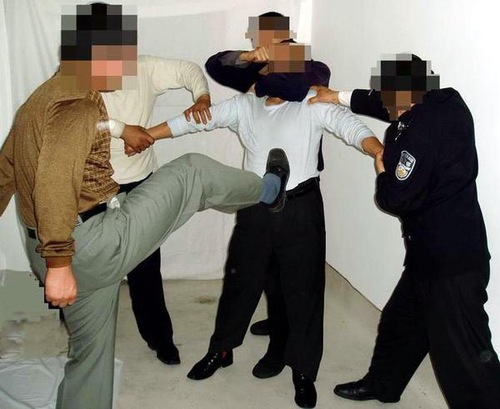 Torture re-enactment: Punching and kicking
In the Yingcheng City Xinji local police station, Zhou deprived me of sleep and restroom use. He and Nie Yaoshan, also a police officer, tortured me during interrogation. When I refused to cooperate, Nie yelled, "Hang him up!" After I swallowed a page of their fabricated confession, Nie yelled, "Hold him and kill him!"
They transferred me to the Yingcheng No.1 Detention Center, where I refused to wear the prison uniform.
Three guards handcuffed and then hit me. A guard demanded that I kneel, but I refused. He kicked me, and then pulled my arms behind my back. Two other guards handcuffed me, with the hands behind my back, and slapped me in the face. They hung me up by the handcuffs from an iron bar.
The next day, the guards cuffed my hands behind my back and hit me with a wooden board. After that, they hung me up from one handcuff for about 30 minutes.
I went on a hunger strike to protest the torture. The guards ordered a death row inmate to beat me. They openly praised the prisoner for torturing me.
Three months later, I was released after the officials had extorted 1,500 yuan for the local police and 500 yuan for the detention center from my family.
July 2002: Arrested and Beaten While Holding Seven-month Old Daughter
After my wife was arrested for telling people about Falun Gong on July 20, 2002, I went to the Mafang Police Station to see her with our seven-month-old daughter. The guards locked us up, and then began to punch and kick me while I was still holding our baby. I was detained once again in the No.1 Detention Center.
I told the inmates the facts about Falun Gong. Tang Zhuqing, the detention center head, and Song Jiang, the political director, beat me, stuffed my mouth with a hand towel, and cuffed my hands behind my back. I went on a hunger strike in protest. The next day, the detention center ordered the prison doctor to force feed me, but he could not when I resisted.
They next put heavy foot shackles on me. A guard tightened the shackles over the ankle bones, which caused excruciating pain.
October 2002: Sentenced to Four-Year Term on Day of Arrest
For talking to people about Falun Gong, I was arrested on September 30, 2002. I went on a hunger strike in the Yunmeng Detention Center to protest the persecution. After nine days without food, my health deteriorated, so I was released.
However, I was arrested less than a month later, in October 2002, and given a four-year sentence the same day. I was not allowed to hire a lawyer, and my family was not present in court.
I went on a hunger strike in the detention center, and was on the verge of death on the ninth day. I was bailed out for medical treatment in November, but monitored around the clock.
Then, a few days later, three police officers arrested me and took me to the Shayang City Fanjiatai Prison in Hubei Province.
Shayang City Fanjiatai Prison: Torture and Brainwashing
All of the practitioners in the Fanjiatai Prison were tortured, and communication with their families was forbidden.
We were forced to watch DVDs that slandered Falun Gong, but I refused to watch. Thus, I was taken to a solitary confinement cell. Once I was let out of solitary, prisoners were ordered to beat me.
I went on a hunger strike to protest and on the third day, guards forcibly pried my mouth open and inserted a thick tube into my stomach to force-feed me.
Torture re-enactment: Prying mouth open for force-feeding
I was thrown to the ground, and my head was injured, but the guards refused to take care of the injury. My right side lateral incisor mandibular, the tooth located on the jaw, adjacent to the mid-line of the face, was fractured. The prisoner who caused the injury was not punished at all.
My father was allowed to visit me in March 2004. We had to communicate through the intercom system. My father demanded direct communication, which was approved. However, about six guards surrounded us. When my father asked me if the guards beat me, the guards quickly took me away.
I refused to have my head shaved in September 13, 2005. The guards had prisoners immobilize my limbs, and then hit and kicked my chest for nearly an hour.
2008: Sentenced to Forced Labor
I was arrested at work on July 2, 2008 and taken to the Yingcheng City Detention Center. When I refused to be finger printed, a policeman beat me with a baton until it cracked. While I was detained, police officers ransacked my parents' apartment.
The next arrest took place on December 3, 2008. The officers did not show their police badge or an arrest warrant. I was taken to the Yingcheng No.1 Detention Center.
I was given one year of forced labor and incarcerated in the Shayang Forced Labor Camp. After 20 days, I received a legal notification of detention. However, it showed wrong personal information and accused me of crimes that I did not commit.
The guards forced me to perform hard labor, and had me squat and stand at attention for long periods of time. I was also deprived of sleep.
2014: Body Searched at Train Stations
While on a business trip in July 2014, my identification card triggered an alarm when it was scanned at the train station. I was pulled aside and my luggage was searched. They went through my wallet and examined the contents. When they found paper currency on which Falun Gong information was written, they detained me for several hours, took a blood sample, and photographed me. After confiscating my money, they released me.
Upon my return, I was stopped and body searched again. After failing to find anything, they searched my cell phone and detained me for an hour after finding Falun Gong articles stored on my phone. They again took a blood sample and a photo before I was released.
Background
In 1999, Jiang Zemin, as head of the Chinese Communist Party, overrode other Politburo standing committee members and launched the violent suppression of Falun Gong.
The persecution has led to the deaths of many Falun Gong practitioners in the past 16 years. More have been tortured for their belief and even killed for their organs. Jiang Zemin is directly responsible for the inception and continuation of the brutal persecution.
Under his personal direction, the Chinese Communist Party established an extralegal security organ, the "610 Office," on June 10, 1999. The organization overrides police forces and the judicial system in carrying out Jiang's directive regarding Falun Gong: to ruin their reputations, cut off their financial resources, and destroy them physically.
Chinese law allows for citizens to be plaintiffs in criminal cases, and many practitioners are now exercising that right to file criminal complaints against the former dictator.