Benefits of Practicing Falun Gong Shared by Practitioners from Around the World
May 20, 2016 | By Minghui correspondent Ying Xin
(Minghui.org) Nearly 10,000 Falun Gong (also known as Falun Dafa) practitioners of various ethnicities gathered in New York on May 13, 2016 to celebrate World Falun Dafa Day, and held a grand parade in Manhattan, New York. They shared the benefits they have experienced from the practice.
Italian Family Practices Falun Gong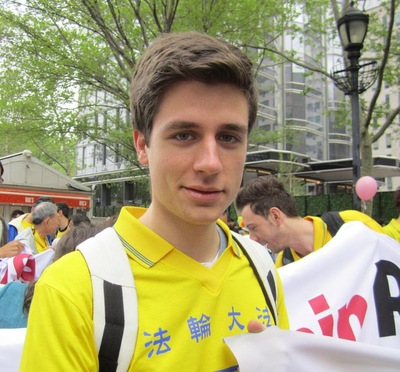 Rorenzo Derenzani, from Udine, Italy.
Rorenzo Derenzani from Udine, Italy learned about Falun Gong from his elder brother. His back pain, which had been bothering him for years, disappeared after he began practicing. He, his brother, and his parents now all practice Falun Gong.
Rorenzo said, "The principles of Truthfulness-Compassion-Forbearance has been deep in my heart, along with my reading Zhuan Falun (the main book of Falun Gong)."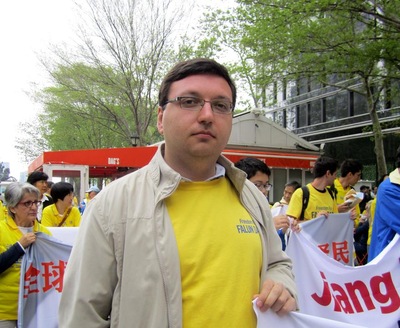 Rassable Cannata, from Italy, has his own web design company.
Rassable Cannata, from Italy, said during an interview, "I sought the meaning of life for a long time. I know it after practicing Falun Gong. What we should do most is follow Truthfulness-Compassion-Forbearance. My life has [experienced] a big change by following the values. I know to improve myself and be a good person."
Started Practicing From Reading a Flyer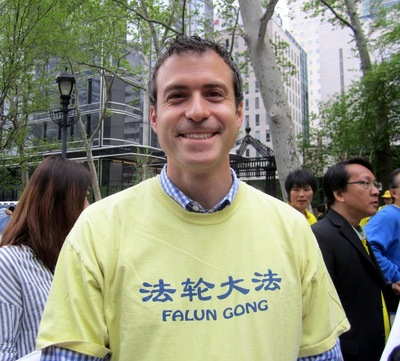 Cary Dunst, vice president of Lotame Solutions
Cary Dunst, vice president of Lotame Solutions, started practicing Falun Gong after becoming aware of the persecution in China.
Cary saw a group people practicing Falun Gong in Chinatown in 2001. He obtained a flyer, and browsed online to learn more about the practice. He read a series of reports on the persecution, which was published by The Wall Street Journal. He was interested in why the practitioners remained steadfast in their beliefs while facing the brutal persecution.
He tried to practice the exercises for 30 days in January 2002. He said, "I immediately felt strong energy in my body after practicing the exercises. I had never had such a feeling. I have been practicing Falun Gong for 14 years. My view of the world has experienced a big change."
Iranian Artist Learns the Meaning of Life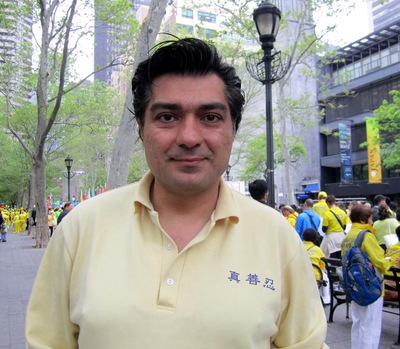 Soroush Moghadam, an artist and philosopher from Iran.
Soroush Moghadam, an artist and philosopher from Iran, has practiced Falun Gong for six years. He noticed Falun Gong while browsing the Internet doing research six years ago. He read Zhuan Falun in 2010 and was shocked. He finished the book within one week. His illness disappeared, an illness which had previously required hospitalization in intensive care. He said after reading the book, "I came to know the meaning of life."
Soroush sold his over 4,000 philosophy books after returning to Iran. He said, "What I think every day is to practice diligently. Ridding attachments makes me so happy. My inner heart is very peaceful. My life had a big change. I read Zhuan Falun every day and write down my experiences to share."
Vietnamese Doctor: Truthfulness-Compassion-Forbearance Is My Guideline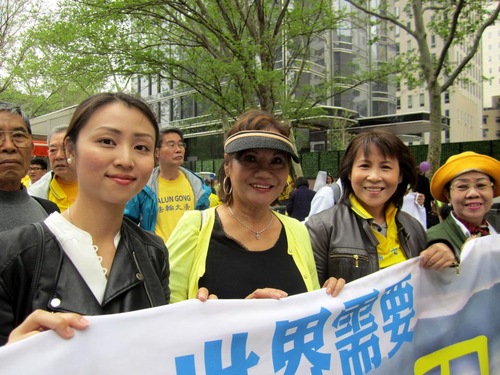 Vietnamese practitioners Van Nguyen, Yenthao Truon, and Mylinh Pham participate in the grand parade in New York.
Vietnamese practitioner Van Nguyen is a physician in Florida. She has been a doctor for 35 years, and recently retired. She started practicing Falun Gong in 2010. She said with tears during an interview, "I have been benefited a great deal. My change was big after practicing Falun Gong. I know to look inward when facing conflicts. There were over 100 doctors in my hospital. I got rid of the attachments of competition and jealousy. Truthfulness-Compassion-Forbearance has become my guideline in life."
A Practitioner From Ukraine: Finally Finding Truth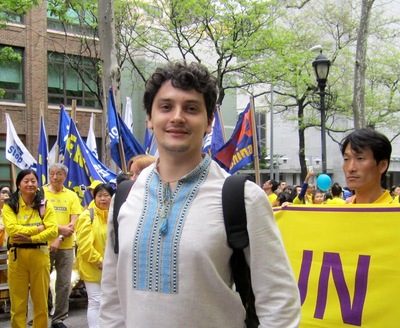 Practitioner Oleksandra Nimenko from Ukraine
Practitioner Oleksandra Nimenko started practicing in 2001. He said he had sought truth and the meaning of life since he was young. He got answers when he started practicing Falun Gong at age 16.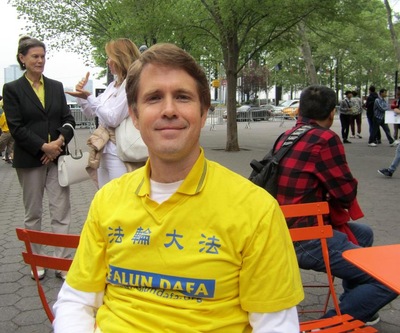 Ben Smith, a real estate developer in Australia.
Ben Smith, a real estate developer in Australia, started practicing Falun Gong in 2002. He said during an interview that he had since strived to be a good person. He strived to think of others first when doing business. Practicing Falun Gong has changed his way of doing business.
He said, "Living in the human world is not for pursuing fame and personal interest, but improving oneself spiritually. This brings peace to your life."