"Justice and Kindness Should Be Upheld" – Commemorating the April 25th Peaceful Protest in San Francisco and Vancouver
May 02, 2016 | By Minghui corresponts in San Francisco and Vancouver
(Minghui.org) Falun Gong practitioners on the west coasts of the U.S. and Canada gathered last weekend in San Francisco and Vancouver, respectively, to mark the 17th anniversary of the 1999 peaceful protest in Beijing – one of the largest peaceful demonstrations in Chinese history.
The gatherings commemorated the April 25, 1999 event, when more than 10,000 Falun Gong practitioners assembled in Beijing to protest the illegal arrest of practitioners and to demand protection of their constitutional right to freedom of belief. Despite the peacefulness of the day-long event, which drew international attention, three months later, former Chinese dictator Jiang Zemin launched a nationwide campaign against Falun Gong.
San Francisco
More than 400 Falun Gong practitioners from the San Francisco Bay area held a peaceful rally on the evening of April 24, 2016 where they demonstrated the Falun Gong exercises, displayed banners and held a candlelight vigil outside the San Francisco Chinese Consulate.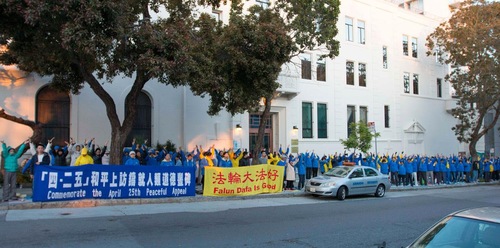 Practitioners do the Falun Gong exercises together outside the Chinese Consulate in San Francisco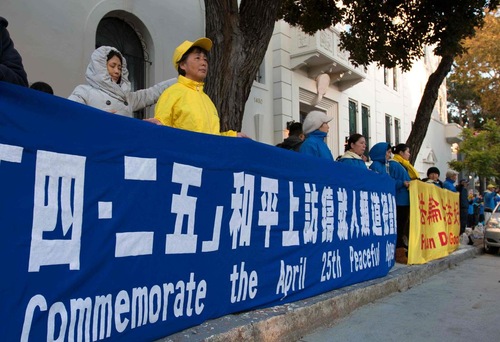 Banners draw attention to the large-scale peaceful protest that took place in Beijing on April 25, 1999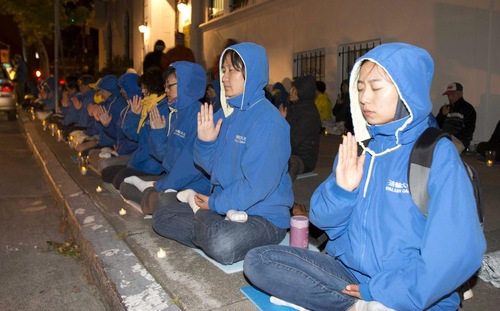 A candlelight vigil outside the Chinese Consulate in memory of practitioners killed during the 17-year persecution in China
"Righteousness and Kindness Should Be Upheld"
Mr. Zhang Zengjun, an engineer for Google, and his wife both started practicing Falun Gong in 1998 in the United States.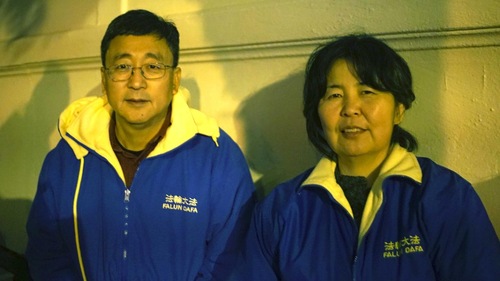 Mr. Zhang Zengjun and his wife Ms. Feng at the candlelight vigil in San Francisco
Practicing Falun Gong not only resolved Mr. Zhang's health problems but also answered persistent questions about life. Mr. Zhang, who is almost 60 years old, said, "It's sad and a pity that such a good thing can't benefit more Chinese people. Falun Gong practitioners are still being arrested and persecuted [in China]. I believe that something righteous and good will ultimately recognized."
Over the past 17 years, the couple has participated in many peaceful protests to raise awareness and call for an end to the persecution. Ms. Feng has been to many places around the world, to take part in such activities. She said, "Any hardship and effort that I put forth is meant for every Chinese person, because kindness and righteousness need to be defended. Evil should also be resisted."
Ms. Feng believes, "As long as we persevere, never give up, the effect will definitely be achieved."
Taking Up Dafa Cultivation in the Midst of Persecution
Despite the severe persecution that has persisted for 17 years, there are still people in China who bravely join the ranks of Dafa cultivators. Ms. Long Shan, who was a manager in a foreign enterprise, is one of them.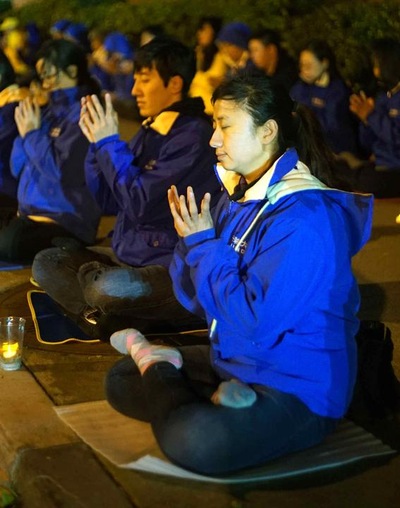 Ms. Long Shan, a former manager in a foreign enterprise in China
Ms. Long was on the verge of death due to several different illnesses. She took up Falun Gong and within two weeks, all her illnesses disappeared. The tremendous effect amazed her and others too. Her colleagues were convinced that Falun Gong is good from the miracle that happened to her.
Ms. Long said that she has never been afraid or shied away from telling people about the benefits she received from Falun Gong, although for this, she was arrested twice during her four-year cultivation practice in China. She managed to leave China and came abroad in 2015.
She hopes that she can help Chinese practitioners to obtain freedom sooner and at the same time, help more people to learn the truth and work together to end the persecution.
April 25th Peaceful Protest Participant and Witness: April 25 Set an Example for the World's People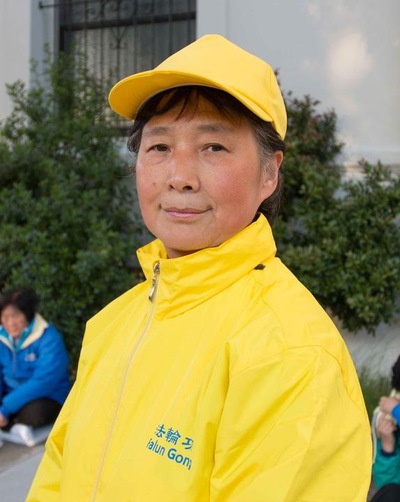 Ms. Wang Shaoping participated in the April 25th peaceful appeal in 1999
Ms. Wang Shaoping was among the practitioners who came to Beijing on April 25 1999. She believes that the April 25th peaceful appeal was a magnificent feat, because despite the heavy oppression in China, there has never been such a large group of people who were courageous enough to report the true situation to the central government in such a peaceful and non-violent way.
"Falun Gong practitioners set a good example for the world's people," said Ms. Wang. "I hope that the persecution can be ended, as it is contrary to the will of the people."
Gathering in Vancouver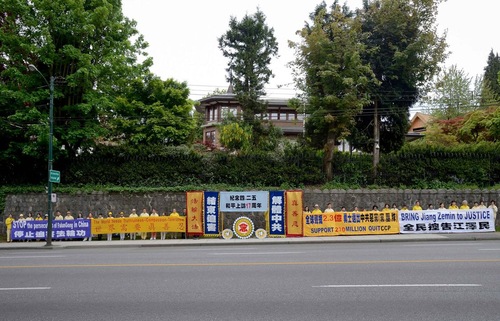 Falun Gong practitioners in Vancouver held a candlelight vigil in front of the Chinese Consulate on the evening of April 23, 2016 to commemorate the 17th anniversary of the April 25th peaceful protest. The event also commemorated their fellow practitioners who were killed in the persecution simply for remaining steadfast in their belief.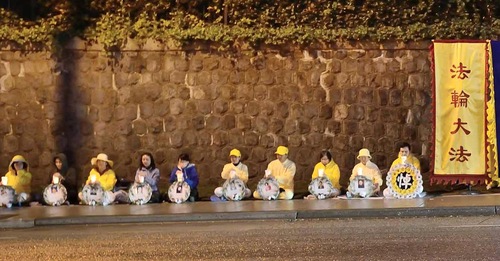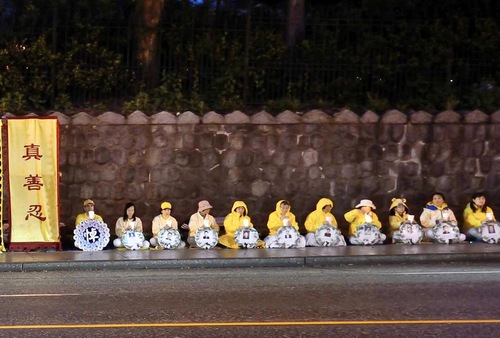 Practitioners hold portraits of fellow practitioners who lost their lives in the persecution in China
Further Information on the Persecution and the April 25 Peaceful Protest
According to human rights organizations and independent investigation reports, since the persecution of Falun Gong was launched in 1999, hundreds of thousands of practitioners have been subjected to systematic abuse including detention, forced labor, imprisonment and brainwashing. Tens of thousands of practitioners are believed to have been victims of state-sanctioned live organ harvesting.
Over the past 17 years, practitioners inside and outside China, have never stopped their efforts to raise awareness of the persecution and call for its end.
Video: The Protest That Changed China:- a 21-minute documentary filmThe Peaceful Appeal of April 25, 1999 - a discussion of the topic from many anglesApril 25th Events - coverage of events marking the anniversaries of April 25