Beijing Falun Gong Practitioner Ms. Yang Jinxiang Beaten by Police Officers
May 19, 2016 | By a Minghui correspondent in Beijing, China
(Minghui.org) Ms. Yang Jinxiang and three other Falun Gong practitioners were illegally arrested when they were telling people about the persecution of Falun Gong at Sisi village. Her home was ransacked in her absence. The officers confiscated Master Li's (founder of Falun Gong) photo, Falun Gong books, a laptop computer, two flash drives and three cell phones.
In Yongning Police station, Ms. Yang repeatedly shouted, "Falun Dafa is good." She was severely beaten by several officers for two hours, resulting in dark bruises all over her face and body. The officers also sprayed an unknown substance on her face.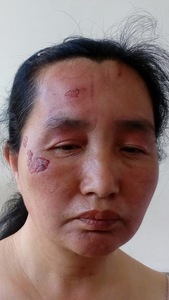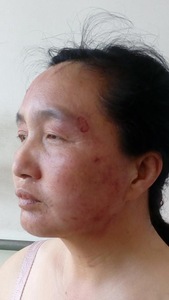 Photos of Ms. Yang's facial bruises
The officers tried to admit Ms. Yang to the detention center that day, but the detention center refused to accept her because of her injuries. Ms. Yang was thus released with monitoring.
People Responsible for the Abuse
Li Yong (李永): chief, Yongning Police Station,+86-010-60171217Zhao Laigen (赵来根): policeman,Yongning Police Station, +086-13716332217