From New York to Florida, Falun Dafa Day Celebrated in Eastern U.S.
May 15, 2016 | By Minghui correspondents in the United States
(Minghui.org) Practitioners across the globe celebrated May 13, the day Falun Dafa was introduced to the public 24 years ago. We take a look at activities marking the occasion in the eastern U.S., including New York, Pennsylvania, Delaware, and Florida.
Philadelphia, PA
Practitioners in Philadelphia celebrated at the Independence National Park near the Liberty Bell on May 8. They commemorated the special occasion with group exercises, poster displays, and songs.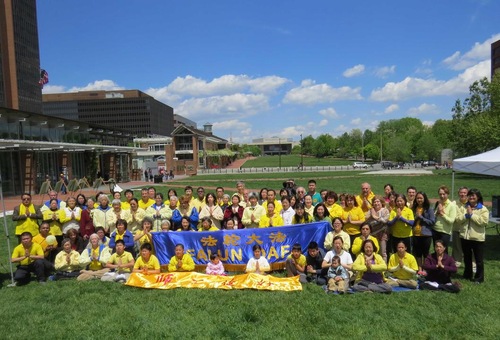 Practitioners in Philadelphia celebrate World Falun Dafa Day and wish a happy birthday to Mr. Li Hongzhi, the founder of Falun Dafa.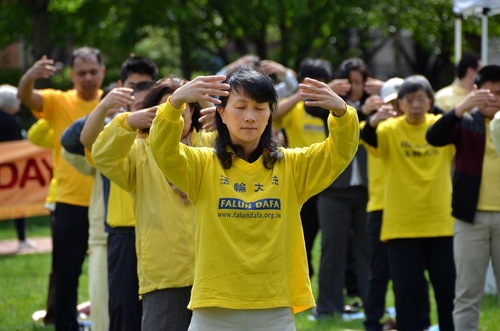 Demonstrating the Falun Dafa exercises at Independence National Park
The Philadelphia City Council, mayor, and several members of the U.S. Congress sent greetings and proclamations recognizing contributions to society made by Falun Dafa and its practitioners.
Santhosh Krishnamurthy, one practitioner who began to practice last year, said Falun Dafa has brought him great changes on both his mind and body. "It's as if I had been lost in a maze for decades, and someone finally woke me up," he explained.
Albany, NY
When people attending the Albany Tulip Festival on May 7 and 8 were impressed by more than 140,000 tulips of over 150 types, many were happy to find the peaceful meditation of Falun Dafa represented by practitioners.
Since its introduction in 1992, more than 100 million people have taken up this meditation practice and its principles of Truthfulness-Compassion-Forbearance in more than 100 countries.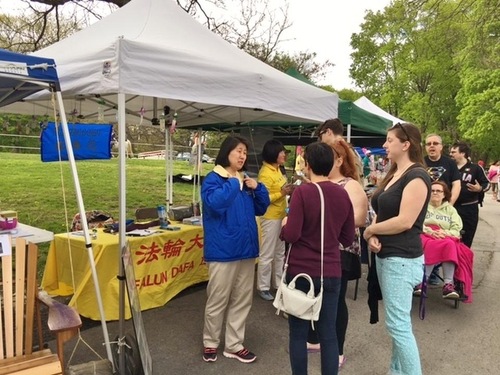 A practitioner introduces Falun Dafa during the 68th Albany Tulip Festival.
After hearing about the meditation practice on May 7, one local resident learned the exercise movements. He then read Zhuan Falun, the main book of Falun Dafa, later that day. He returned the next day to thank the practitioners.
Delaware
Along with members of U.S. Congress in Pennsylvania, John Carney, the only House Representative in Delaware, recently sent greetings to recognize Falun Dafa Day.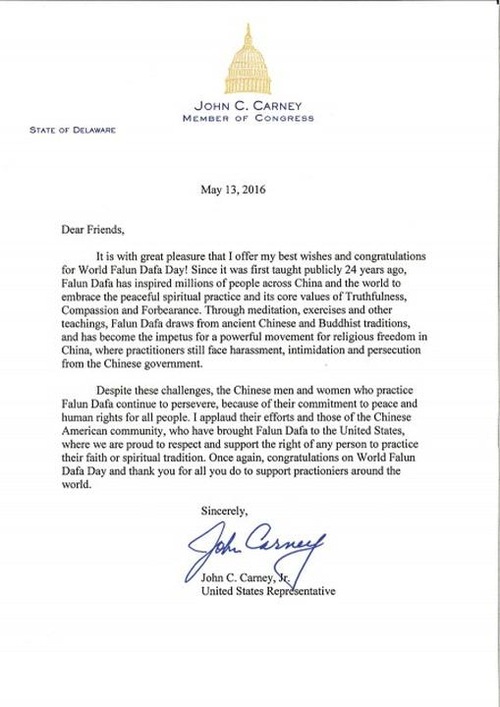 Letter from John Carney, the only House Representative in Delaware.
"Since it was first taught publicly 24 years ago, Falun Dafa has inspired millions of people across China and the world to embrace the peaceful spiritual practice and its core value of Truthfulness, Compassion and Forbearance," wrote the letter. Rep. Carney thanked practitioners for bringing the meditation practice to the United States and supported their efforts of opposing the ongoing persecution in China.
Florida
At least four cities in Florida issued proclamations honoring the positive changes Falun Dafa has brought to the practitioners and the community.
The city of Winter Park in central Florida recognizes May 7, 2016 as Falun Dafa Day because "Falun Dafa has demonstrated a steadfast commitment to improving health in mind, body, and spirit, and enhancing the well-being of people from all walks of society who follows its tenets."
Bob McPartlan, mayor of Sebastian, said the practice has given practitioners "significant benefits, including peace of mind, more-harmonious relationships, stress relief, and improved health."
Fort Lauderdale and Margate also proclaimed Falun Dafa Day.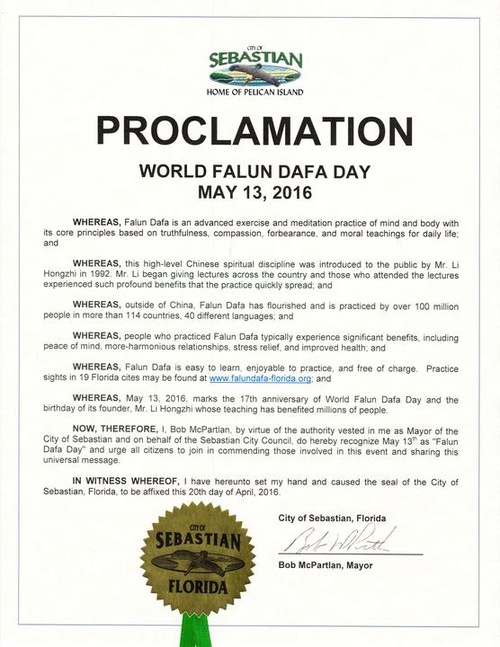 Proclamation from the city of Sebastian to celebrate May 13, 2016 as the 17th Falun Dafa Day.
Related reports in Chinese:佛州四城市颁发褒奖 宣布法轮大法日纽约州府学员参加郁金香节 民众支持诉江(图)宾州德拉华州政要祝贺法轮大法日