Falun Gong Practitioners in Toronto Commemorate the April 25 Peaceful Protest
(Minghui.org) "All we asked was a peaceful environment for practicing Falun Gong," Ms. Zhang Guizhen said at a press conference in front of the Chinese consulate in Toronto on April 25. "The protest 17 years ago was completely peaceful."
The press conference and events that followed, including displaying banners and the candlelight vigil in downtown, were part of the commemoration of the 17th anniversary of the Peaceful Protest of April 25, 1999.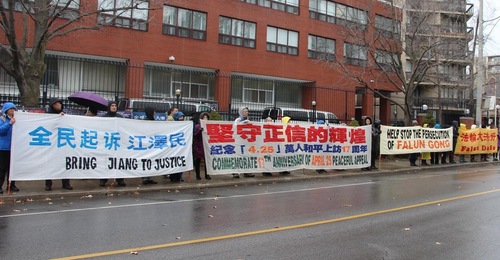 Press conference in front of the Chinese consulate on April 25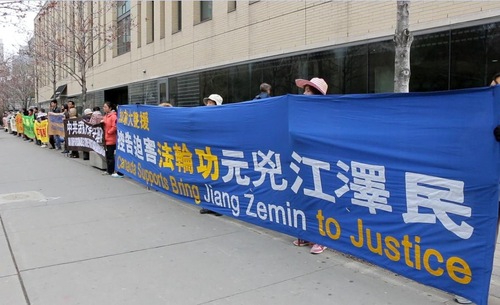 Falun Gong practitioners displayed banners in downtown Toronto.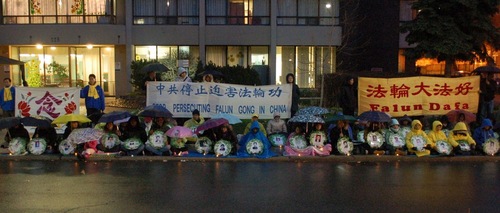 The candlelight vigil in memory of those who've died during the persecution in China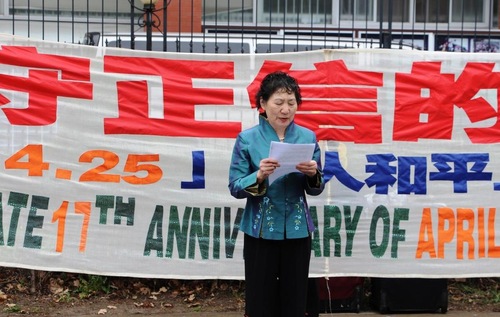 Ms. Zhang Guizhi, who was present at the protest 17 years ago in Beijing
Ms. Zhang said at the event, "I had severe anemia, rheumatoid arthritis, and stomach diseases. Practicing Falun Gong healed all my ailments in a short time. When I heard that the government had wronged Falun Gong, how could I not speak up?"
The event drew wide-ranging support.
At the candlelight vigil, a police officer said that the police department is notified of the commemoration every year, because it is their job to protect practitioners. This year he didn't see the notification, but he remembered the date. So he came to make sure that nobody harassed the practitioners.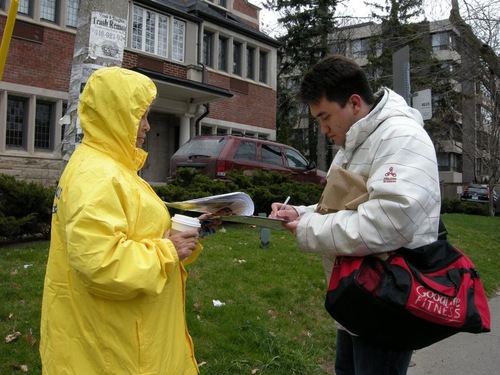 Ian King, a local resident, took pictures of the event and signed the petition to condemn the brutal persecution.
Some Chinese people also expressed support for Falun Gong's peaceful resistance. Practitioner Ms. Liu said, "Many Chinese asked me for Falun Gong materials. They even fought for my flyers. Some agreed to quit the communist party after I gave them details of the persecution."
A lady from Hong Kong talked to practitioners for a long time. She then signed the petition and said, "I must stand with you against the persecution." She joined the practitioners facing the Chinese consulate.
Practitioner Li Xiaoce said, "The persecution of Truthfulness-Compassion-Forbearance should be stopped. The goal of our events is to raise public awareness of the persecution and to call for help to stop it. More and more people nowadays have joined us. I hope this year will be the last time we hold such activities."