Washington, DC: Candlelight Vigil Commemorates April 25 Peaceful Protest
April 28, 2016 | By Minghui correspondent Li Jingfei
(Minghui.org) Falun Gong practitioners from the Greater Washington, DC area held a candlelight vigil in front of the Chinese Embassy on the evening of April 24, 2016, to commemorate the 17th anniversary of the April 25 peaceful protest. They also wanted to call for an end to the Chinese Communist Party's (CCP) persecution of Falun Gong and for bringing the instigator of the persecution, Jiang Zemin, to justice.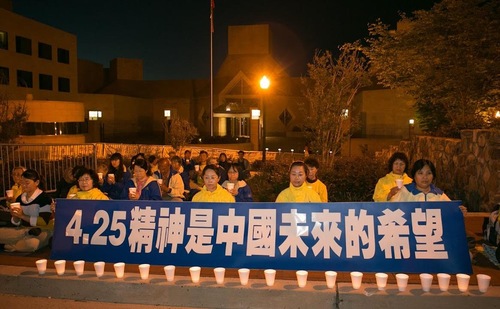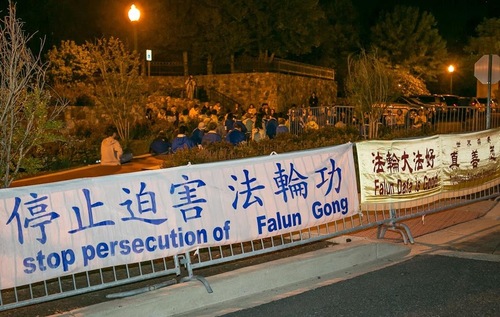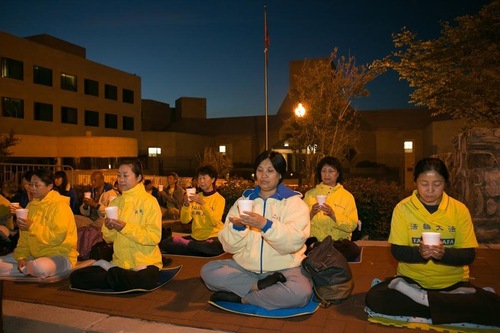 Falun Gong practitioners in DC area hold a candlelight vigil in front of the Chinese Embassy on the evening of April 24 to commemorate the 17th anniversary of the April 25 peaceful protest.
Experience on Tiananmen Square Leads to Life Change for a NASA Scientist
Dr. Tsuwei Huang, a senior engineer with the National Aeronautics and Space Administration (NASA), witnessed CCP police beat Falun Gong practitioners on Tiananmen Square in July 2000.
"My father and I went to visit Beijing that summer," said Dr. Huang. "We were planning to go see the Forbidden City, when we noticed a commotion on Tiananmen Square at around 8 a.m. We walked closer, and I saw police officers hitting and kicking people who were sitting on the ground meditating. The officers threw them into a police vehicle. I saw a young mother carrying her baby girl in her arms. A police officer kicked her from behind and knocked her down. The people who had been apprehended shouted, 'Falun Dafa is great!' The police struck them with clubs.
"I was shocked and took my camcorder out to record it all. A police officer in a metal helmet rushed over, grabbed me, and dragged me over to the vehicle. My father told me to show him what I had recorded. The officer grabbed it, broke the videotape, and threw it on ground."
Dr. Huang felt terrible and wanted to leave, but his father persuaded him to continue their sightseeing. They went to Tiananmen Tower, where police officers guarded the entrance, making overseas tourists stand in one line and domestic tourists in another line. They searched everyone. One officer asked two middle-aged women in the domestic tourist line, "Are you Falun Gong practitioners?" "We're tourists," one woman replied. The officer said, "You look like practitioners." He then took the ladies away.
Dr. Huang did not understand why the practitioners were so unfairly treated. He asked a friend who practiced Falun Gong after he came back to the United States. The friend told him about Falun Gong and lent him video cassettes of the exercises. Dr. Huang learned the exercises that very night. He recalled, "Strong energy surrounded me. I felt like I was being lifted up. It was marvelous."
He read Zhuan Falun, the main book of Falun Gong, in one night and has practiced it ever since.
He has participated in different events in DC to protest the persecution since 2000. He said, "We are saying what we have said for the past 17 years: We demand that the CCP stop the persecution of Falun Gong, that Jiang be brought to justice, and that Falun Gong's reputation be restored."
Survivor of Masanjia Forced Labor Camp: Jiang Must Be Held Responsible for His Crimes
Falun Gong practitioner Ms. Yin Liping, who was rescued from China to the US, was also at the candlelight vigil. She was arrested seven times for her belief in Falun Gong. She was tortured almost to death and had to be carried home six of the seven times. She was incarcerated in labor camps three times.
She said, "In Masanjia, I was tied to a bed and injected with unknown drugs for over two months. As a result, I could not see for a short period. I was force-fed many times and almost died."
She gave testimony as a witness in the "China's Pervasive Use of Torture" hearing convened by the Congressional-Executive Commission on China (CECC) on Capitol Hill on April 14, 2016. She described the horrible torture and group sexual violence she was subjected to in Masanjia Labor Camp in Liaoning Province.
She submitted a list of those chiefly responsible for persecuting her to the CECC, which will copy the list to the US Department of State. The list of 41 people includes Jiang Zemin, Bo Xilai, Wang Lijun, Wen Shizhen, and the guards and officials at Masanjia and other places.
She said at the vigil, "I witnessed the Party's evilness, which defies description. Police officers forced a girl to watch as they tortured her mother. Such horrible scenes appear vividly in my mind. It is pure agony to be incarcerated in a forced labor camp. Jiang must be responsible for his crimes in the persecution."
Background
On April 25, 1999, over 10,000 Falun Gong practitioners went to the Beijing State Appeals Office to request the release of 45 practitioners arrested in Tianjin, a city about 60 miles east of Beijing. The peaceful protest ended on the same day when the then Prime Minister agreed to the practitioners' requests. The 45 practitioners were released. Falun Gong practitioners around the world hold activities every year to remember the events of April 25.
On July 20, 1999, Jiang Zemin, as head of the Chinese Communist Party, overrode other Politburo standing committee members and launched the violent suppression of Falun Gong.
The persecution has led to the deaths of many Falun Gong practitioners over the past 17 years. More have been tortured for their belief and even killed for their organs. Jiang Zemin is directly responsible for the inception and continuation of the brutal persecution.
Under his personal direction, the Chinese Communist Party established an extralegal security organization, the 610 Office," on June 10, 1999. The office overrides police forces and the judicial system in carrying out Jiang's directive regarding Falun Gong: to ruin their reputations, cut off their financial resources, and destroy them physically.