San Francisco: Poster Display and Torture Reenactment Event Commemorates April 25 Peaceful Protest
April 26, 2016 | By Wang Ying and Li Ruoyun in San Francisco
(Minghui.org) Falun Gong practitioners from San Francisco and the bay area organized a photo and poster display at the corner park in Chinatown, along with a torture reenactment display at the Ferry Building, to commemorate the peaceful protest that took place on April 25, 1999 in Beijing.
Seventeen years ago, more than 10,000 Falun Gong practitioners peacefully gathered at China's Central Appeals Office, to request that the government release 45 practitioners who had been detained in Tianjin and stop harassing the practitioners doing Falun Gong exercises in parks.
Then-dictator Jiang Zemin interpreted the gathering and appeal as a threat to the Communist Party's leadership, and ordered the persecution of Falun Gong on July 20, 1999.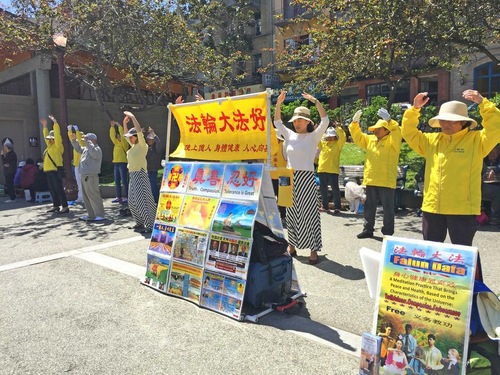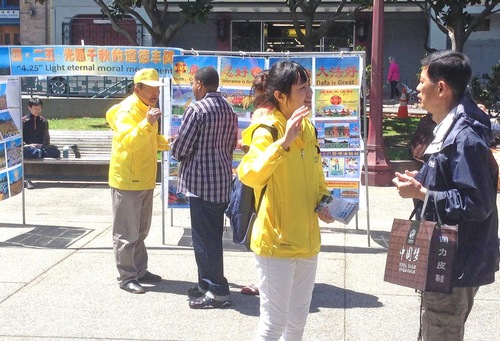 Poster display in Chinatown, San Francisco.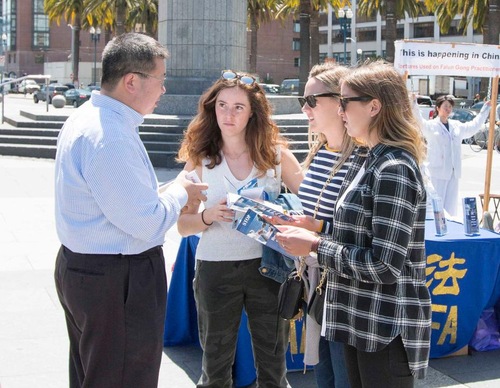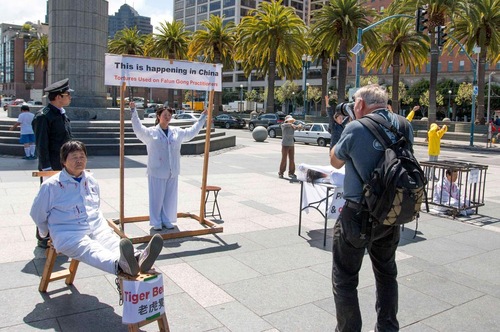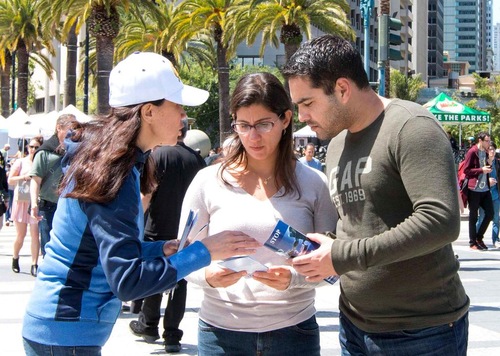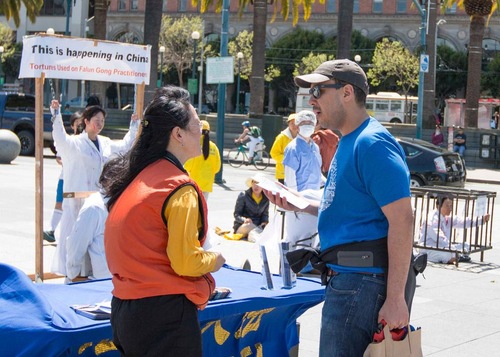 Torture reenactment at the Ferry Building in San Francisco.
The Ferry Building is close to the famous tourist site Fisherman's Wharf, and a shopping center. Falun Gong practitioners demonstrated the tortures to which they have been subjected in China, including the "tiger bench," "hanging and whipping," "forced organ harvesting," and "locked in water cell."
Mr. Chen, a student from Fujian Province, said it took a long time for him to realize that the propaganda against Falun Gong was untrue after he came to America.
He said, "Now I am clear that Falun Gong is being persecuted by the Chinese Communist Party."
Talking about the torture reenactment, he commented that the tortures were cruel, and they violated human rights. He took some photos to show other Chinese students.
Gail, a resident of San Francisco, said the torturing of Falun Gong practitioners was terrible, and that the persecution was not only immoral, but also evil.
"Falun Gong's principles 'Truthfulness-Compassion-Forbearance' is great!" said Michelle from San Francisco, "I support you. Thank you for telling me the true happenings in China."
George, a resident of Oakland, was very sad to see that people were being tortured. He said, "We shall work together to end the persecution."