3,150 Ningde Citizens Signed Complaints Against Jiang Zemin
April 22, 2016 | By a Dafa practitioner in Ningde City, Fujian Province, China
(Minghui.org) 3,150 Ningde City citizens in Fujian Province have signed complaints against former Chinese leader Jiang Zemin for launching the brutal persecution of Falun Gong, causing severe harm and loss to millions of law-abiding citizens.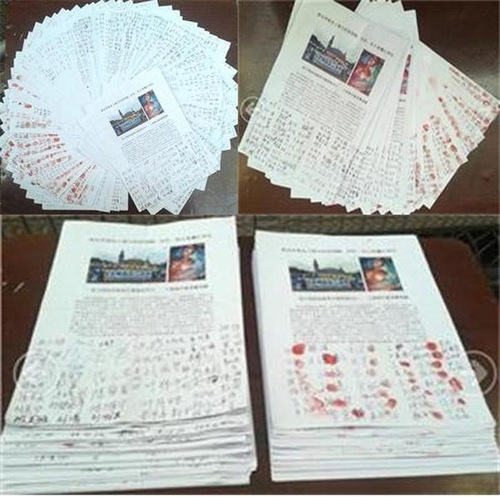 Ningde City citizens signed complaints against Jiang Zemin
Below are some comments by individuals who signed complaints against Jiang.
"My daughter benefited a great deal after she practiced Falun Gong, but was put in a forced labor camp for distributing Falun Gong informational materials. Her family was destroyed by Jiang Zemin. He must be brought to justice," said Mr. Xu.
"Jiang Zemin is horrible. He deceived so many people into opposing Falun Gong," said Ms. Ye.
The "Tiananmen Square self-immolation hoax has deceived so many people. It turned out to be staged," said Ms. Xu.
"Many people persecuted Falun Gong blindly after being deceived by Jiang Zemin. He is worse than a beast," said Ms. Xiao.
"I suffered starvation during the ruling years of the Communist Party. Then I was forced to pay over a million yuan to the officials after I earned some money. Jiang was the head of the Communist Party. Everyone should sue him," said 82-year-old Mr. Qian.
All four generations of Mr. Xu's family signed a complaint against Jiang Zemin. "The whole society became corrupt under his power. Thieves, bandits, and thugs were everywhere," said Mr. Xu.
Background
In 1999, Jiang Zemin, as head of the Chinese Communist Party, overrode other members of the Politburo Standing Committee and launched the violent suppression of Falun Gong.
The persecution has led to the deaths of many Falun Gong practitioners over the past 16 years. More have been tortured for their belief and even killed for their organs. Jiang Zemin is directly responsible for the inception and continuation of the brutal persecution.
Under his personal direction, the Communist regime established an extralegal security organization, the 610 Office, on June 10, 1999. The organization overrides police forces and the judicial system in carrying out Jiang's directive regarding Falun Gong: to ruin their reputations, cut off their financial resources, and destroy them physically.
Chinese law allows its citizens to be plaintiffs in criminal cases, and many practitioners are now exercising that right to file criminal complaints against the former dictator.