Over 700 File Lawsuits Against Jiang Zemin in Pingdu, Shandong Province; 1,115 Sign in Support
April 12, 2016 | By a Minghui corespondent in Shandong Province
(Minghui.org) In Pingdu, Shandong Province, over 700 practitioners and their families have filed criminal complaints asking China's highest prosecution office to bring charges against Jiang Zemin, the former Chinese leader who launched the violent persecution of Falun Gong in 1999.
In addition, more than 1,115 residents in Pingdu have signed a petition in support of the lawsuits against Jiang Zemin, as of March 18, 2016.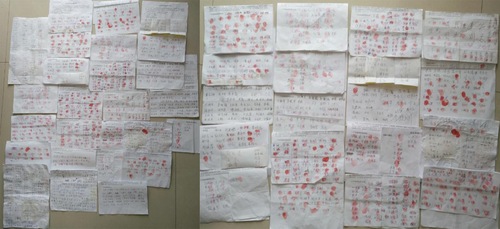 Citizens in Pingdu, Shandong Province sign a petition asking the Supreme People's Court to prosecute former Communist Party leader Jiang Zemin for the regime's persecution of Falun Gong.
While collecting signatures, practitioners ran into many people who enthusiastically gave their support.
One customer in a hardware store stated: "I can't stand Jiang Zemin. He did nothing good for the citizens but persecutes good people. I support you. I will sign the petition."
A woman in her fifties said, "Falun Gong is not what you see on television at all. My sister is a nurse. Her coworker's mother recovered from severe hepatitis after practicing Falun Gong."