A Resident of Taipei: 'It is a Righteous Thing to Sue Jiang'
March 08, 2016 | By Liu Wenxin
(Minghui.org) Falun Gong practitioners in Taipei, Taiwan performed live re-enactments near Zhongxiao Road on March 6 to raise the public's awareness of the ongoing suppression of Falun Gong in China, including the communist regime's harvesting of organs from living Falun Gong practitioners imprisoned for their faith.
At one of the busiest shopping areas in Taipei, passersby were quickly drawn to the brutality displayed on the practitioners' posters and acting.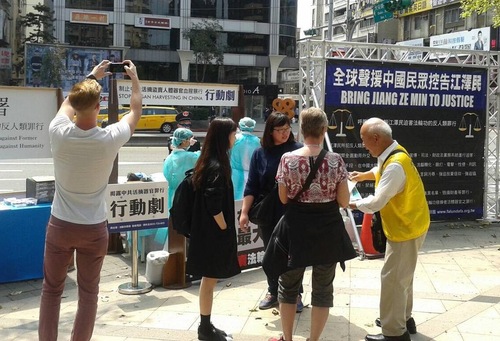 Falun Gong practitioners in Taipei raise awareness of the persecution in China. One practitioner explains the gruesome display to passing pedestrians.
Tsai Shouren, an organizer of the event, said that despite the evidence of forced organ harvesting by the Chinese regime having come to light, there have been very few new media reports on the subject. "Therefore, practitioners have no choice but to take initiatives to raise awareness of this severe human rights violation," he explained.
When Tsai applied for a permit for the event, one police officer said he was aware of some atrocities committed by the Chinese regime, and added, "Only Falun Gong practitioners can fully expose the Communist Party's brutality."
Jiang Zemin, the former Chinese leader who initiated the persecution of Falun Gong, has been sued in at least 16 countries for crimes against humanity, torture, and genocide. Since last May, about 200,000 criminal complaints have been filed against him in China with the Supreme People's Procuratorate and Supreme People's Court.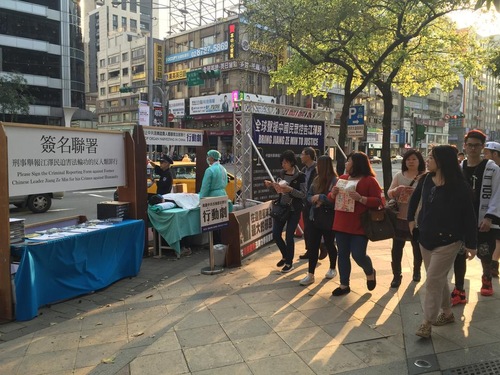 Tourists from mainland China pass by the practitioners' booth
'Everyone's Effort Will Make a Difference'
Xu, a tourist from the U.S., signed a petition calling to end the suppression in China. He said, "I've heard about the persecution before, and I am glad to sign the petition today." He said it was important to let more people know about live organ harvesting and other crimes committed by the Chinese Communist Party. He also hopes that people from other countries will stop transplant tourism to China.
"We can't go to mainland China to stop the atrocity," he added, "but we have to do our part to help, because everyone's effort will make a difference."
Several college students said they learned about the persecution of Falun Gong through Facebook.
Ms. Chen Chen, in her 20s, said Taiwanese officials should do their best to learn about what's going on in China, instead of blindly following the communist regime. She took some information about the Falun Gong meditation practice before she left and said, "I'll give it a try someday."
A group of five tourists from mainland China also signed the practitioners' petition. One of them gave a thumbs-up to practitioners and said, "You have my support. Please keep it up!"
A bicyclist stops to sign a petition.