New Zealand: Learning About Falun Gong at Auckland International Cultural Festival
March 23, 2016 | By Minghui correspondent Zhang Qin in Auckland, New Zealand
(Minghui.org) Falun Gong practitioners attended the 16th Auckland International Cultural Festival in Mt Roskill on March 20, 2016. They demonstrated the Falun Gong exercises, displayed banners, and provided Falun Gong books and exercise instruction to those in the community interested in learning the meditation practice.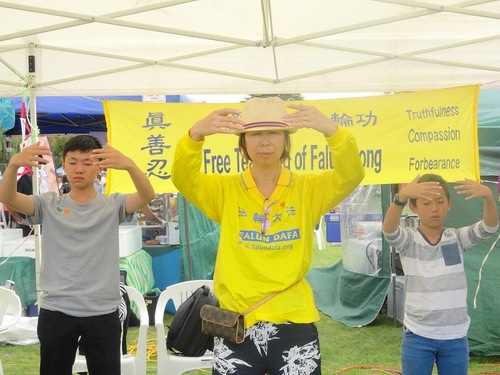 Practitioners demonstrate the Falun Gong exercises at the festival.
About 55 cultural groups participated in this event. Michelle from the Philippines and Nam from Vietnam, two international students, were very interested in learning the meditation practice.
Spiritual Guidance
"It seems people are always very busy. I think we should keep a balance of mind and body, something Falun Gong can bring us," said Nam. She said she resonates with the principles of Truthfulness-Compassion-Forbearance and that they are important to everyone.
Michelle said she felt the same way. After learning the first set of exercises together with Nam, she planned to read Zhuan Falun, the main text of Falun Gong, and to join an exercise group near Auckland on Saturdays.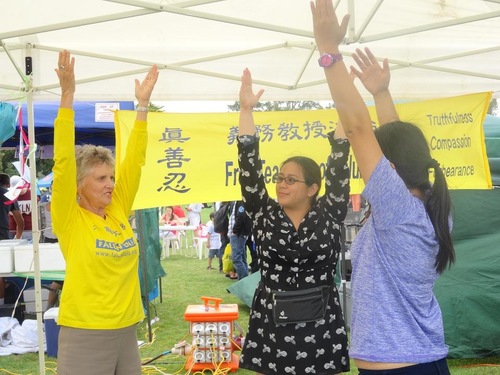 Michelle and Nam learn the Falun Gong exercises from practitioner Judy.
Michael Eric, a retired engineer with a strong interest in meditation, had previously heard about Falun Gong and the persecution in China. Through searching on the internet, he found that Falun Gong is one of the cultivation ways in the Buddha School.
"I think it can offer spiritual guidance for us. After all, what's taught in the Buddha School is not just a belief; rather, it gives guidance on how best to do things and how to interact with others," Michael said.
'Freedom to Choose Their Belief and Way of Living'
Thomas Rooney is a retired taxi driver. Although this was the first time he had heard about qigong, he was familiar with Tai Chi and curious about Chinese culture.
He said, "It seems to me that Falun Gong is an ancient cultivation system. The movements are gentle and smooth. I would like to know more about it."
Thomas said it is wrong for the Chinese communist regime to suppress Falun Gong, and said, "People should have the freedom to choose their belief and way of living."
Many festival-goers expressed interest in learning about Falun Gong.
Peter Dijkstra, in his 80s, immigrated from the Netherlands six decades ago. He said he is aware of the suppression in China and said that it is important for practitioners to keep their faith.
Speaking of the persecution in China, he said, "Without the Communist Party, China would be a great and much better nation."
Living close to the airport, Dijkstra said he often encountered Chinese tourists, who often wander around and take many pictures. "I hope to put up a big banner with 'Falun Dafa is good' in front of my yard. That way, the tourists can include them in their pictures and learn something not accessible in China."