735 Citizens Arrested for Their Belief One Month Before 2016 Chinese New Year
March 19, 2016 | By a Minghui correspondent
(Minghui.org) The Chinese Communist Party's persecution of Falun Dafa intensified as people all over the country were getting ready to celebrate the 2016 Chinese New Year that fell on February 8.

According to data compiled by the Minghui website, 735 practitioners were arrested between January 1 and February 5, and 156 of them were taken into custody for filing criminal complaints against former CCP head Jiang Zemin for launching the persecution of Falun Gong.
A total of 405 people remain detained at the time of writing.
Additionally, 15 people went missing or left home to avoid arrests.
The arrests were scattered across 28 provinces, autonomous regions, and directly-controlled municipalities. Hebei and Shandong led the pack with the most arrests – 134 and 133 cases, respectively, followed by Liaoning (60), Beijing (50), and Heilongjiang (46).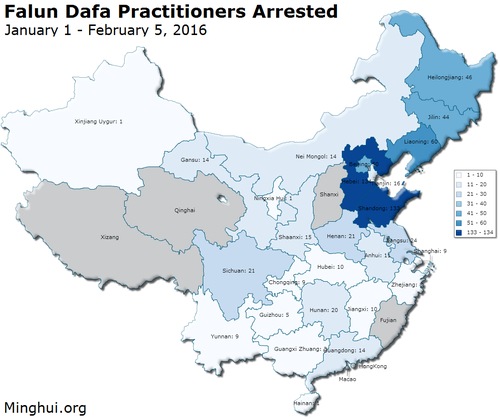 There were 16 cities that had double-digit arrests in the month leading up to the holiday period. Tangshan of Hebei Province topped the list with 56 arrests, followed by Weifang (41) of Shandong and Zhangjiakou (36) of Hebei.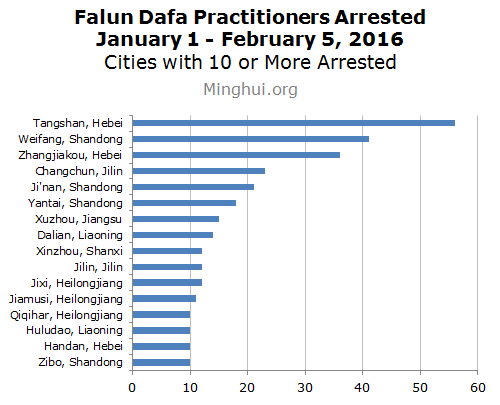 The arrested were from all walks of life, from college student to retired professors, from taxi driver to accountant, and from a 5-year-old child to over 80-year-old man.
Most arrests involved just one practitioner at a time, while several arrests targeted groups of practitioners. For example, over ten practitioners were arrested in Beijing on January 21, 2016, while they were studying Falun Dafa teachings at a private home.
In addition, the authorities extorted at least 102,203 yuan from practitioners. Mr. Huang Xunyao was forced to leave home to go into hiding on January 18 when Hubei police went to his village to arrest him. His store was left unattended, and his family had no choice but to sell it at a loss of over 100,000 yuan.