Miami, Florida: Practitioners Celebrate Falun Dafa at Asian Culture Festival
March 13, 2016 | By a Falun Gong practitioner in Florida
(Minghui.org) Falun Gong practitioners participated in the 26th annual Asian Culture Festival held in Miami, Florida on March 5 and 6, 2016. They introduced Falun Gong to visitors, and were invited to demonstrate the exercises twice on stage during the festival.
A large banner announced "Falun Gong, Truthfulness-Compassion-Tolerance" at the Falun Gong booth. Falun Gong books and informational materials in Chinese, English, and Spanish languages were available for the public to browse and take with them. Passersby stopped to learn about the practice and the persecution in China. An exercise demonstration continued alongside the display tables, attracting many who watched and asked for more information. Several took the opportunity to learn the exercises for themselves on the spot.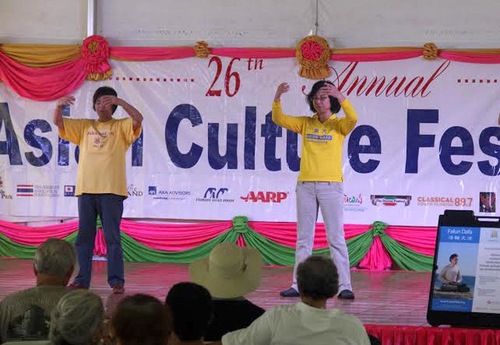 Falun Gong group was invited to demonstrate the exercises on-stage.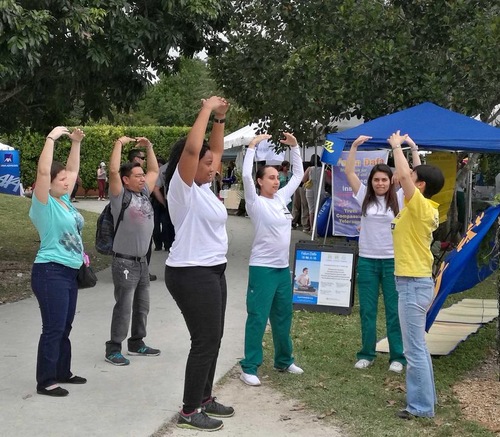 Some passers-by learn Falun Gong on the spot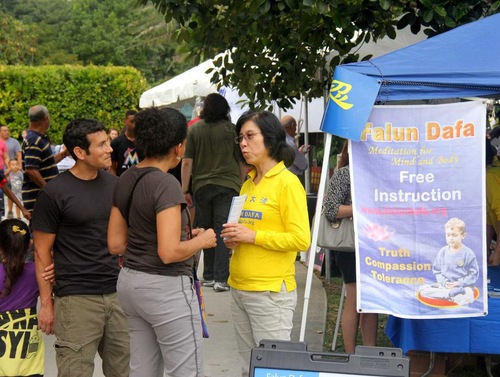 Introducing Falun Gong to visitors.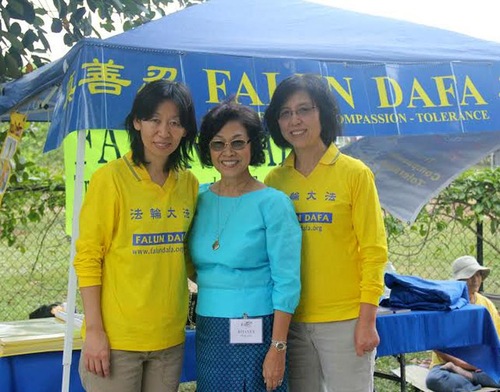 Two practitioners and Khanya Moolsiri, chair of Thailand America Association, the hosting organization of the Asian Culture Festival. She thanked the practitioners for participating in the festival and demonstrating the exercises on-stage.
Some attendees had heard of Falun Gong before, but were thankful for the opportunity to learn more. Many were shocked to learn that this great practice, which has spread to over 100 countries, is persecuted in China.
Some who knew Falun Gong well came forward to praise the practitioners' peaceful resistance to the persecution. Many others showed interest in the exercise demonstration and asked how they could learn.
Richard from Bangladesh brought his two daughters to the festival. He learned the Falun Gong exercises on the spot and asked how to follow up so he could continue to learn the practice later.
Daniel from Peru bought a copy of Zhuan Falun in Spanish after learning the exercises. He left his contact information and was looking forward to joining the group and learning more.
A real estate broker named Pavani said she was attracted to the Falun Gong booth as soon as she saw it. She decided to learn the exercises on the spot. She mentioned how she believes that many people are lost and unable to understand the meaning of life. After learning the exercises she left with two books: Zhuan Falun and Falun Gong.