Chishingtan Beach, Taiwan: Chinese Tourists Learn about the Persecution of Falun Gong
March 01, 2016 | By a Falun Gong practitioner in Hualien County, Taiwan
(Minghui.org) Located in Hualien County on Taiwan's eastern coast, Chishingtan Beach is a renowned scenic area that attracts tourists from all over, including China. Falun Gong practitioners got together over the weekend to do the exercises on the beach and inform the tourists about Falun Gong and the ongoing suppression in China.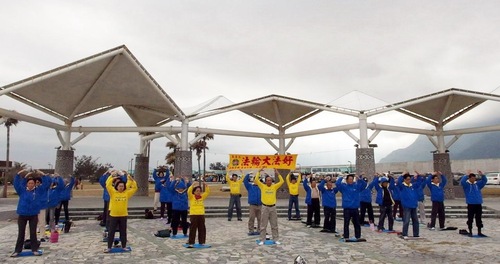 Falun Gong practitioners do the standing meditation on Chishingtan Beach on February 28, 2016.
Many tourists stopped to study the practitioners' posters. Finding out that Falun Gong is practiced in nearly 100 countries impressed them, and many took brochures to read. After learning how the Chinese Communist Party (CCP) has systematically harmed innocent people for the five past decades, some renounced their affiliation with the regime.
Noticing that some tourists were hesitant or unwilling to accept Falun Gong brochures because they had been deceived by the Chinese hate propaganda, one tourist said to them, "Hey! This is Taiwan. Why not enjoy the freedom and read things you cannot find in China?" A few tourists changed their attitude, and some took lots of pictures, including information on the poster illustrating how to overcome the internet firewall in China.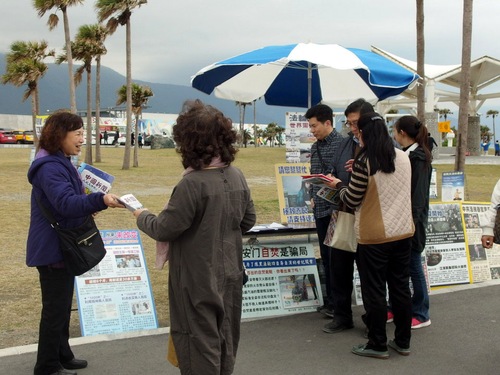 Tourists from China stopped to learn about Falun Gong.
When a tourist took a picture of practitioners doing the exercises together, she said it would be a souvenir of her trip. "I will show my family and friends," she said. "I'll tell them that, no matter where I go in Taiwan, I always see Falun Gong practitioners."
The Hualien County Council passed a resolution on December 30, 2015, supporting the lawsuits being filed against the former head of the CCP, Jiang Zemin, for persecuting Falun Gong practitioners in China. The resolution also calls for the Chinese government to immediately stop persecuting Falun Gong and to implement a policy of rule by law. It is the fourth such resolution passed in Taiwan, after Kaohsiung, Taichung, and Yunlin.
Zhuang Zhicai, one of the co-sponsoring councilors, explained, "In addition to protesting Jiang Zemin's human rights' violations, we demand that Jiang be held responsible for his crimes. His crimes must be made public, and there must be justice for Falun Gong practitioners."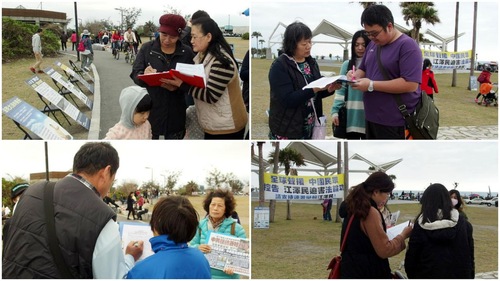 Passersby sign petitions to support the lawsuits being filed against Jiang Zemin.