"I Was So Badly Disfigured That My Mother-in-Law Couldn't Recognize Me"
(Minghui.org) A technical secondary school teacher filed a lawsuit against former Chinese Communist Party (CCP) leader Jiang Zemin for initiating the persecution of Falun Dafa, which led to his being severely tortured.
In his lawsuit filed on September 20, 2015, Mr. Zeng Liuming from Zijin County, Guangdong Province, enumerated the injustices he has endured, including torture and humiliation, close to four years in a forced labor camp, five arrests and three detentions, having his home ransacked five times, repeated harassment, being monitored and harassed repeatedly, and being fired from his job and loss of salary.
The following is Mr. Zeng's account of what he endured after his fifth arrest and subsequent incarceration in a forced labor camp.
Arrest
My wife and I were arrested at a practitioner's home on November 20, 2000. We were visiting a relative in Huidong County, Guangdong Province, at the time.
My wife was detained for 53 days. I was detained for much longer.
Force-feeding
I was transferred to the Zijin County Detention Center on December 6, 2000. When I did the Falun Dafa exercises, the guards beat me and put heavy shackles on me.
I held a hunger strike to protest. They pinched my mouth and nose to force-feed me and didn't stop until I was in critical condition. Then they took me to the county hospital emergency room.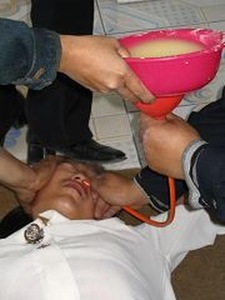 Torture reenactment: Force-feeding
Publicly Humiliated
I was told that I would have to serve three years of forced labor on January 11, 2001. The Zijin County Police Department held a public rally to humiliate me on January 16.
They tied my hands behind my back, set me up on a truck, and drove around town. They then took me to the rally stage to be publicly denounced.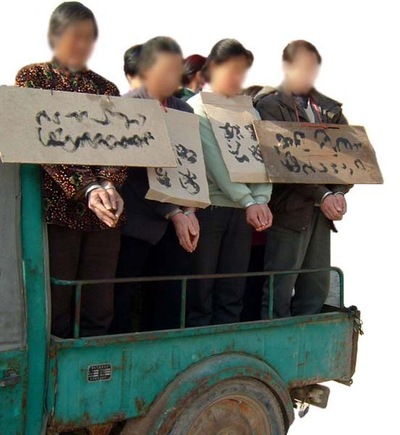 Chinese Communist Party humiliation tactic: Displaying "criminals" through the streets
Sitting on a Stool
I was held in Sanshui Forced Labor Camp in Guangdong Province from 2001 to 2004.
The guards made me sit on a small stool from 6 a.m. to 10 p.m. They did this five times, the first time for three days, the second time for almost 90 days, the third time for 30 days, and the fourth for 180 days. The last time I had to sit for 300 days. Sometimes I couldn't stand up after sitting for so long. When it was really bad, I had to lean against the handrails to get from the second floor to the first.
Electric Shock
The guards also put me in a solitary cell to torture me twice. The first time was in April 2002. They striped my clothes off, leaving me only in my underwear. They handcuffed me and tied my feet together. After pouring cold water all over me, they started to shock me with electric batons.
A guard also stepped on my ribs, back, and limbs while I was on the ground. I kept vomiting blood. This went on for seven days. I was not able to stand up straight. In the end, they had to take me to the hospital.
Torture reenactment: Shocking with electric batons
The second time was in June 2003. The guards shocked me twice every day, two hours each time. They cuffed my hands and tied my feet, and then took me to a puddle outside if it was sunny or kept me in the room and poured water over me if it was rainy. They used eight electric batons all together and even had to change batteries in the middle. I suffered this nightmare for 17 days.
Sleep Deprivation
The second time I was in a solitary cell, guards ordered six inmates to monitor me around the clock so that I wouldn't fall asleep. When I started to nod off, they did all kinds of things to keep me awake: hit me, pull out my whiskers, stab my nose and ears, make loud noises next to my ear, step on my fingers and toes, and pinch me.
They also made me walk around and kept pushing me if I couldn't. I didn't sleep for 10 days. I finally fainted. The guards ordered the inmates to wake me up, but nothing worked anymore. They then dragged me back and forth on the ground for two hours to wake me up.
Feeding the Mosquitoes
After depriving me of sleep, the guards locked me in an electric shock room in just my underwear. The room was filled with mosquitoes.
I tried to drive them away, but soon got too tired and couldn't do it anymore. There were over a dozen mosquitoes on one leg.
Unrecognizable
My wife brought our two-year-old daughter and her mother to see me in 2002. The labor camp didn't allow them to visit me. Acquiescing to my demand, the guard allowed me look at them from 50 meters away. They could only see me from a window.
I saw my mother-in-law. She looked my way and did not seem to recognize me, presumably because I was disfigured so badly.
The guards then dragged my family away, even though my wife and daughter hadn't had a chance to see me from the window.
Background
In 1999, Jiang Zemin, as head of the Chinese Communist Party, overrode other Politburo standing committee members and launched the violent suppression of Falun Gong.
The persecution has led to the deaths of many Falun Gong practitioners during the past 16 years. More have been tortured for their belief and even killed for their organs. Jiang Zemin is directly responsible for the inception and continuation of the brutal persecution.
Under his personal direction, the Chinese Communist Party established an extralegal security organ, the "610 Office," on June 10, 1999. The organization overrides police forces and the judicial system in carrying out Jiang's directive regarding Falun Gong: to ruin their reputations, cut off their financial resources, and destroy them physically.
Chinese law allows for citizens to be plaintiffs in criminal cases, and many practitioners are now exercising that right to file criminal complaints against the former dictator.