Arkansas, USA: Residents Condemn Forced Organ Harvesting in China
(Minghui.org) Many small towns and cities in Arkansas organize festivals in October and November after the harvest. Falun Dafa practitioners of Little Rock, the capital of Arkansas, participate in many festivals every year to promote Falun Dafa and inform people about the crime of forced organ harvesting in China.
This past year, they participated in 7 festivals in 3 cities, including Cabot Fest in the town of Cabot, HarvestFest in the historic neighborhood of Hillcrest in Little Rock, Russellville's Downtown Fall Festival, and the Asian Festival in downtown Little Rock.
Many festival visitors stopped to read the displays about forced organ harvesting in China and signed petitions condemning the Chinese Communist Party's atrocity. Many residents heard about Falun Dafa and forced organ harvesting for the first time at their festival.
Some exclaimed, "Really? That is so cruel!" Some said they had read about it online, and others praised the practitioners for informing them about the situation.
Several visitors said they wanted to read the book The Slaughter and see the documentary "Human Harvest."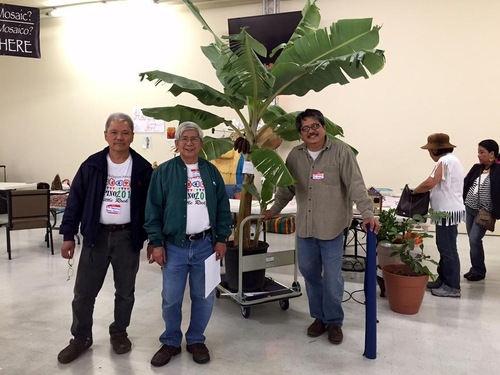 Director of the Philippine Association Mr. Tito and his friends condemned the persecution of Falun Dafa in China.
The Philippine Association had a booth next to the Falun Dafa one. Mr. Tito, the director of the Philippine Association, asked many questions about the persecution in China. He said the persecution of Falun Dafa and the forced organ harvesting were very important issues and that every Filipino attending the festival should express their opinion.
He took blank petition forms and collected more than 30 signatures in a short time.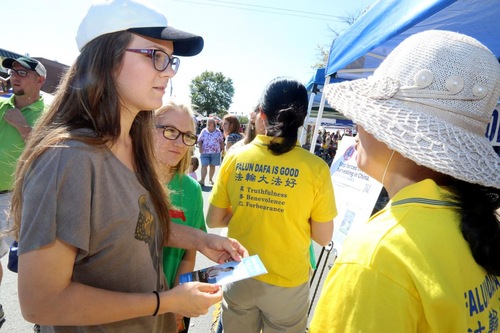 Hannah and Callie (from left) hear the facts of the persecution in China.
At Cabot Fest, a woman with her right arm in a cast asked a practitioner to help her write her address on the petition and slowly but firmly added her signature next to it.