Falun Gong Practitioners in New York Send Chinese New Year Greetings to Master Li Hongzhi
(Minghui.org) February 8, 2016 marks the Chinese New Year of the monkey. Falun Gong practitioners from the New York City area gathered at the Taiwanese community center in Flushing on January 30, to wish the founder of Falun Gong, Master Li Hongzhi, a happy New Year.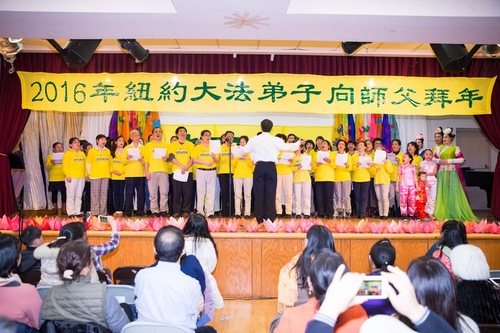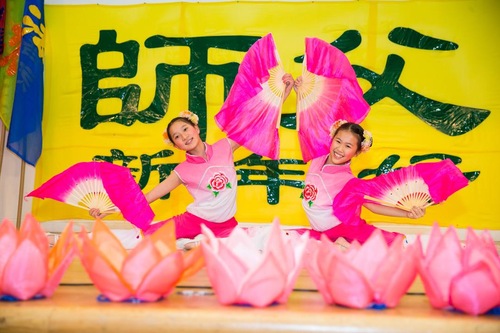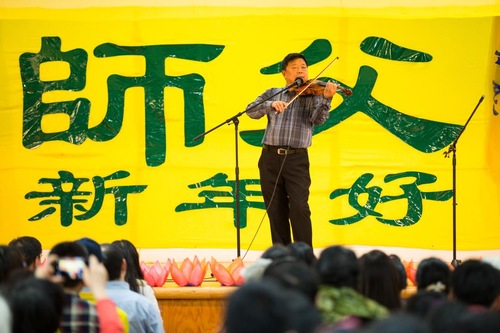 Falun Gong practitioners from New York wish Master Li Hongzhi a Happy New Year.
The practitioners held gala after the group greeting. The first program was a choral piece by Chinese and Westerners, Coming for You, which expressed the practitioners' wish of telling the public what Falun Gong really is. Three songs composed by practitioners followed, expressing the practitioners' gratitude towards Master Li.
The programs also included the performances featuring traditional Chinese instruments, including the Pipa, Erhu, Hulusi, and flute, as well as violin and clarinet. Practitioners also performed traditional Chinese dances and recited poems.
Towards the end of the gala, eleven young practitioners, the youngest being a 2-year old, sang the song Young Falun Gong Disciples. All the attendees then sang the song, Falun Dafa is Good.